The Disney Princess: A Royal Christmas for iPad, iPhone, and iPod Touch
|
I must admit that I am a 40ish woman who still likes Disney Princesses.  Shhh!  Let's just keep that amongst us, okay?  Keeping in this tradition, my 12 year old daughter still likes her Disney Princesses, too.  So, when I was given the chance to review a Disney Princess iPad, iPhone, and iPod Touch app for The Mouse For Less, my daughter and I were happy to oblige!
This app is called The Disney Princess: A Royal Christmas and is currently available on iTunes for $4.99.  This app tells three Christmas-themed stories, one each for Cinderella, Ariel, and Tiana.  There is an option to follow along with each story as it is read to you by a narrator, and there is an option for you to record yourself reading the story so that your child can hear you narrate the stories.  I think it is a really nice touch to be able to let your child hear the story in your own voice.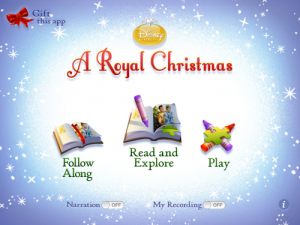 These are the main options of this app.  Your child can "Follow Along" with either the "stock" narrator, or you can record your own narration.  I did try this feature out, and it really sounded good.  The next option is the "Read and Explore".  With this option, you can either choose the "stock" narration, your own narration, or no narration at all.  The goal is to find all the special moving ornaments and "sparkles" signifying a sound, like Prince Eric's dog barking.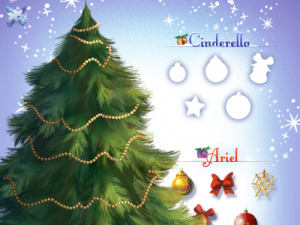 Once you find the special ornaments, you can proceed to the "Play" option to decorate your virtual Christmas tree.  As you can see in the picture above, I found all of Ariel's ornaments, but I didn't find Cinderella's, yet.  The ornaments can be "dragged" and "dropped" onto the tree.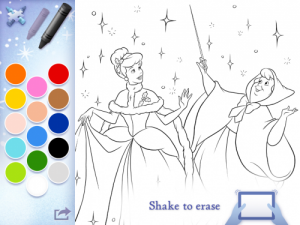 Puzzles and pictures to color are also under the "Play" option.  The puzzles are fairly simple and are made of pictures from the stories.  I must say that while I liked the pictures to color, I found them quite difficult to color correctly.  If you look at the sample picture on the app's iTunes' listing, you can see how neatly their picture is colored.  I tried to color with my finger and with a stylus, and I had a difficult time recreating a similar level of neatness.  I think that most children would have a difficult time with the coloring, if their goal was to stay inside the lines.  The coloring pages was really the only part of the app that I didn't really care for.
What I really liked about the app were the cute stories and stunning pictures.  The pictures in each story were just beautiful!
Thoughts:  My daughter and I think this app is lots of fun and full of beautiful pictures.  It is definitely worth the $4.99 currently being charged on iTunes.  We both give The Disney Princess:  A Royal Christmas app two thumbs up!
In accordance with FTC, I must disclose that I was given a code to download The Disney Princess:  A Royal Christmas app for free in order to review this product.  Even though I was given this product, the opinion expressed here are mine and my daughter's personal opinions and were in no way influenced by any outside entity.  There may be affiliate links contained within this post.
Similar Posts:
Incoming search terms: