Disney Favorites Through the Alphabet – "L"
|
Well, here we are with the letter "L" today, and I would like to concentrate on Disney California Adventure Park in the Disneyland Resort.
There are times when we are at Disneyland when it is either hot or rainy, and it is those times that we like to have an idea of a good place to spend our time.  When we went in September, my son had a reaction to the heat, so we headed to one of our favorite "out-of-the-heat" places in the Disney Animation Building.  When we walked into the building, we were greeted with nice cold air.  There aren't very many benches for sitting, but there are movies and projections all over the walls that kept our son's mind off his legs.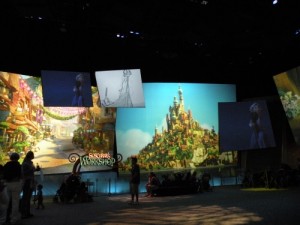 This building houses Turtle Talk with Crush and Animation Academy, but it also houses…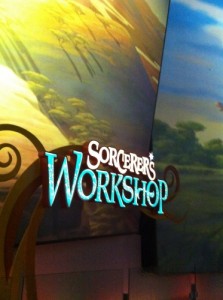 Sorcerer's Workshop, which is really three attractions in one.
Magic Mirror Realm – A room where you can create simple animation.
Ursula's Grotto – A place where you can actually act or sing in a famous Disney movie scene.
The Beast's Library – A beautiful library that fades to disrepair as the rose loses its petal.
The Beast's Library is my subject today and one of my daughter's favorite places to "hang out".   As you enter…
The Beast's Library, you will see several of these…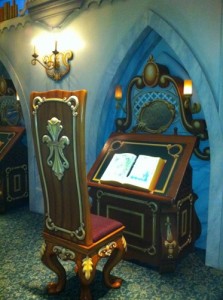 chairs with a book on the desk in front of the chair.  The book is interactive and takes a picture of you as you sit there.  Then, you answer several questions that the books asks, and the book decides what character you are most like.  The book said that my daughter was most like…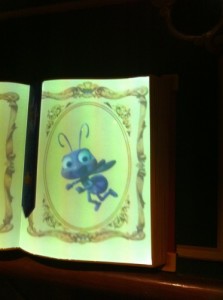 Dot from the movie, A Bugs Life.
As I wrote above, The Beast's Library undergoes a transformation during stages of dark and some thunder-like noise.  Just a warning to parents of kids with sensory processing issues, parts of the transformation of the room can be scary.  At the most beautiful stage of the room, the picture over the fireplace shows a picture of the prince as he was before becoming the beast.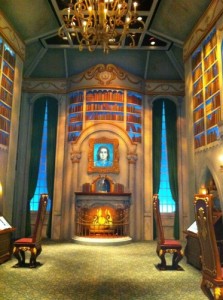 Below the picture of the prince sits the rose under the glass dome on the fireplace mantel.  As you watch, the petals drop one-by-one until the room begins to darken…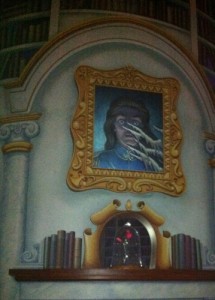 and the prince's portrait is slashed.  The transformation is stunning, as is the detail in every aspect of the room.  I notice something new every time I enter The Beast's Library.  If you haven't had or taken the time to visit this corner of the Animation Building, I hope you will be able to during your next trip.
Similar Posts:
Incoming search terms:
beauty and the beast fireplace