A Review of Birnbaum Guides 2011 Walt Disney World
|
When Birnbaum Guides 2011 Walt Disney World arrived in my mailbox just one day before our trip to the World, I could barely contain my excitement.  Although my family of Disney fanatics was about to depart for our seventh trip to Mickey's Orlando home, we nonetheless eagerly anticipated comparing our perspectives with the book's suggestions, discovering new tidbits and helpful hints, and engaging in some Disney entertainment for the long drive down to Florida.
This colorful guide book full of vibrant pictures and a plethora of Disney World fun facts and valuable tips did not disappoint.  Birnbaum Guides 2011 Walt Disney World, published in 2010 by Disney Enterprises, Inc., provides 277 pages of "Expert Advice from the Inside Source", as the subtitle states.  Nine chapters focus on preparation, travel, lodging, the four main Disney World parks (Magic Kingdom, Epcot, Hollywood Studios, and Animal Kingdom), additional entertainment such as water parks and miniature golf, as well as shopping, sports, and food.
Nothing is overlooked in this guide book!  From ticket prices and explanations of various ways to purchase tickets to average temperatures and crowd patterns, much information is included to assist anyone preparing for an upcoming vacation.  Suggested schedules for the parks, along with corresponding maps, also lend a hand in coordinating each day of the trip.
Each ride and show is described in just enough detail to share pertinent facts without giving away the surprise and magic of the attraction.  Some information may be helpful for parents of easily frightened children or for adults prone to motion sickness.  Instead of discovering these distressing aspects while on the ride, guests can first read about them in the guidebook and thus avoid a potentially stressful experience by avoiding the attraction.
Guests on the Disney Dining Plan or those who simply relish the food experience in the World will appreciate Birnbaum Guides' highlights of all restaurants.  A special section exists for character meals and includes locations, prices, themes, menu items, and more for all of these restaurants.  A fun and unique superlative is assigned to each, such as "Fanciest Foods" for 1900 Park Fare or "Country Music Fan Stamp of Approval" for Mickey's Backyard Barbecue (263).  Other types of restaurants are highlighted in a similar fashion in a section called "Restaurant Roundup".
Sprinkled throughout the book are "Hot Tips!" which offer beneficial facts about specific rides, shows, parks, and restaurants.  We took advantage of the tip that stated, "If you'd like to get soaked on Splash Mountain, sit on the right side of the log" (117).  While no one in our party actually got soaked, as we do on Kali River Rapids, the passenger on the right did tend to get slightly wetter.
Some suggestions, however, were inaccurate.  For example, one tip states that guest must rent a locker before riding Rockin' Rollercoaster because, "…there's no place to store loose articles in the ride vehicles" (170).  This statement is not completely true.  A small basket, located in front of each passenger's seat, is available for storing hats and other small objects.  Furthermore, fanny packs can be worn on board and backpacks can be placed snuggly between one's legs during the ride.  Renting a locker for stowing items is not a prerequisite for riding this thrill ride or any others in Disney World.
Other tips contradicted some of my personal experiences, such as, "Start the day [at Magic Kingdom] by picking up a Fastpass assignment for your favorite attraction" (134).  We always start our Magic Kingdom day at Dumbo to avoid the long lines this attraction forms relatively quickly and are still able to visit our favorite attractions at least once, if not more, without a long wait.  However, different seasons and crowd levels require a different method of planning which may explain some discrepancies between my personal experiences of traveling during the value season and some of the suggestions in the book.
Despite occasionally missing the mark on some tips, overall Birnbaum Guides 2011 Walt Disney World presents an almost perfect picture of a favorite vacation destination and is guaranteed to help anyone planning a trip to one of the happiest places on earth.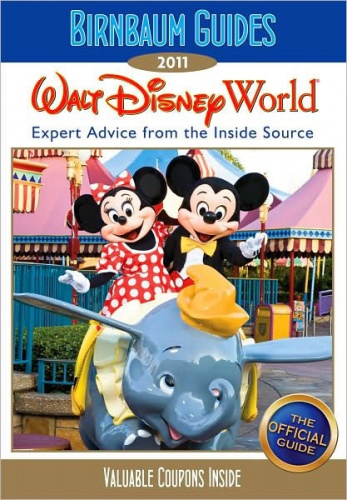 Similar Posts: