Disney Favorites Through the Alphabet – "J"
|
I'm back with the letter "J" and one of my all-time favorite Disney memories.
How many of you are Star Wars fans or have Star Wars fans in your home?  I do!  My eight year-old son loves Star Wars (mainly Star Wars IV, A New Hope) and light sabers.  He hasn't seen The Clone Wars.  He has only seen the original episodes (IV-VI).  He is also a HUGE Star Tours fan!  Of course, Star Wars and Star Tours don't start with "J", but Jedi Training Academy does.
My son didn't really become interested in Star Wars until last year, and while planning our trip to Disneyland, I realized that it was possible that he would want to do Jedi Training Academy.  Since he has some sensory processing problems, I was concerned that he would not get picked and would melt down.
Fortunately, that didn't happen!  I was almost as excited as he was when he was picked first.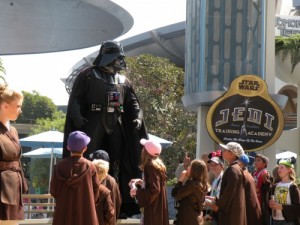 It is fun to see all the kids so excited to participate in the Jedi Training Academy!  So far, my son has been able to fight both Darth Maul and Darth Vader.  Unfortunately, he will not be able to participate again because he has now outgrown the padawan robe.
Another great "J" is the Jungle Cruise!  Who doesn't love seeing the back side of water?  Of course, every Jungle Cruise experience depends on your guide.  I have been on some cruises where the guide left long pauses between jokes and really just didn't seem to enjoy what he was doing.  I have also been on several great cruises, too.  One of these great cruises was this past February.  I'm not even sure that our guide took a breath during the entire trip!  The kids and I consider him the best tour guide that we have ever had, so I would like to share that trip with you.
[youtube http://www.youtube.com/watch?v=Ask9dTHKiGM&version=3&hl=en_US&rel=0]
Similar Posts: