Disney Favorites Through the Alphabet – "H"
|
I can't think of "H" and Disney without thinking of the holidays at a Disney Park.  My family has been fortunate enough to have gone to both Disneyland and Walt Disney World during the holiday season before, so I would like to share my holiday pictures with you.  This post will be dedicated to Walt Disney World, and I will put Disneyland in a separate post.  If you are planning a trip (or would like to plan a trip), please double check event dates and times as these can and do change.
There are so many different holiday offerings at Walt Disney World that it is a little difficult to narrow it down to just one post.  Let's start with Mickey's Very Merry Christmas Party, though.  Mickey's Very Merry Christmas Party is a hard ticketed (extra charge) event that is held at the Magic Kingdom 2-3 times per week from November 8 through December 18, 2011.  During this time frame, this party is the only way to see Mickey's Once Upon a Christmastime Parade until December 19 (through December 31) when it will be shown to the general public during normal park operating hours.  There are so many other activities at Mickey's Very Merry Christmas Party:  dance parties with characters, live Christmas stage shows, special holiday fireworks, and hot chocolate with cookies.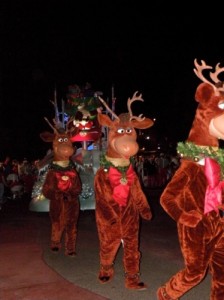 Above are the reindeer leading Santa's sleigh in Mickey's Once Upon a Christmastime Parade.
Another great holiday offering is The Osborne Family Spectacle of Dancing Lights at Disney Hollywood Studios.  This is actually one of my favorite holiday events at Walt Disney World!  I have always loved Christmas lights and music, and this display is Christmas lights and music on steroids.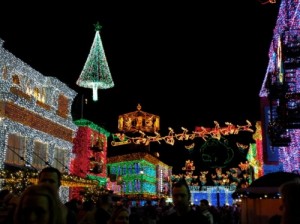 Above, you will see just a portion of The Osborne Family Spectacle of Dancing Lights.  Now, just imagine these lights dancing in time to the music playing.  It is just a wonderful experience!
Another great Christmas event is the Candlelight Processional.  For me, this ranks right up there with The Osborne Family Spectacle of Dancing Lights.  Yes, I LOVE music!  The Candlelight Processional holds much meaning for me, though.  This event is comprised of a celebrity guest narrator reading the story of Christmas as told in the Bible.  This narrator is accompanied by a 50 piece orchestra and a choir comprised of the Voices of Liberty, guest amateur vocalists, and a choir of cast members.  This is truly a moving performance!  When I took my family, we opted for the Candlelight Processional dining package that included a late lunch or dinner at a select EPCOT restaurant and VIP seating.  You can see the Candlelight Processional without a dining package or any additional charge beyond the normal admission to EPCOT; however, there is the risk that there might not be seating available during the performance that you want to see.  The VIP seating with the dining package does NOT mean that you will not have to stand in a line; it just means that you will stand in a different line.  When the theater is opened for guests to find a seat, the VIP line is allowed in first.  Then, the general admission line is allowed in to find seating.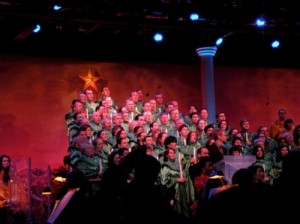 Above is a picture of our guest narrator and the living Christmas tree at the Candlelight Processional that we attended.  We were excited to get to see Steven Curtis Chapman.  The performances this year are from November 25 – December 30.
This is just a quick sampling of some of the larger holiday offerings.  Don't forget to check out the Holiday Storytellers at World Showcase, as well as, many other holiday offerings throughout Walt Disney World.
Similar Posts: