Disney Favorites Through the Alphabet – "G"
So, today, I will move on to my favorite Disney things that start with the letter, "G".  As I started thinking about what I was going to post, I realized that "G" is a more difficult letter to find.  After much thought, I decided to start with one of my favorite characters, Goofy.
Like most characters, Goofy's wardrobe varies from place-to-place and season-to-season.  While I like many of his outfits, I think I am especially fond of his Halloween garb.  This really surprises me because Halloween is not one of my favorite holidays, but I find this particular outfit so unique.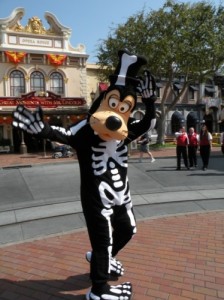 What's not to like about seeing Goofy dressed as a skeleton?  I think it is one of the coolest Halloween costumes of all the characters!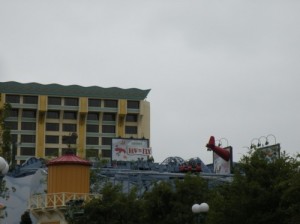 Of course, I couldn't mention Goofy without saying something about his new attraction, Goofy's Sky School, in Disney California Adventure Park.  Goofy's Sky School is the result of a refurbishment of what used to be Mulholland Madness and is considered to be a steel Wild Mouse roller coaster, a design that was popular in the 1960s and 1970s.  I must admit that I did try this attraction once and only once.  During the time that we were at the Disneyland Resort, Goofy's Sky School appeared to be not working more than it was working.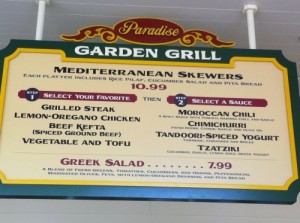 My family now has a new favorite quick service restaurant in Disney California Adventure Park.  As you can see in the picture above, it is called Paradise Garden Grill.  Don't let the fact that they serve skewers make you think that this isn't a real meal.  Just take a look below…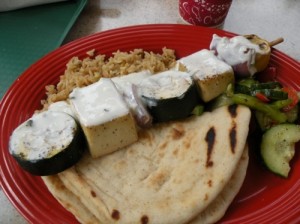 This is a tofu and vegetable skewer meal with Tzatziki sauce on it.  There was so much on this plate that I could not finish the meal!  I liked the first meal so much that I had to eat there a second time; only that time, I had the Moroccan Chili sauce.  It was very spicy but extremely good!  If you get the Moroccan Chili sauce, make sure you get a large drink to go with it.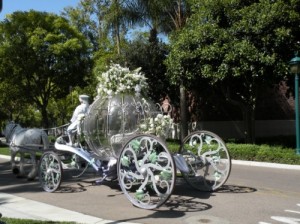 My family had visited the Disneyland Hotel to see how the refurbishment was proceeding and saw Cinderella's glass coach as we were heading back to Downtown Disney.  There must have been a wedding happening.  It made me realize how nice it would be to have a wedding or vow renewal at Disneyland or Walt Disney World and to ride in the coach.  I guess I can always dream…
Similar Posts:
About The Author

Naomi M.