Disney Favorites Through the Alphabet – "E"
How's everyone doing today?  Well, I'm back with "E" today, and I had a harder time finding "E" pictures.  I did find a few, so on with the show!
When I think of traveling to Walt Disney World, I think of the larger icons:  Cinderella's Castle, Mickey's Sorcerer Hat, Tree of Life, and Spaceship Earth.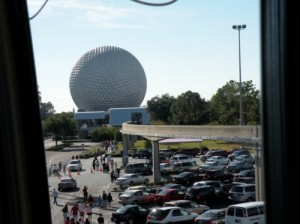 There's nothing that says "Welcome to EPCOT" more than the vision of Spaceship Earth out the monorail window.  Spaceship Earth is a wonderful attraction to go on, especially, when it is hot outside.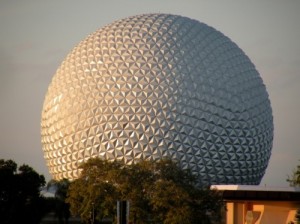 I also like to see Spaceship Earth from across the World Showcase Lagoon.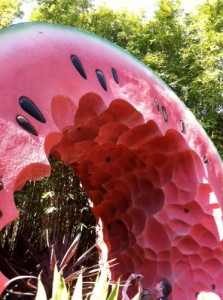 Wow!  Something big must have been eating this giant watermelon.  Do you know what attraction this watermelon is located on?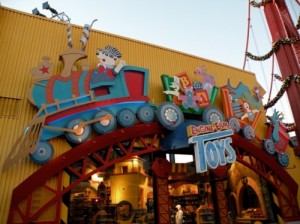 This was one of my favorite shop signs at the Disneyland Resort.  I must say "was" because Engine Ears Toys has been closed for "re-imagination".  It will be sad to visit and not see this shop; however, I am sure that how they change it will be just as good or better.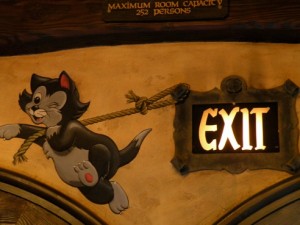 Isn't it amazing that such a simple thing as an "exit" sign can be made into a work of art?  Well…  The story is that the exit sign was placed in the wrong place and that the Imagineers came up with the solution of using Figaro to "pull" the sign to the correct place.  Isn't that a cool solution?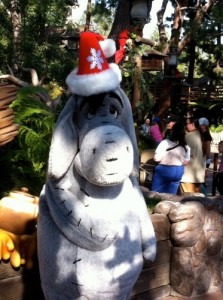 Here we have poor Eeyore.  He is as excited as he can be that some one is noticing him, finally.  We are always happy to see Eeyore.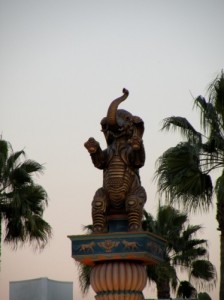 Another great "E" subject is elephants.  There are a few at the Disneyland resort.  This one is at the entrance to the Hollywood Backlot at Disney California Adventure Park.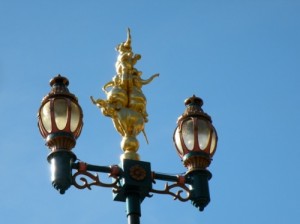 I never noticed this beautiful elephant lamp during the first three years that I took my children to Disneyland.  On one trip while riding Storybook Land Canal Boats, I looked up and saw it.  It is located behind the Dumbo attraction by the fence overlooking the canal.  It is so intricate and unique!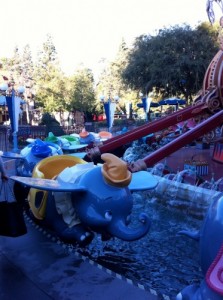 Then, of course, there is the elephant, Dumbo.  What an original!
Did you remember where the watermelon is?  It is on Heimlich Chew Chew Train in "a bug's land" in Disney California Adventure Park.
Similar Posts: