Disney Favorites Through the Alphabet – "D"
|
When I started looking through my Disney trip photos to find pictures for my "D" post, I knew that I would have to choose carefully.  Then, I realized that the easiest "D" was right before my eyes.  Walt Disney, himself.  One of my favorite Walt Disney quotes is, "You can design and create, and build the most wonderful place in the world. But it takes people to make the dream a reality."  This is such a true statement!  While so much of the park (attractions, restaurants, shops) makes a difference in the experience, it comes down to the cast members, themselves, to make that Disney magic happen.
At Disneyland, there are so many personal touches of Walt Disney still visible today.  Whether I am taking a trip on the Lilly Belle or gazing at the light burning in Walt's apartment over the Fire Station, it is so easy to see just how much a part of Disneyland he still is.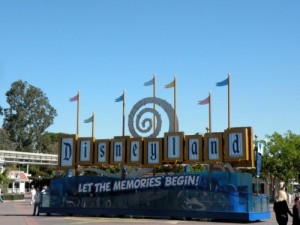 Disneyland (or Walt Disney World) invokes the memories of my children's first view of Sleeping Beauty's Castle… Of their first taste of a churro…  Of their first autograph from Mickey…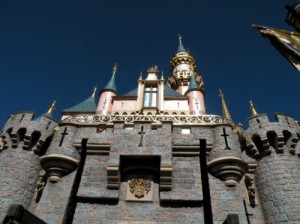 After passing through the gates, down Main Street, and past the Partners statue, gaze up just before you go through Sleeping Beauty's Castle.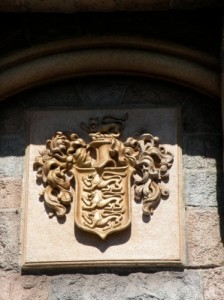 Here you will see another mark from Walt Disney.  His family crest.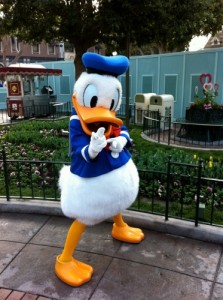 Now, I'm going to change my focus to the characters, so I think I will begin with that dashing duck, Donald.  The day that I took the above picture, Donald was in a show-off sort of mood.  He seemed to enjoy posing for the camera.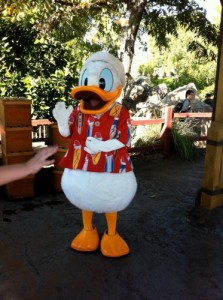 On another trip, Donald was all ready for Christmas, in a beach sort of way (Disney California Adventure Park).  Even the surf boards on his shirt have Santa hats.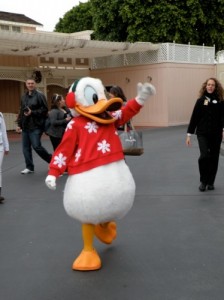 Later, when Donald decided to go over to Disneyland, he changed into his red sweater with snowflakes on them.  He also wore his earmuffs.  I think that Donald Duck may have more holiday outfits than I do.  I can't wait to see Donald's Halloween outfit next week.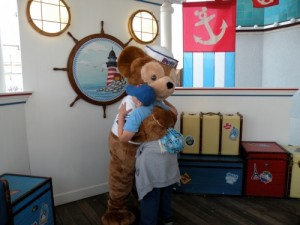 A fairly new addition to Disney California Adventure Park is Duffy.  I had my doubts about Duffy, but as you can see, my son did not.  He actually gets disappointed if Duffy is not in his meet and greet area.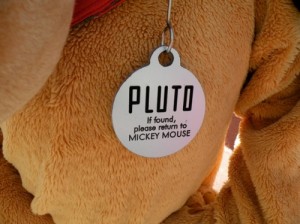 Lastly, I just love how much Mickey Mouse cares for his dog, Pluto.  He makes sure that Pluto wears his dog tag so that if Pluto gets lost, he will be returned home to Mickey.
Similar Posts:
Incoming search terms:
donald duck with earmuffs