Close to the Magic: Touring Downtown Disney
|
You know, with the cost of a theme park ticket and with these hard economic times, sometimes there just isn't enough room in the budget for a day in the parks. But you're in the Lake Buena Vista area and just need to get close to the magic, don't brush off the idea of going to Downtown Disney.
First, you get to drive through the wonderful Walt Disney World signs and actually be on property; that always gets me pretty psyched. Next, parking is free at Downtown Disney. So right there you are off to a great start – on Disney property and parking for free. Woo-hoo!
The complete area of Downtown Disney is divided in to three areas: West Side, Marketplace and Pleasure Island. During the day, your main focus will be on West Side and Marketplace. Pleasure Island tends to cater more to the nighttime crowd and for a family-friendly day, we'll focus on the other two sections.
Personally, my family loves the Marketplace and we can spend hours there! The shops are some of the greatest that Disney has to offer and the restaurants are all on par (if not better) than those found in the actual theme parks. Some of the not-to-be-missed shops include: The Lego Imagination Center (which was newly renovated and completely amazing for any fan of Lego products!), Disney's Days of Christmas (Christmas year-round, what could be better?), and World of Disney – the largest Disney character merchandise store ever! You can spend hours in that one store alone!
There are plenty of restaurants to choose from including Wolf Gang Puck Express, the Earl of Sandwich (a personal favorite) or grab some dessert and treats at Goofy's Candy Company or Ghiradelli Soda Fountain and Chocolate Shop. These places are not your ordinary fast food/ counter service fare, let me tell you.
Walk over to the West Side and you'll find more sit down restaurants like House of Blues and Planet Hollywood but you'll also experience Disney Quest and Cirque de Soliel. You do have to pay to get in to both Disney Quest and Cirque de Soliel but they can be less expensive than a day in the parks if that's your thing.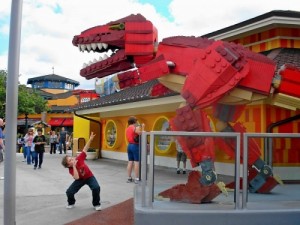 Amazingly enough, West Side has a lot more shops than the Marketplace but they tend to be geared more for the serious adult rather than the Disney kid in all of us. Honestly, with all that there is to choose from in the Downtown Disney area, a family can easily spend the day walking around all of the shops and still feel like you are part of the magic.
Similar Posts: