Renovated Rooms at Disney's Port Orleans Riverside
|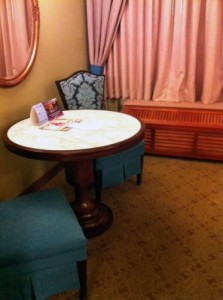 Rooms at Disney's Port Orleans Riverside are currently under renovation.  The photos below are of rooms in the Magnolia Terrace mansion building, which recently re-openned.
Work on the  Alligator Bayou buildings 36, 37, 38 & 39 is scheduled to begin on October 25, 2011 and should be completed by Christmas.
Refurbishment of the two mansion buildings, with Oak Manor being first,  is scheduled to begin early 2011.  Rooms in this section will be converted to the new Royal Guest Rooms.  will include ornate beds that feature headboards with fiber-optic special effects, and gold and crystal accents. Guests also can enjoy artwork and special mementos left by Tiana's royal friends. The 512 Royal Guest Rooms will debut by March 2012.
See Photos …
For more information on Disney's Port Orleans Riverside Resort and current room rates, visit our the Resort section of our web site.
Click on individual images for an enlarged photo
Similar Posts:
Incoming search terms:
port orleans renovations
renovations to rooms in disney