Disney Favorites Through the Alphabet – "C"
|
I'm back with my family's Disney favorites that start with "C" or so I thought…  In my last post, I stated that I was going to post my daughter's favorite princess and that she started with "C".  Well, since I wrote that post, my 12 year old daughter has informed me that Cinderella is no longer her favorite princess.  My jaw dropped, and I could not believe my ears.  My daughter is growing up so fast!  She then says, "Mom, Cinderella and I just don't have anything in common, anymore."  So, now, I seem to have missed her new favorite, Ariel.  It seems that Ariel has moved up in standing because she now has her own attraction.  I wonder if this is because Cinderella's Golden Carrousel was renamed…
Well, I'm a mom with a plan, and I am still blogging about "C" favorites that include Cinderella, so let's continue.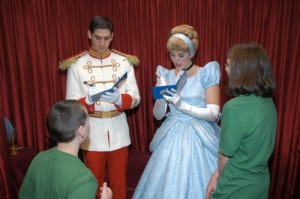 My daughter was so excited to see Cinderella and Prince Charming at Mickey's Very Merry Christmas Party!   We had never been to the party before, nor had we seen Prince Charming before.  We had never been to Walt Disney World at Christmas before (well, the kids hadn't), and we loved all the decorations and lights so much!  We hope to make it back at Christmas again.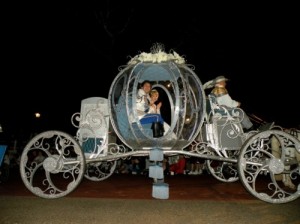 While we were at Mickey's Very Merry Christmas Party, we made sure to watch Mickey's Once Upon a Christmastime Parade.  We were fortunate to have Cinderella's coach stop right in front of where we were sitting.  My daughter was so excited!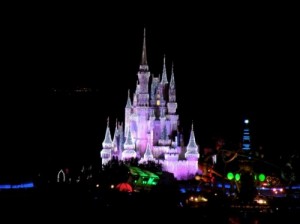 Of course, she loved seeing Cinderella's castle all decorated for Christmas, too!
Christmas trees are a favorite of mine, too, and Disney does the trees with such flair!  Even Christmas trees that are outside at the parks look immaculate.  The above Christmas tree was in the Grand Floridian Resort lobby, and it is so nice to just sit and look at the tree (and gingerbread house) while listening to the orchestra playing Christmas music.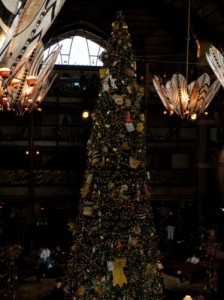 I included this tree because the decorations were so unique, just like the resort in which it is located.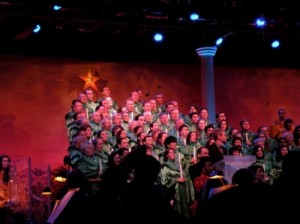 Of course, my favorite Christmas tree is the living one at the Candlelight Processional.  If you haven't seen it, I hope that you will have the opportunity to.  The living tree is made up of singing cast members, Disney's Voices of Liberty, professional musicians, and guest amateur vocalists.  Christmas songs are interspersed with the reading of the Christmas story from the Bible.  The story is told by a celebrity guest narrator.  When we went, Steven Curtis Chapman was the narrator.
There are dinner packages that include VIP seating.  VIP seating does not mean that you won't have to line up early.  What it does mean is that the line of people with VIP seating is allowed in to find seats before the general line.  For us, this was a great deal because it was raining the night that we went.  With the VIP seating, we were able to find seats that were dry and under cover.  Click here to find out more information about the 2011 Candlelight Processional dates, celebrity guest narrators, and dates.
Similar Posts: