Disney Favorites Through the Alphabet – "A"
Like so many people, I have certain favorite attractions that I must do on each trip.  I get really disappointed when I miss these favorites.  Since I have so many favorites, I decided that I would share them with you in a somewhat organized fashion, alphabetically.  I'm not sure if I will be able to get quite 26 of them as some letters are a little more difficult than others, so I will likely combine a few of the letters together.  I hope you enjoy my alphabetical series of Disney favorites!
Let's start at the beginning… "A"!  My favorite Disney "A" is Alice in Wonderland.  Alice is present in so many locations in Disneyland, but I think that I will start with Walt Disney World, first.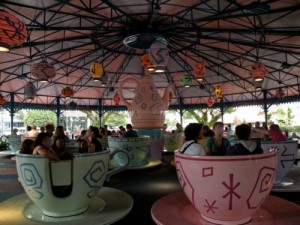 The Mad Tea Party is a whirling ride filled with fun.  The faster your hands can work the wheel in the tea cup, the faster you spin.  A tea pot with the Dormouse popping up is the center piece of the Mad Tea Party in Walt Disney World.  Another major difference between the Walt Disney World version and the Disneyland version is that the Walt Disney World version is covered to protect against the frequent Florida rain.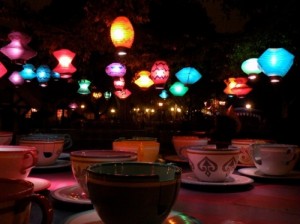 As you can see above, I have moved to Disneyland and the plethora of rides inspired by Alice in Wonderland.  If you look behind the Disneyland Mad Tea Party and to the right side of the picture, you can see the teeth of Monstro the whale from the Storybook Land Canal Boats, which brings us to another Alice piece.  Alice's village is a part of the Storybook Land Canal Boats.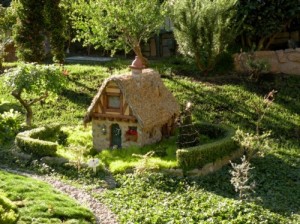 If you look at the white mailbox in front of this cottage, you will see Alice's name printed on the side.  The rabbit's hole is nearby.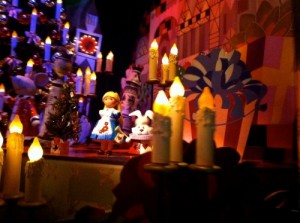 Alice has even found her way into the Disneyland version of It's a Small World.  Now, we head to my favorite Alice attraction, and it is in Disneyland.  Alice in Wonderland tells much of the movie in the length of the ride.  Yes, it is quite condensed…  As the attraction begins, we start by going down the rabbit's hole.
Once we shrink down and make it through the door, we see some of our Alice in Wonderland friends.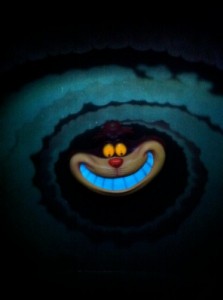 At one point in the ride, we are taken outside where we see the shoes of the caterpillar in front of a book.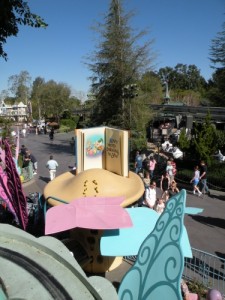 There is something unique about the mushroom under the caterpillar's shoes.  This is one of the original Disneyland ticket booths where attraction tickets were sold inside the park.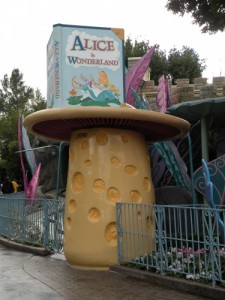 Alice in Wonderland is one of my favorite must-see Disneyland attractions.  A very merry unbirthday to you!
Similar Posts:
Incoming search terms:
disneyland storybook cruise cottage