Have you ever wanted to skydive, but were afraid at the same time?   Just take a short drive up I-4 to i-Fly, an indoor skydiving experience.  This is so safe that anyone age 3 and up can enjoy it, and no one is too old.
While pulling up into the parking lot and getting out of the car, guests can hear the screams and hollers of the skydivers inside the wind tunnel. The guests then make their way inside to the front desk to check in and get registered. At this time you'll also sign a waiver so you need to arrive an hour prior to your scheduled time to allow time to handle everything.  After being checked in, you head upstairs to the observation deck. This is where friends and family members can watch the flyers inside the wind tunnel. The person that is doing the flying goes upstairs to get instructions. There are lockers that are free of charge where you can put items while you're having your adventure. Upstairs the flyer will watch a short instructional video and learn everything that they need to know including the hand signals that will be used during your flight. After the video the flyer gets fitted for jumpsuit, earplugs, and a helmet. Everyone must wear his or her own tennis shoes as well. The groups include about 10-15 flyers. As soon as the group ahead of yours is about done, the flyer goes back downstairs to the wind tunnel along with the group they are in. The flyer sits along benches and can watch every other flyer in the group. When it is your turn you stand in the doorway and fall into the wind tunnel to start your skydiving adventure. There is an instructor inside with the flyer to help. You get two flying sessions that are one minute long. You can tell during the first flight that everyone is a little anxious, but by the second one they're getting a little more confident.  After everyone has gone through, the instructor does a short flying session with different tricks. After the flying session is over the group goes back upstairs to return the gear that was provided.
Everyone also gets a personalized certificate and there are videos that the flyer can purchase which comes on a CD.  There are several packages available—anywhere from one session with 2 flights or a larger package with 5 sessions.  Some packages include the CD, all include a great time!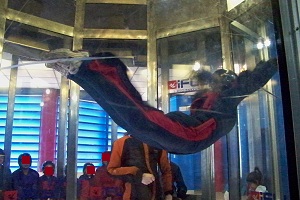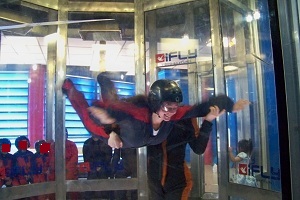 Similar Posts: