How Many Ways Can You Use Your Smartphone?
|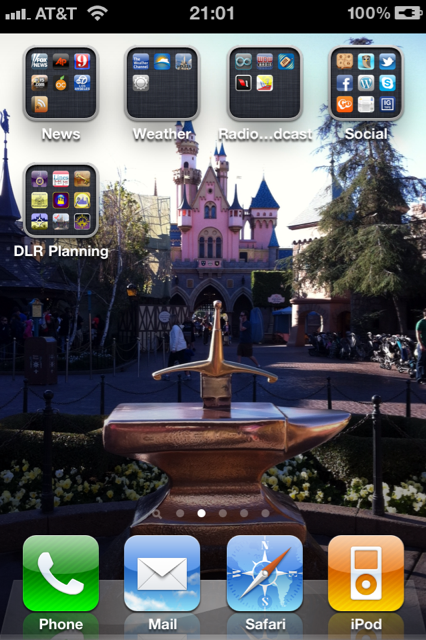 When I bought my iPhone 4 last summer, I knew that it would be well used.  However, I did not realize how much the phone could be utilized while on vacation.  I knew that the phone could be used to find wait times, the nearest bathroom (extremely handy!), the nearest churro (necessity!), and park hours.  I just did not realize how it could be used to link my kids to their dad while we were on vacation without him.
When I took my kids to Disneyland this February, my husband was unable to get off work.  He really wanted to go with us; however, it just was not possible.  The kids and I decided that we would do everything that we possibly could to include Dad in our trip, but we just weren't sure how much more we could do than a few pictures on Twitter and a phone call at night.  The kids and I started brainstorming (Insert the Imagination Movers Brainstorming song here).
The first thing that we thought of was Gowalla.  If we checked in everywhere we went, Dad could see where we had been throughout the day while he was at work.  The next thing that we thought of was the "Find My iPhone" app.  Sometimes, my kids will ask, "Where's Daddy?" while he is on his way home.  We'll pull up the "Find My iPhone" app and find out how close he is to home.  There is an option on the "Find My iPhone" app to see satellite view, like on Google Earth.  We figured that if Dad pulled up the "Find My iPhone" app with satellite view, he could actually see parts of the park as we went along.
Next, I worked on the possibility of Skype.  We got Skype loaded on the computer at home.  Then, we got Skype loaded on my iPhone.  All I can say is WOW!  The kids had to immediately try "Skyping" from various areas of the house.  At that point, we were ready!
We took Amtrak for the first time.  While on the train, our sleeper car attendant suggested that we get off at an earlier stop.  The good part was that we would not have to go to Los Angeles, and we would get to Disneyland several hours earlier.  The bad part is that we got to Disneyland earlier than planned, and I was not prepared.  We ended up entering the park at Magic Morning (early entry) without my camera.  My camera was still in the bags that I had hastily left with the Bell Services at the hotel.  No fear… I had my handy iPhone that I used to take still shots and video of our first day.
While on our trip, Dad followed our "bread crumbs" on Gowalla to virtually see where we had been.  However, the most fun was had with the "Find My iPhone" app.  The kids devised a sort of game where Dad had to guess where we were going based on what he was seeing on the map.  The kids would start out, and Dad would have to text his guesses to us until he figured out where we were going.  The kids had great fun with this game!
The most favorite of the trip was Skype.  The kids were able to show Dad the room we were staying in and the wonderful view!  He was able to see our son fighting Darth Maul at the Jedi Training Academy.  Our son was so proud when he heard his dad had seen the whole thing.  We tried taking Dad on Roger Rabbit Car Toon Spin, but the signal wasn't strong enough to hold the call.  The kids took him on a tour of Disney California Adventure park, including a performance by the Delta Daddy-Os.  They had such a good time showing him much of what they were seeing!
Honestly, the phone paid for itself with just that one trip!
Similar Posts: