Where's My Sewing Machine?
|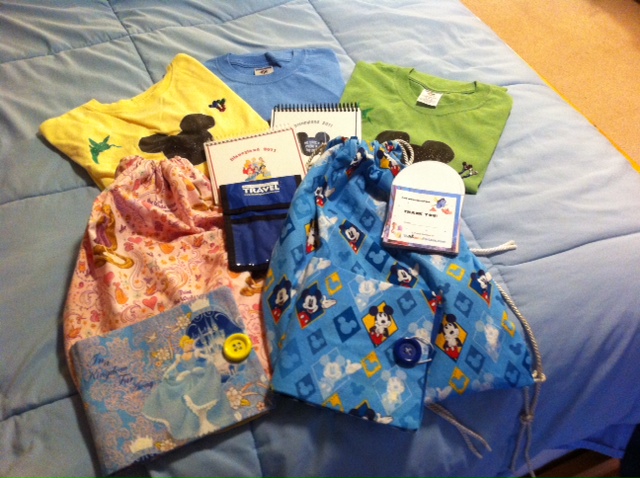 The sewing machine has been put away for now.  It has a nice resting place in the garage.  I have finally finished what I had set out to do.  The kids and I are staying six nights, and with some shirts from the last trip added to the new ones that I just made, we have six days worth of shirts.
In the picture above, you can see the shirts and pin books that I made.  I also made both kids new back packs to carry their pin books and autograph books in.  Thanks to some of the nice ladies over on the Disboards, I was able to make autograph books.  I used some well-made graphics for the covers.  For the pages, I took pictures of my kids with characters from a previous trip and printed them at 25% opacity on Avery post cards.  Then, I took the pages and covers to FedEx to have the books spiral-bound.
I printed Mousekeeping envelopes from The Mouse for Less website.  They are super easy to cut, fold, and tape together.  I still need to get some money to put in them, but there is time.  The trip isn't for another 12 days.
Twelve days!  Almost to the single digits!  Tonight, the kids and I went through the bin of things that I had been setting aside for the trip.  Whenever I found something that I thought we would need, I threw it into the bin.  Now was the moment of truth.  How much of what we needed did we already have.  We laid everything out on the bed, stacking important things to one side.  Things that were made and can not be replaced (like what is in the picture above) was considered important.  These are the things that we packed in DD11's new carryon suitcase.  We found swimming suits.  Either it will be warm enough to swim, or you will see one frazzled mom and two shivering kids, dripping wet, making a beeline for the hotel.  If you see that, please feel free to wave and say hi!
Back to the packing…  We got most of our toiletries and "just in case" medications together and packed in DS7's rolling suitcase.  Of course, DS7 has already filled part of the suitcase with two stuffed Mickeys, one small stuffed Stitch, and two Lightning McQueens.  "Just in case the hotel has a good place to play," he said.  Hmmm…  I wonder how much those toys will get played with.
Most of the packing is done, now.  The only things left to be packed are the clothes in the large suitcase and a carryon with the planning notebook and electronic gadgets.
I have to say that my vacation planning is just about complete.  I even called Vacation Planning at Disneyland to set up some things to be waiting in the room for the kids.  DD11 and DS7 bought me a Duffy for Christmas.  I was so happy until they started fighting over who was going to play with him.  So, Vacation Planning is going to help me end the bickering.  They are helping me by getting a Duffy (at a price) for each kid to be delivered to the room from "Disney Pals."  No, I could not get the tag signed by Mickey.  I'm not sure why not, but this is the best that they can do, according to them.  Oh, well!  I won't have to referee over Duffy after we get to Disneyland.  I can't wait for the MAGIC to begin!
Similar Posts: