Disney Dream Part 27 – Animator's Palate Decor, Menu and Food
Disney Cruise Line – Disney dream Animator's Palate Decor, Menu and Food
Animator's Palate on the Disney Dream, while bearing the same name as one of the three restaurants on the Disney Magic and Disney Wonder, and is a tribute to the Disney animation, is at the same time completely different than the Animator's Palate on it's sister ships.  This restaurant is a spacious yet stylized restaurant filled with everything you would expect to find inside an actual animator's studio. Character sketches, maquettes, light boxes, paint brushes, colored pencils, computer work stations and other tools of the animation trade delightfully decorate the venue; and scenes and characters from popular Disney films adorn the walls—creating a one-of-a-kind experience sure to captivate the entire family.
As a special nod to the mouse that started it all, the contemporary dining room chairs feature a distinct red, black and yellow color scheme with a trademark design–Mickey Mouse pants with two bright yellow buttons each.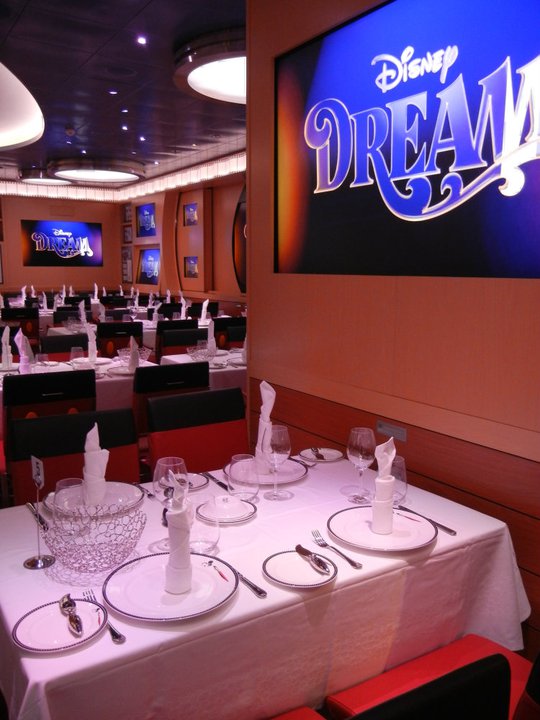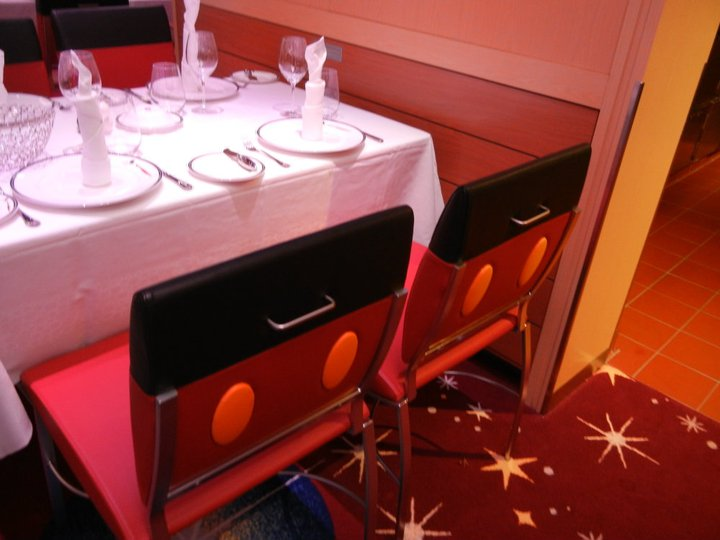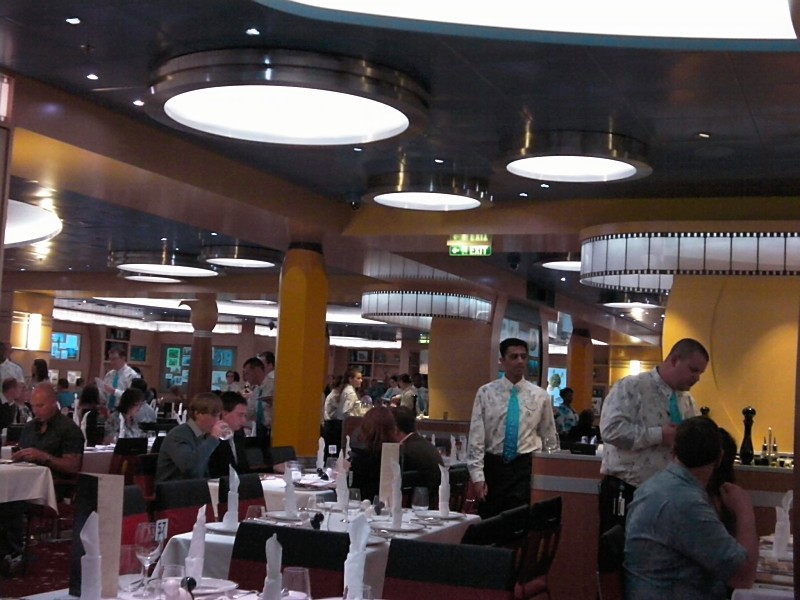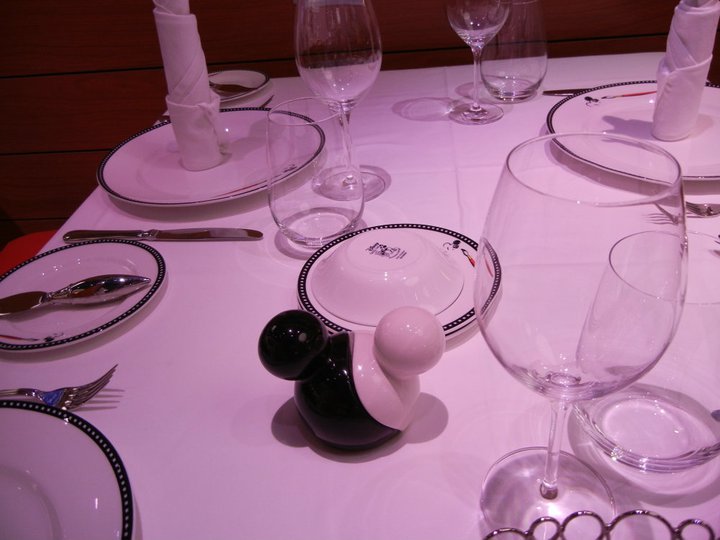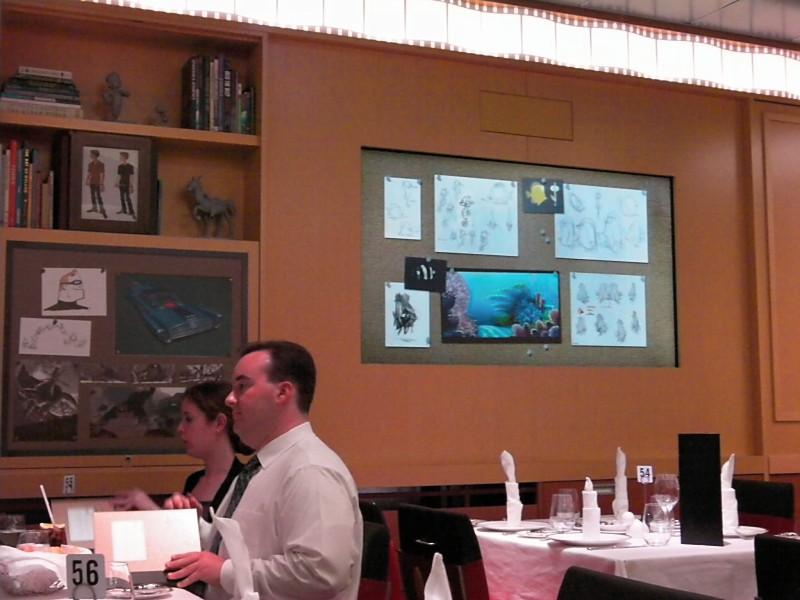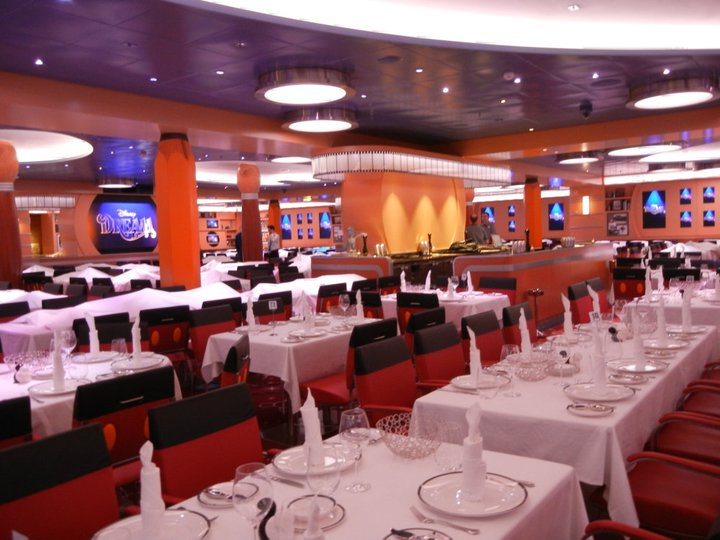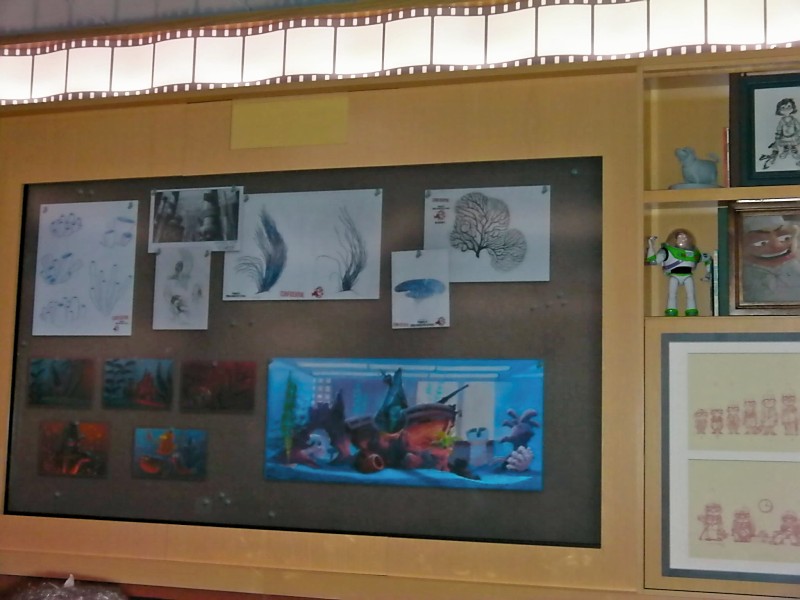 Costumes of the servers in Animator's Palate.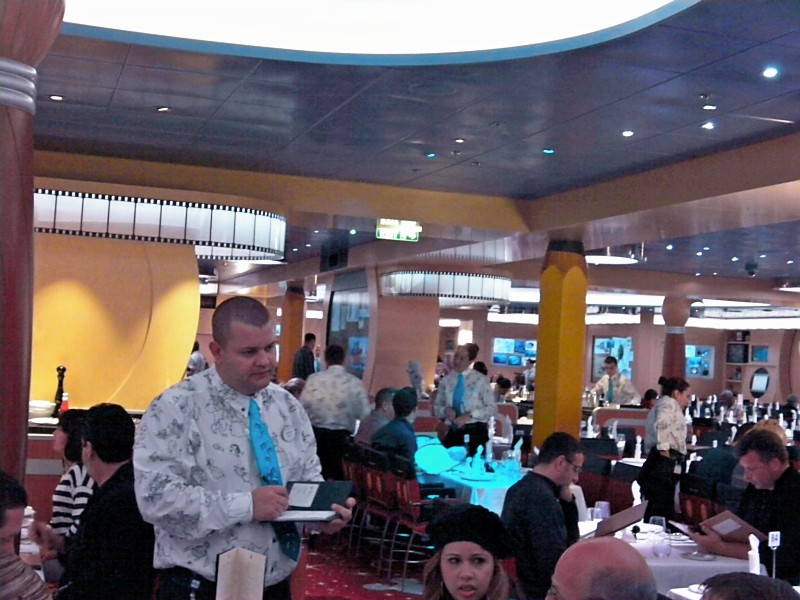 The Animator's Palate serves contemporary Pacific Rim cuisine with an American flair for dinner.  Here are the menus.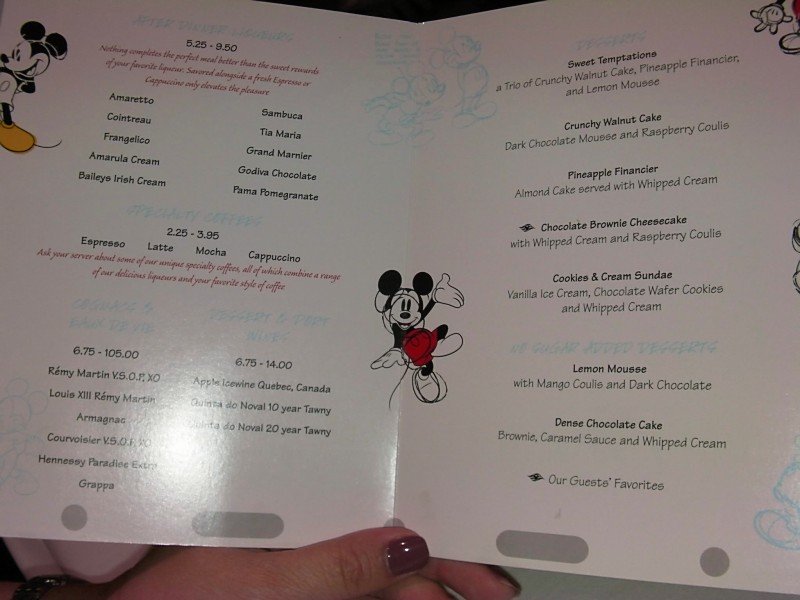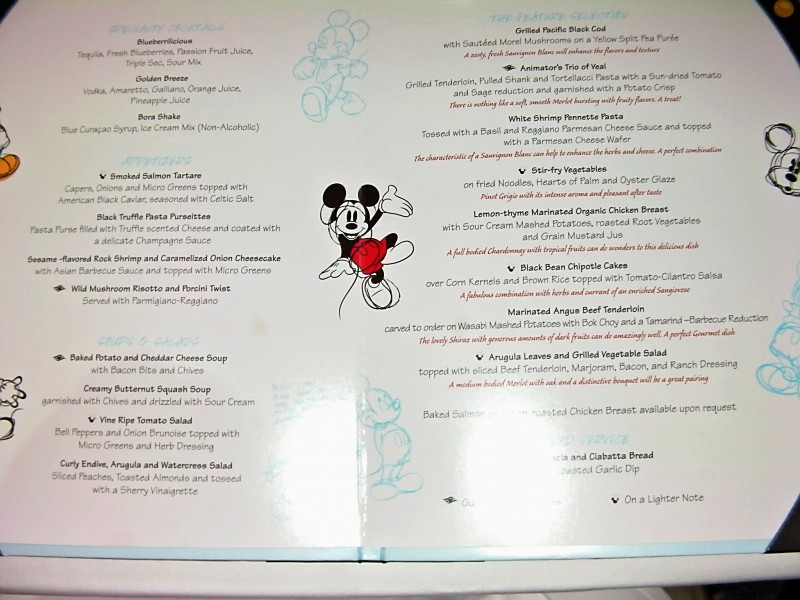 And the food…
Vine Ripe Tomato Salad
Marinated Angus Beef Tenderloin carved to order on Wasabi Mashed Potatoes with Bok Choy and a Tamarind-Barbecue Reduction
Animator's Trio of Veal – Grilled Tenderloin, Pulled Shank and Tortellacci Pasta with a Sun dried Tomato and Sage reduction and garnished with a Potato Crisp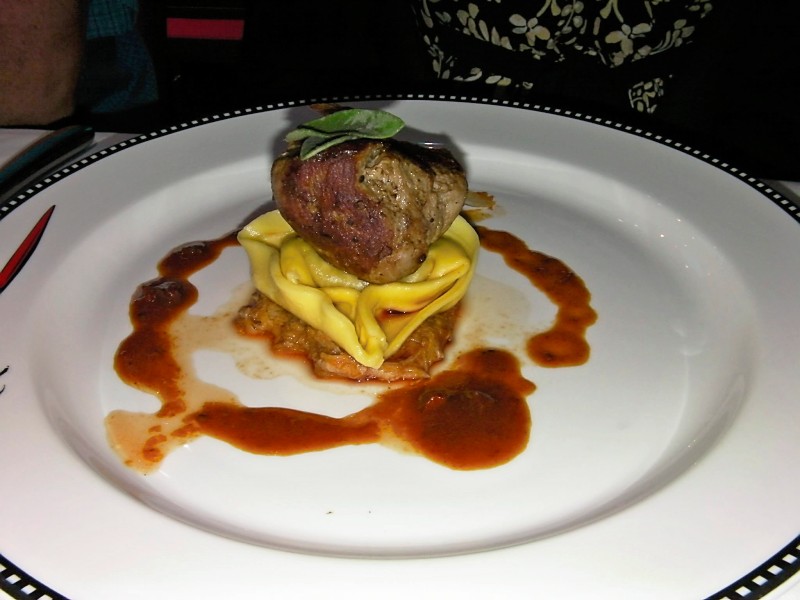 Grilled Pacific Black Cod with Sauteed Morel Mushrooms on a Yellow Split Pea Puree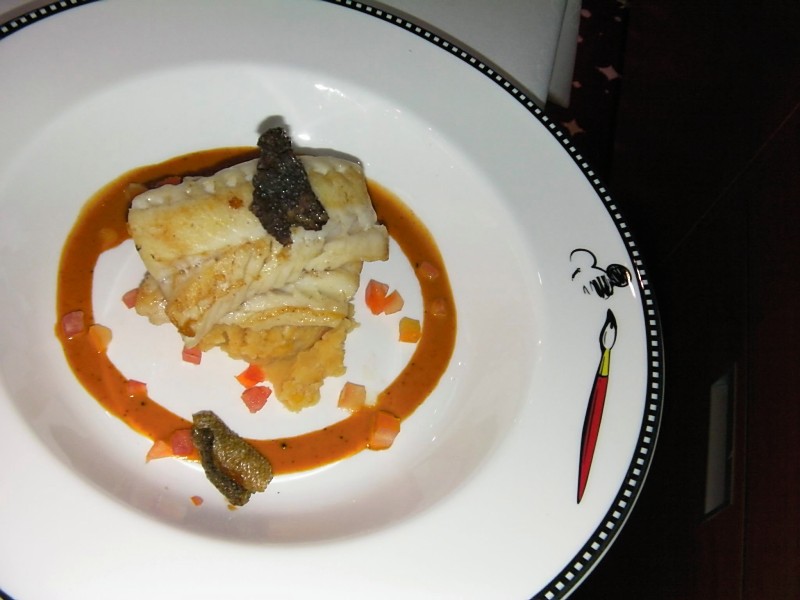 White Shrimp Pennette Pasta tossed with a Basil and Reggiano Parmesan Cheese Sauce and topped with a Parmesan Cheese Wafer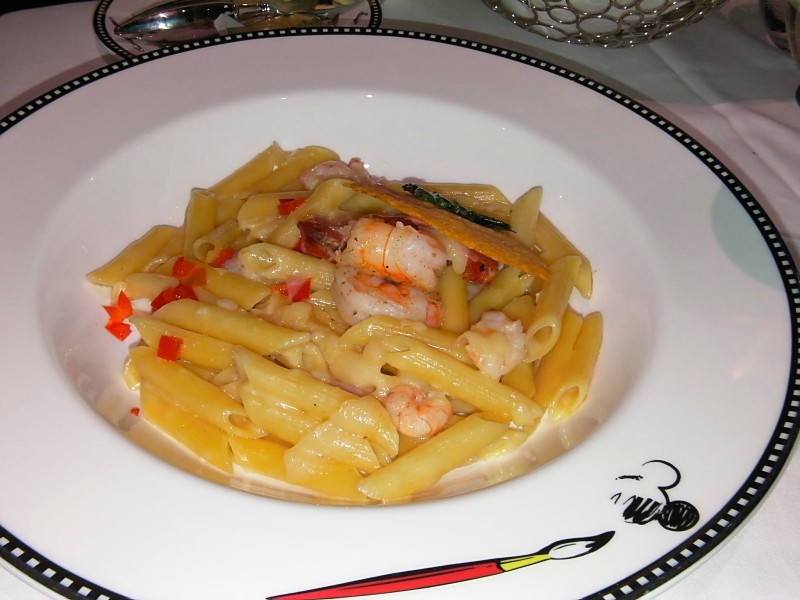 More pictures of the Disney Dream will be brought to you each day.  Tomorrow, pictures of decor and food from Remy.
Visit The Magic For Less Travel to book your next Disney Dream Vacation!
Visit us The Magic For Less Travel on Facebook: http://www.facebook.com/TheMagicForLess?ref=ts
Pictures compliments of Deb Chambers, Susan Kirby, Lisa McClure and Pam Forrester of The Magic For Less Travel.
Incoming search terms:
animators palate
animators palate menu
cuisine des restaurant disneyland
disney dream animators palate
remy american menu
About The Author

admin