Disney Dream Part 6 – AquaDuck
|
Disney Cruise Line – Disney Dream AquaDuck

Disney Dream boasts many cruise industry "firsts", one of them is the AquaDuck.  AquaDuck is a thrilling water coaster that is located on Deck 12, Aft aboard the Disney Dream. It propels guests through an acrylic tube on a breathtaking journey up, down, around and off the side of the ship, through the Forward Funnel and—following a mammoth drop—into a lazy river.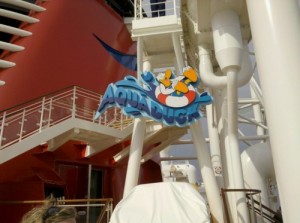 See the AquaDuck in Action Posted by DisneyParks on YouTube
Guests must be at least 48″ tall to ride this water coaster.
Lisa, one of The Magic For Less travel counselors, had the chance to sail on the Disney Dream prior to the christening voyage.  She has this to say about the AquaDuck:  "The line for the AquaDuck depended on the time/day.  It was fairly cool and breezy until about 1pm on Saturday in Nassau (warmed up to a whopping 72), the line took us about 10 minutes at that time, but the water was freezing!  My hubby went again on Sunday at CC, said the water was warmer, but the line was took about 30 minutes.  It is a long ride for a water coaster and really great as you sweep around the pool.  Everyone waves at you.  At night it lights up and looks REALLY cool with the people going through it during the fireworks!"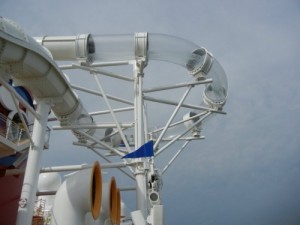 The AquaDuck travels 765 feet and features an exciting 4 deck drop.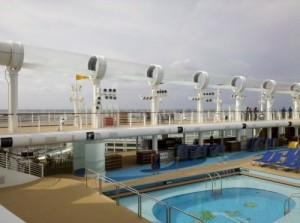 More pictures of the Disney Dream will be brought to you each day.  Tomorrow, pictures of one of two Disney Dream's Royal Suites.
Visit The Magic For Less Travel to book your next Disney Dream Vacation!
Visit us The Magic For Less Travel on Facebook: http://www.facebook.com/TheMagicForLess?ref=ts
Pictures compliments of Deb Chambers and Susan Kirby of The Magic For Less Travel.
Similar Posts:
Incoming search terms: