Disney Dream Part 4 – Enchanted Garden
|
Disney Cruise Line – Enchanted Garden Restaurant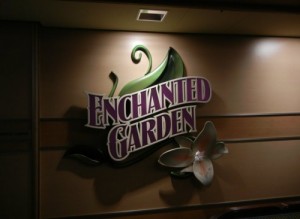 Enchanted Garden is one of the three Main Dining restaurants on the Disney Dream.  It is located on Deck 2, Midship, and is inspired by the picturesque gardens of Versailles.  The restaurant transforms from magically from day to night for the guest's enjoyment.  During the course of the day, the restaurant's sweeping ceiling changes from a brilliant blue daytime color into the golden red of a setting sun, finally transforming into a captivating nighttime constellation of twinkling stars. Additionally, flower light fixtures "bloom" and become bathed in color, decorative wall sconces fall away to become folding fans, wall paintings project a dusky illumination and the centerpiece fountain is flooded with shimmering light.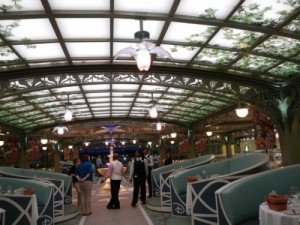 Painted frescoes that depicts the scenic countryside of France can be found everywhere you turn in this beautiful restaurant.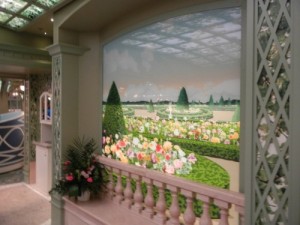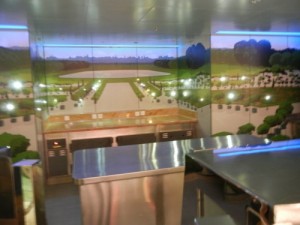 Enchanted Garden invites Guests to dine in a serene splendor that recalls an elegant conservatory amid the foothills in France.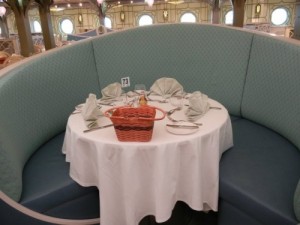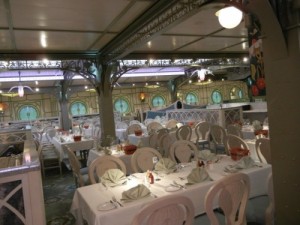 The flower lights in this restaurant are closed with petals folded during the day.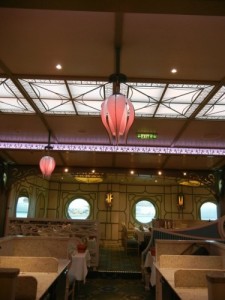 At night, the flower lights bloom and become bathed in color.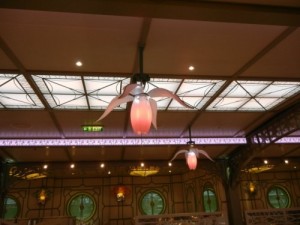 At the center of the Enchanted Garden a 7-foot tall fountain can be seen with a stone cherub Mickey Mouse at the top.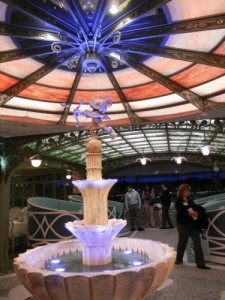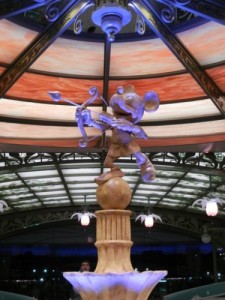 On selected days buffet breakfast and lunch are served in the Enchanted Garden.  For dinner, this restaurant is one of the three rotation Main Dining restaurants available on the Disney Dream.
More pictures of the Disney Dream will be brought to you each day.  Tomorrow, pictures of Disney Dream's Oceaneer Club.
Visit The Magic For Less Travel to book your next Disney Dream Vacation!
Visit us The Magic For Less Travel on Facebook: http://www.facebook.com/TheMagicForLess?ref=ts
Pictures compliments of Deb Chambers of The Magic For Less Travel
Similar Posts: