Disney Dream Part 2 – Concierge One Bedroom Suites (category T)
|
Disney Cruise Line – Disney Dream, Concierge One Bedroom Suite (Category T)
Today's feature is the Disney Dream's Concierge One Bedroom Suites.  There are 19 of these suites onboard the Disney Dream, 2/3 of which are on Deck 12 and 6 of the 19 on Deck 11.  Although they are spacious at 622 sq ft each including verandah, they do not sleep more than the maximum for a Deluxe Oceanview Stateroom and only accomodates 5 passengers.  However, the occupancy level is the only similarity between the Deluxe Oceanview Stateroom and the Concierge One Bedroom Suite.  Step into the suite with us and see the luxury for yourself!
Disney Dream Concierge One Bedroom Suite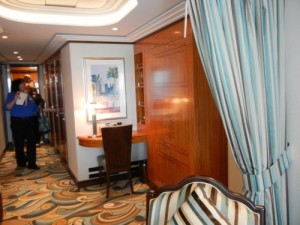 The main bed in this Concierge Suite is a queen size bed and it is outfitted with 300-thread-count, 100% Egyptian cotton linens from Frette. The Concierge Suites' master bedrooms are further upgraded with Sealy Posturepedic® Premium Plush Euro-top mattresses and feather and down duvets. Guests of Disney's Concierge Suites have access to the Pillow Talk program, which allows you to choose from a selection of hypo-allergenic, feather and therapeutic memory-foam pillow options.
The queen size bed in the Category T, Concierge One Bedroom Suite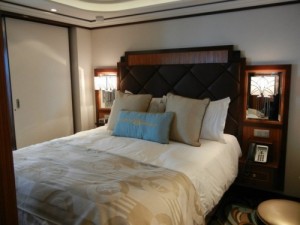 What happens if you are a guest in this room and you either feel too tired to get dressed for dinner or simply don't feel like going to the dining room?  You order in-room dining from any of the rotating dining rooms of course!  Your food will be brought to your suite, prepared for you as if you were sitting at your table at the restaurant.  There is a dining table in your suite so that you can dine in comfort.
Dining table in the room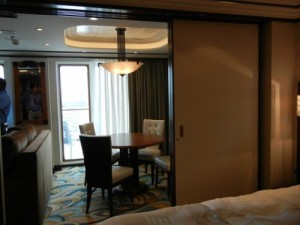 The living area of the suite has a double convertible sofa. The suite also comes equiped with a 42-inch high-definition LCD TV and an iPod Docking Station.
Living Area with Sleeper Sofa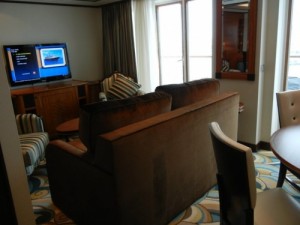 This lavish marble-and-granite master bathroom features a whirlpool tub.  Guests of the Concierge Suites are treated to an enhanced line of H20 Plus Spa, Bath and Shower Products which adds the premium Sea Salt Body Wash and Solar Relief Gel.
Master Bathroom of the Concierge Suite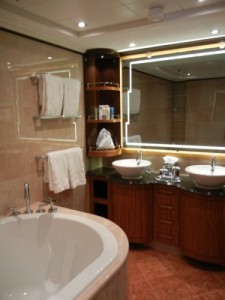 The both the master and the 2nd bathroom showers are rain showers and have plush towels.
Master Bathroom in the Concierge One Bedroom Suite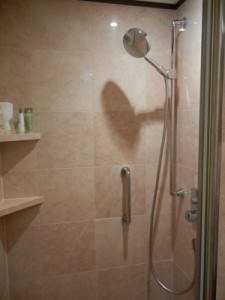 Plush robes and slippers are provided for your use while you cruise.  While staying in a Concierge Suite, you also benefit from daily delights delivered to your door, such as canapés, fruit and cookies.
Complementary Robes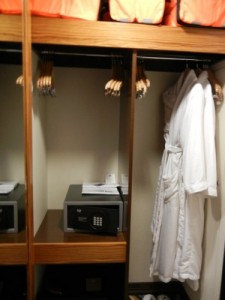 The second bathroom in the suite has a walk in shower.
2nd Bath in the Concierge One Bedroom Suite
Each of the staterooms on Disney Dream are equipped with two Wave Phones so that stateroom guests can keep in touch with each other while out and about.  There is no longer need to pay the outrageous cell phone charges or to contend with the static noise of the walkie talkies.  Pictures and more information on the Wave Phone to come tomorrow.
As a Concierge Guest, you'll enjoy the benefits of the ship's Concierge level special services and exclusive access to dedicated areas on the ship. The Concierge Lounge is centrally located amongst the Concierge Suites on Deck 12. In a stylish, modern setting, Guests can relax in quiet comfort, sip a cocktail, access the Internet, watch news on a large-screen TV and enjoy complimentary food and beverages offered throughout the day. From the Lounge, Concierge Guests have their own private entrance to Deck 13, an exclusive Concierge-only sun deck where they can soak up the sun in their exclusive onboard oasis. Enjoy tranquil breezes, cooling water misters, cushioned lounge chairs and a bar stocked with water and refreshments.
More pictures of the Disney Dream will be brought to you each day.  Tomorrow, pictures of Disney Dream's wildly popular inside stateroom with the virtual porthole.
Visit The Magic For Less Travel to book your next Disney Dream Vacation!
Visit us The Magic For Less Travel on Facebook: http://www.facebook.com/TheMagicForLess?ref=ts
Pictures compliments of Deb Chambers of The Magic For Less Travel
Similar Posts:
Incoming search terms: