Disney Dream Part 15 – Cabanas Decor and Food
Disney Cruise Line – Disney Dream Cabanas Decor and Food
Just like the Topsiders on the Disney Magic and Beach Blanket Buffet on the Disney Wonder, the Cabanas on the Disney Dream is an indoor/outdoor casual dining restaurant.  Located on Deck 11, Aft, Cabanas serves a variety of fresh food favorites. During breakfast and lunch, Cabanas is a buffet style restaurant; at dinnertime, Cabanas is transformed into an elegant table-service restaurant serving Main Dining specialties.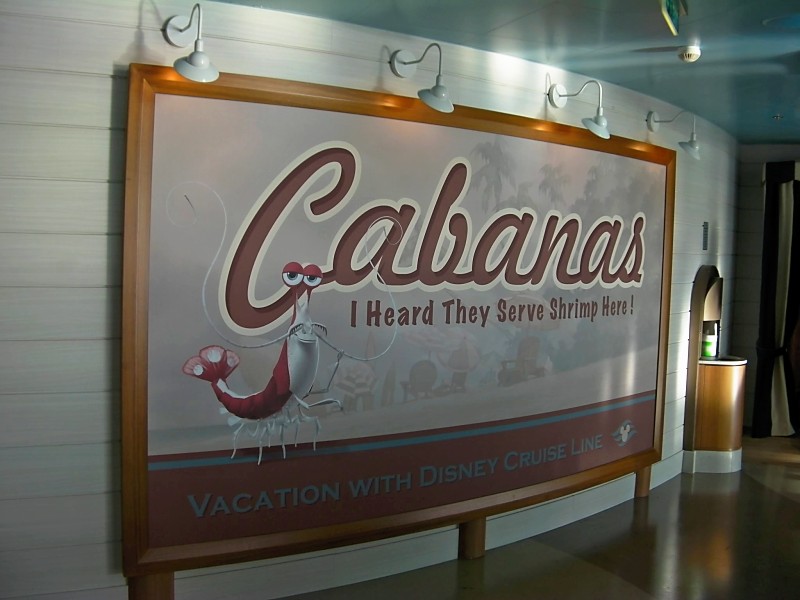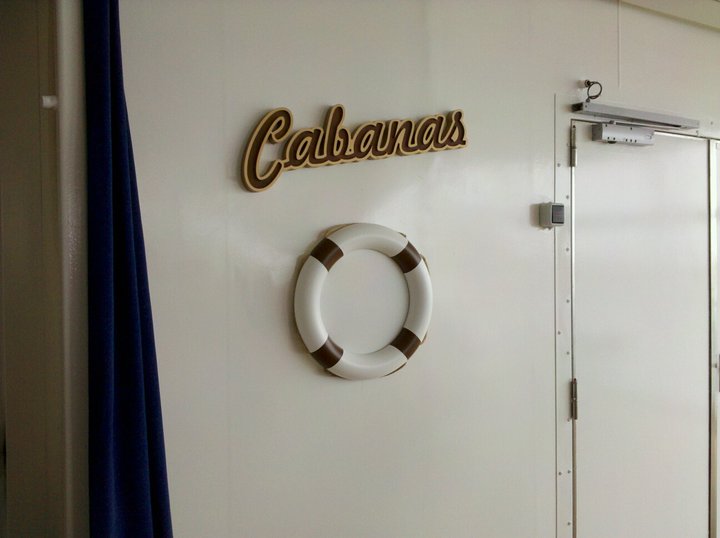 Cabanas carries a California beach theme.  A sweeping 30-foot-long hand-crafted mosaic depicting an underwater scene from the Disney•Pixar animated film Finding Nemo can be found on the wall, and you'll find that some of the seagulls from Finding Nemo call Cabanas home as well.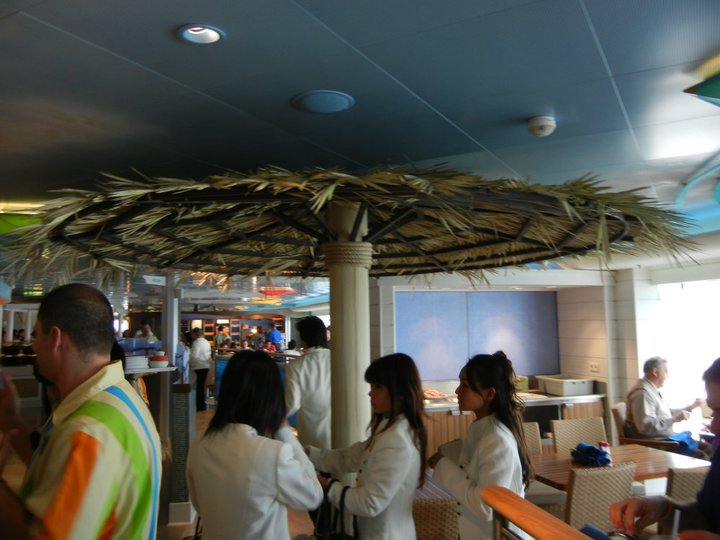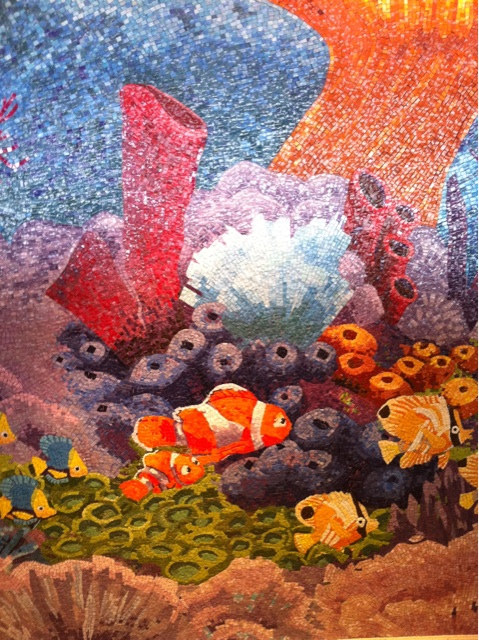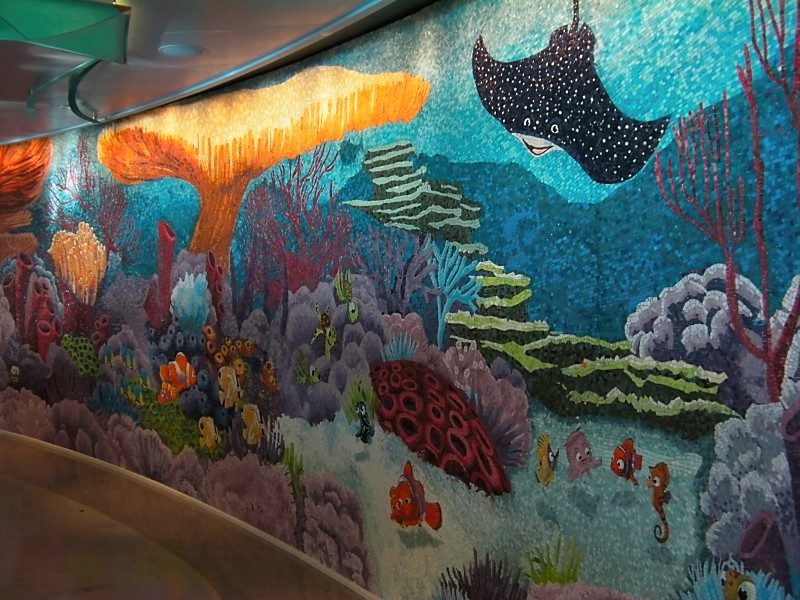 Cabanas includes nautical-themed clocks that display the times of the various Disney Parks around the world, from Tokyo to Florida.  You'll find "sand" castles featuring the 5 Disney castles as well.
Disney Dream Cabanas Walt Disney World "Sand" castle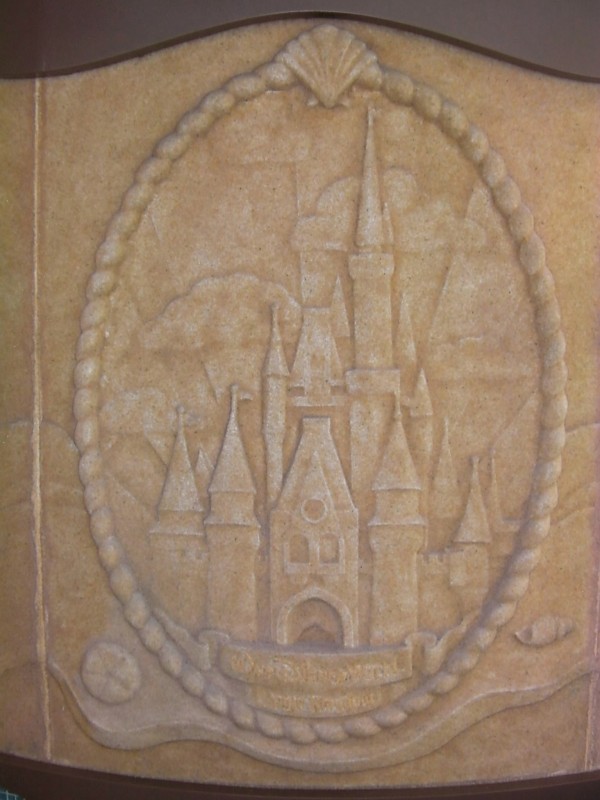 Disney Dream Cabanas Tokyo Disney "Sand" Castle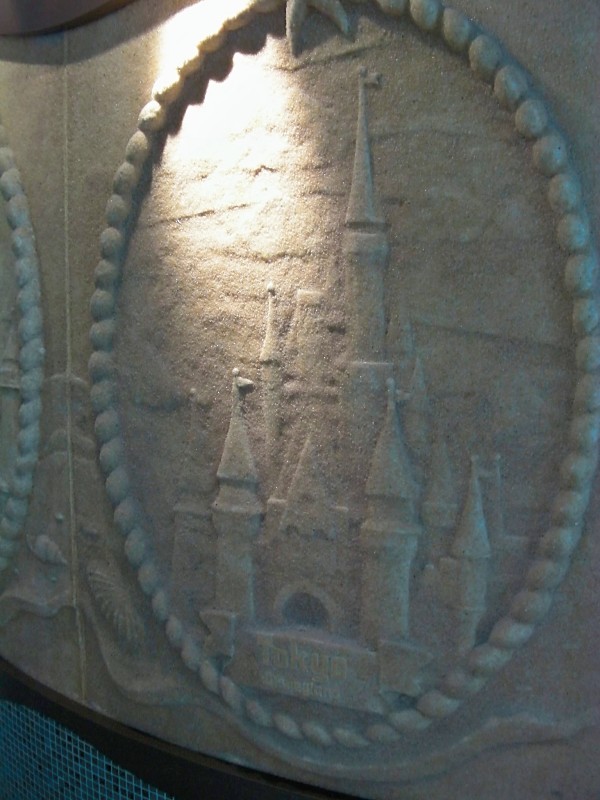 Disney Dream Cabanas Hong Kong Disneyland "Sand" Castle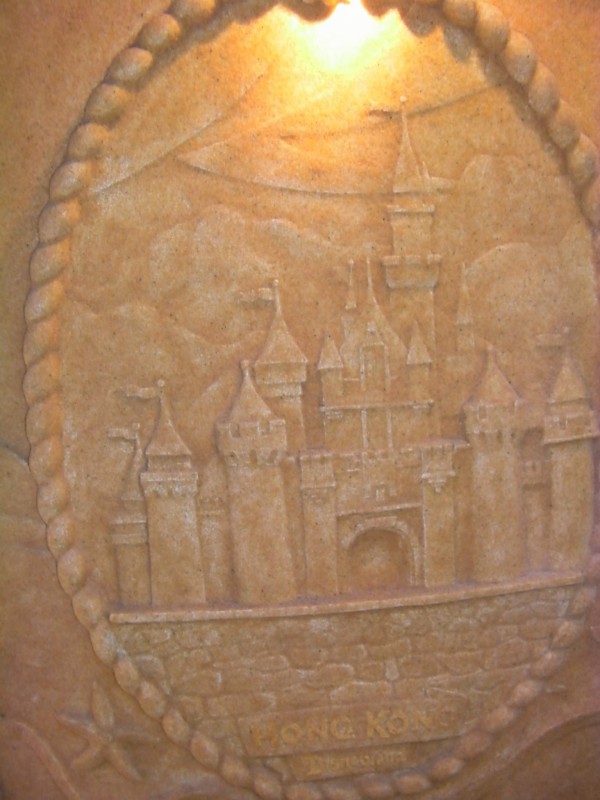 During breakfast and lunch, Guests are invited to explore the boardwalk at the Cabanas.  The boardwalk is home to a variety of food stations, each designed to look like a seaside beach cabana with colorful awnings.  Menu offerings include the following:
Yummy Chicken Wraps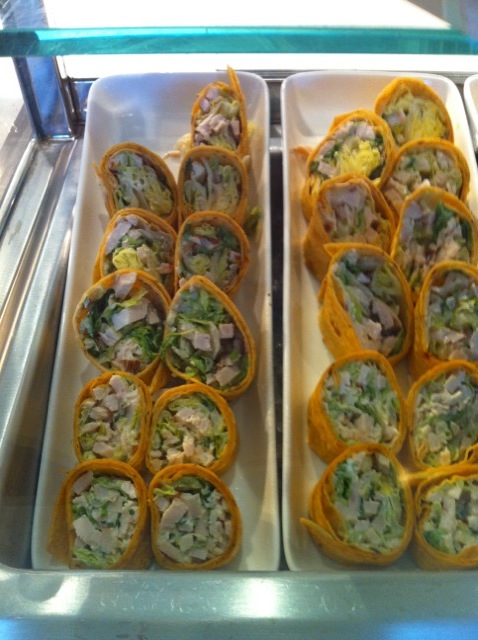 Tomato and Mozzarella Cibatta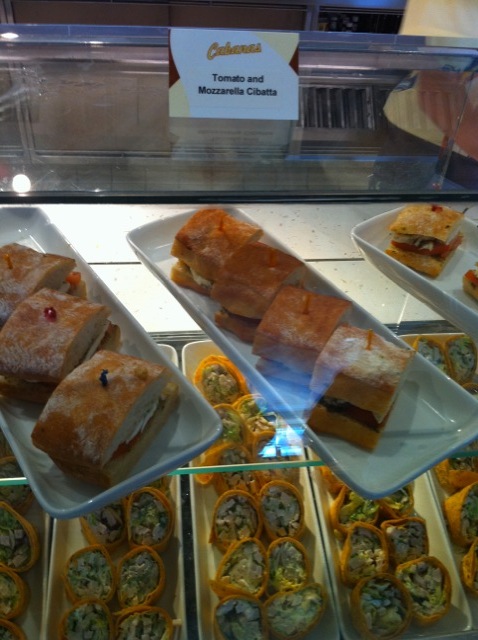 Pizza Station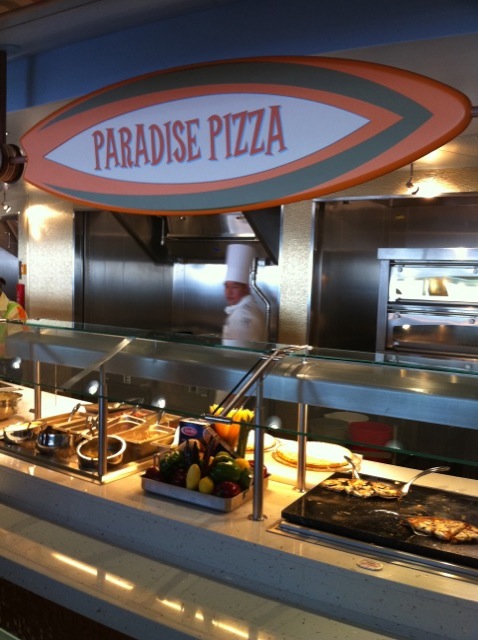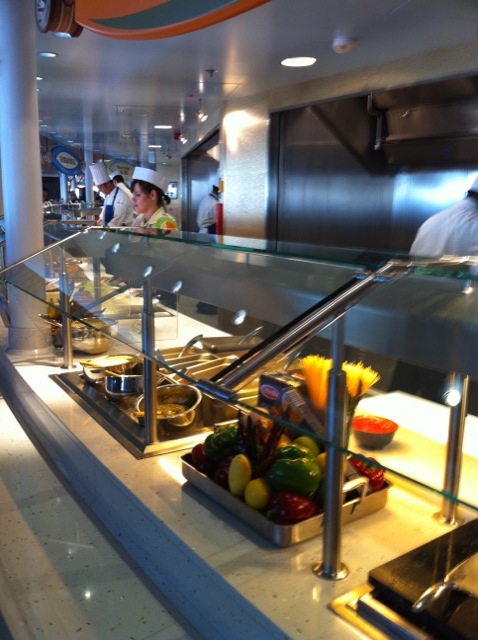 Did someone say DESSERTS?!?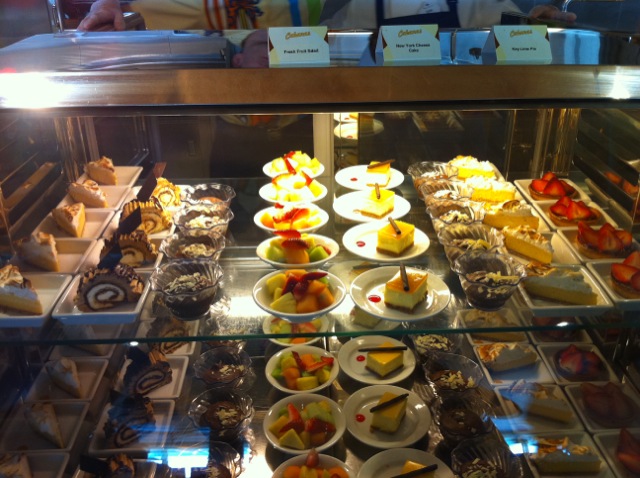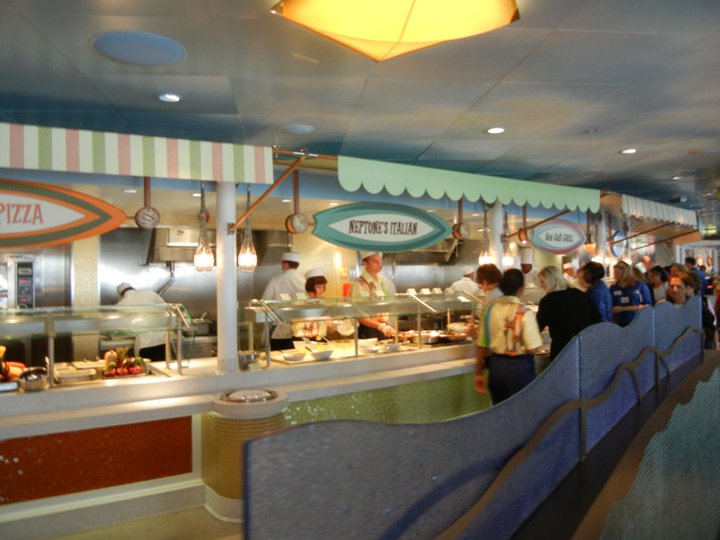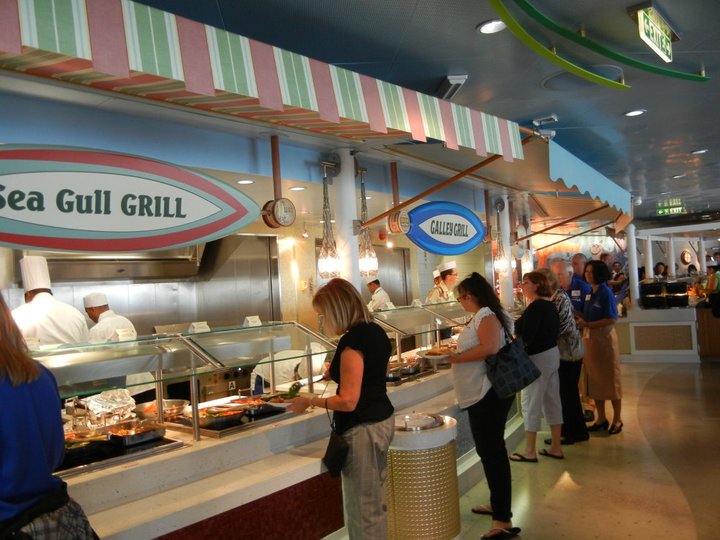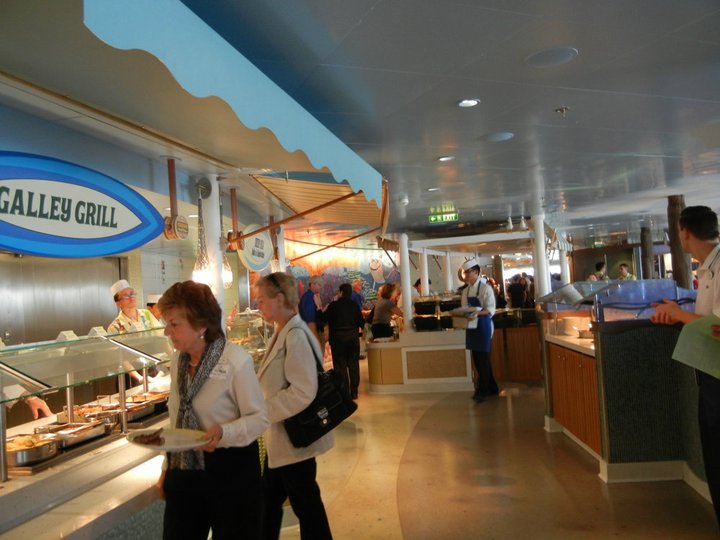 The glassware at the Cabanas and the not-so-hidden Mickeys.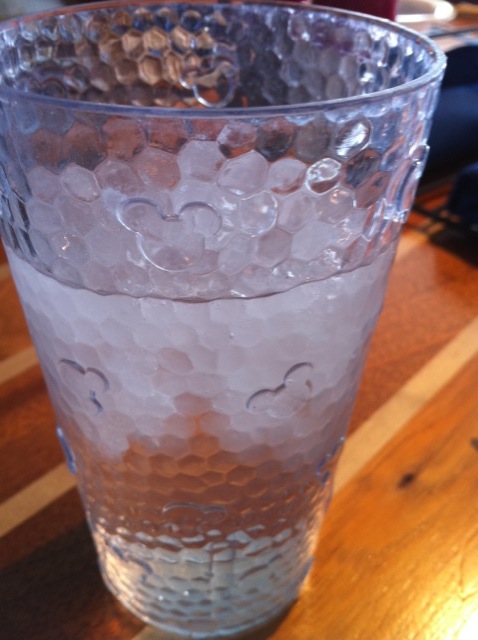 Some tables at the Cabanas offer seating with a view.  Here's Deb Chambers and Susan Kirby of The Magic For Less Travel at their oceanview table.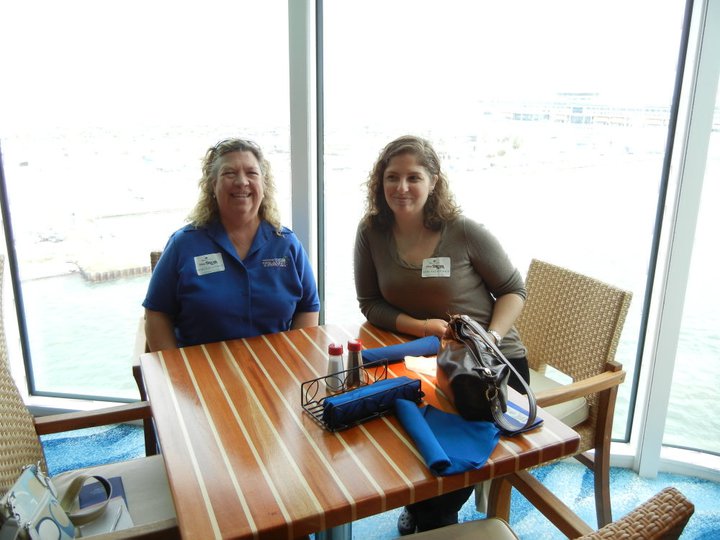 The dress code for dinner at Cabanas is cruise casual. However, you are requested to not wear tank tops, swim wear or shorts at dinnertime.  At dinner time Cabanas offers fine food for everyone in your family during a delightful 4-course meal. Although subject to change, dinnertime menu items include signature dishes from the Main Dining restaurants and casual dining specials.
More pictures of the Disney Dream will be brought to you each day.  Tomorrow we'll take a visit to the Concierge Sun Deck and Concierge Lounge.
Visit The Magic For Less Travel to book your next Disney Dream Vacation!
Visit us The Magic For Less Travel on Facebook: http://www.facebook.com/TheMagicForLess?ref=ts
Pictures compliments of Deb Chambers, Susan Kirby, Lisa McClure and Pam Forrester of The Magic For Less Travel.
Similar Posts:
Incoming search terms:
food on disney dream
[keyword]
About The Author

admin