Roadside America…..the Model Train Version
|
So, I got "1000 Places to See Before You Die" (actually, I have both versions, but the one appropriate for this story is the USA and Canada one) and of course I immediately decide that I'm going to make it a point to try to visit nearly all of the places listed in the book. Earlier this year we were visiting family in PA and had the chance to stop at one of the entries that I hadn't yet experienced.  Chris had grown up with Roadside America, but it was all brand new to me.  For those of you not familiar with the wonder of it, Roadside America is located in Shartlesville, PA, and is a decades old miniature village. For those who have a love of model railroads (O scale, to be exact) or perhaps Department 56 or ANY miniature things, you would truly get a kick out of RA.
Behold, the wonder……… ; )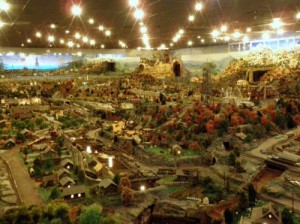 Located in Shartlesville, PA, Roadside America began in 1953.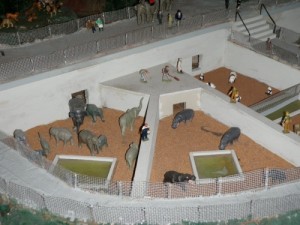 As you walk through the display you'll see ALL kinds of things…even hippos!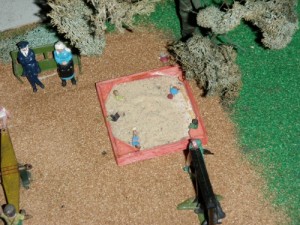 Some kids playing (and falling down, LOL) in the sand box.
Each of the buildings in Roadside America was built by hand!!!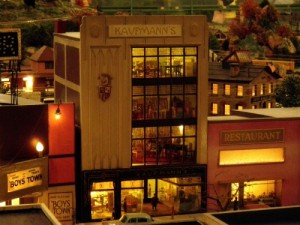 Some of the buildings even include hand built interiors.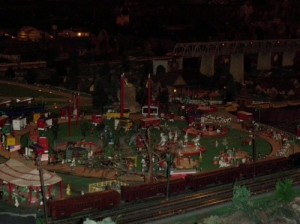 In front of the miniature airport, you can see that the circus has come to town!
Different scenes throughout the display are explained and some are even interactive. You can press buttons and make a blacksmith work, or an oil pump move or even make a church bell ring.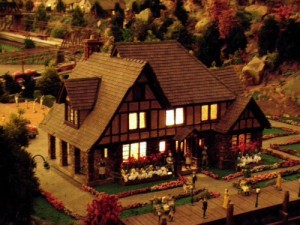 It's hard to believe that one man built each and every building within the display, right down to individual shingles on the roof!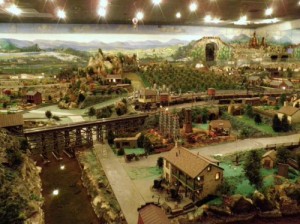 You can walk completely around and even sometimes above or behind parts of the village.
While looking around the display, it may seem dated at times but it is ALWAYS fun. It is amazing to know that this was the dream of a single man that was accomplished with the love and support of his family over a period of years.
Kids will love Roadside America because they can make things happen!  But it truly is great for kids and adults alike. There is even a patriotic tribute that plays at set intervals throughout the day. If you are in the area, give it a shot!
Similar Posts:
Incoming search terms: