Our Escape to Old Key West (9/29/10 – 10/2/10)
|
– Our Cast of Characters: Me and Hubs, most recent trip in 2009 with 2 out of 3 kidlets, newbie DVC members – this was a quick get away to burn "bonus" points about to expire plus experience the magic on our own!
– Our Journey: AirTran flights (upgraded to first class for $69 each/flight!! wahoo!) PHL to MCO – both flights 7:30 a.m. flights putting at our destination, including Magical Express, by noon.
– Our Lodging: One Bedroom Villa in Turtle Creek section of OKW. It was HUGE. We certainly can get away with a one bedroom for our family of 5 – the girls can sleep on the pull out couch and our son on the pull out chair! Way too much room for the two of us!!
– Our Special Plans: trip to celebrate our 11th Anniversary which was in May – wanted to rent a car to visit an old friend livng nearby and also visit Epcot to do Soarin' (because we weren't able to ride on previous trip) and the 15th Food and Wine Festival!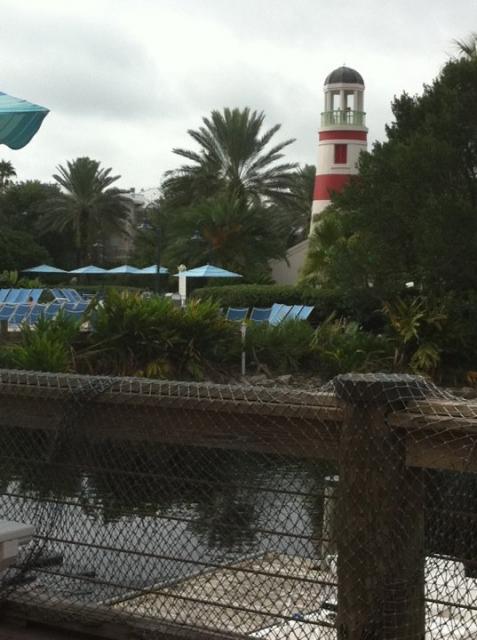 We thought that with all of the activity in the Gulf and the Caribbean our first day, Wednesday, Sept. 29th would be rainy and a great day to do nothing … We weren't able to check in when we arrived around noon as our room wasn't ready yet but we dropped our bags with bell services and took the boat over to Downtown Disney to grab lunch and kill some time til our room was ready. (can you believe they send you a text message when it's ready? now that is coolness!) We lunched at TRex Cafe – we were able to walk in because it was just 11:30 and they were just opening. We had a great lunch and had way too much food for the two of us! Hubs had the appetizer sampler, with a side of ribs and I had the chicken pita with fries. I helped him eat his and I couldn't finish mine. We didn't get "doggie bags" because we didn't know when our room would be ready. If you're not on Disney Dining and are DVC, don't forget to ask for your discount! After lunch we shopped and waited … and shopped … and waited. LOL. Our room wasn't ready til almost 4 o'clock which is okay because that is the check in time at OKW.
After we were in our room, it was a little challenging to get all of our stuff up to us. The Bell People who were working at 4:00 weren't the same ones who where there at 11:30 and didn't know that we had * carry on bags, *grocery delivery, *one checked bag from DME, and *one purple locker that all needed to get to us. We had bell services to us three different times just to get all of our stuff. Again, not a big deal but …. tipping was getting a little out of control. LOL.
Dinner Wednesday night was at Raglan Road, DTD. (HEY – it never rained on Wednesday for us! How great was that??) Raglan Road was fantastic! Hubs had the prime rib (bone in) special — ordered medium. (If you like your steak mooing, this is how you want to order it, otherwise, order it medium well so it isn't talking to you from the plate.) I had the pork loin stuffed with sausage. They were both fabulous meals. The Sangria rocked(!) and he had a beer. The Irish Dancers that were performing that night were great and fun to watch. We watched a little girl sitting behind us doing her Irish dance – I can only imagine our little one would have been doing the same thing. *note to self: make sure we bring the kidlets here in December!! It was a lot of fun!* Hung out at DTD, watching a guy play guitar while we were sipping Margaritas across from the SoundStage … now that is cool!! We were cracking up at all of the people getting scared off by the "statutes."
Thursday, we got a shuttle from the Hospitality House to the Car Care center where we rented a convertible (please don't rain) for the day to go visit one of Hubs' friends. Renting the car was painless, GPS on our cell phones was priceless, too bad we didn't know about all of the tolls on the Florida roads. Holy cow! We can never complain about Jersey tolls again!! Luckily I had enough loose change in my purse to get us to our destination. Lunched with an old friend at Macaroni Grill, quick stop at Target to get stuff for our Purple Locker, then we were going to try to find Margaritaville Orlando for a visit and shopping.
Our GPS took us to a corner on Universal Boulevard and left us there. "You have reached your destination on your right." WHAT? We actually would have had to park the car in a parking garage, walk across a … bridge … I can't think of a better word for it right now … then into a complex which we couldn't really see from the road to get there. So, we canned it. LOL We wanted to get the car back early and we had reservations that evening at House of Blues, DTD. We got a 10% discount for returning the car early which negated their special 10% tax for land recovery something or other. It was definitely worth it though, renting the car and visiting our friend!
Dinner at House of Blues was great. We got to see the sun go down by the water and enjoyed the music while we ate. I asked the waiter for his drink recommendation, which was a Gator Bite. Sweet, but good. Hubs had the ribs while I had a steak. Delicious. Too full from drinks, salad and dinner to try dessert. Hung out by the SoundStage again after dinner and shopping. HoB – another place to use your DVC discount for food and purchases in the store.
Around lunchtime on Friday, we headed over to Epcot. We got in line for Soarin' first since we weren't able to get on the ride in 2009. It was a 40 minute stand-by time and the wait time was right on. The ride was about 7 minutes long and I definitely want to do it again!!! I have already told the kidlets that is on our "to do" list for December!
After Soarin', we headed over to the Food & Wine Festival. The Mexico pavilion was our first stop. Hubs had a Dos Xs beer and I had a frozen pomegranate margarita. The margarita was delicious! We passed many other places, but stopped in Norway to ride Malestrom. Different. Not what I was expecting but fun! We'll take the kids back here in December too. On to Germany!! At the pavilion, Hubs had the trio of beers. After finishing those, we had an ADR for lunch at Beirgarten. Lunch was awesome. The German girls who worked at the hostess table and the actual hostess who showed us to our table were smiley and spoke heavily accented WAY.TOO.FAST. LOL. Lunch rocked! We saw the tail end of a show then were able to share our Soarin' fast passes with a couple at our table who didn't have fast passes, but their friends did. We weren't going to make it back over there by the time on our fastpasses, so we might as well spread the love, right?? Hubs was surprised when he came back from the men's room and I had ordered him a beer – a Liter of Beer. They even give plastic cups to go if you can't finish it with your lunch. We'd definitely go here again but I don't know that my kids would dig it. They're not very adventurous when it comes to eating different things.
We headed to Morocco where I got a Henna Tattoo. We saw the belly dancers there too (and Jasmine and Alladin). On our way out, we stopped at the New Zeland pavilion for a lamb slider and a glass of chardonnay (SWEET!) then detoured after shopping for gifts for the kids at the Mexico pavilion for another round of margaritas. We went over to Test Track but the standby line was pretty long and fast passes were pretty far in the future too so we headed back to OKW. A quick bite to eat at Olivia's then back to pack.
Our flight out was at 7:30 a.m. so the DME was picking us up at 4:20 am at the Hospitality House. We were able to schedule with Bell Services (early in the day on Friday) a pick up for us and our luggage at 4:00 a.m. so we didn't have to walk so far sleepy and in the dark. Nice!! Return flight was uneventful and if you must know, we forgot where we parked our car at PHL and spent 1/2 hour looking for it. A few people giggled at us as I'm sure I would have if I were them. Definitely putting that info in the cell phone when we head back down in December with the kidlets!
Author:
Kristie Worrell
Original post on Family, Scrapbooks and Coffee!
Similar Posts: