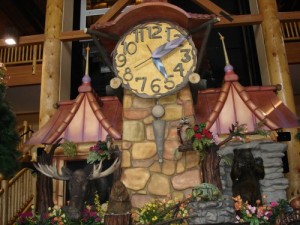 Sometimes you just need to get away for a short trip, or even a long weekend, but can't go too far due to the short timeframe.  We've found a great place for a weekend, or even just a night away, in the Great Wolf Lodges.  This hotel is located in several locations around the Midwest and east half of the United States (with one lone hotel located in the state of Washington.  If you're lucky enough to have one of these hotels located near enough so you can have a short trip there, then consider this when you need some time away and can't go far—or when the snow's flying and you just need to feel some warmth.
You'll find plenty of warmth at the Great Wolf Lodge, from the fireplace in the lobby, to fireplaces in some of the suites to the hot and humid air in the indoor waterpark.  Everything about the resort is very kid-friendly, but great for adults as well.   As you enter the lobby you'll see the Great Clock Tower where you can also gather with the children for a show 3 times a day (you can even come in your pj's then stay for a bedtime story).
They have several room types, from your standard room to whirlpool rooms and loft rooms with fireplaces.  For younger guests, they have great rooms that include the Wolf's Den with a cave-like area, a KidKamp suite which is like they get to sleep in a tent or the KidCabin suite where they have their own log cabin.  All of the kid areas are in the corner of the large suite and include bunk beds and their own TV where they can play Nintendo or watch movies.   What a great place for the kids to have their own space, and the adults as well!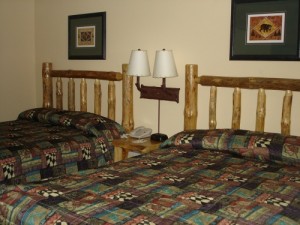 The rooms are great, and the restaurant is great fun where you can dine under tents, or in the open under the trees.  You might even find a tree house above you.  There is also a large arcade with every game you want to play, a spa for both adults and children (ages 4-12 so they can feel grown-up as well), Cub Club for the children and the normal shops—both gift shop and water shop in case you forgot your swim suit or goggles.
Even though the Lodge itself is a great attraction, the biggest attraction is the indoor water park.   The water park is fun for all ages!  Indoors you'll find water slides for toddlers as well as several for older children and adults.  The slides have tubes and tobaggans for 1, 2 and 3 people.  They have a pool where you can play basketball, or just play around and in the summer they also have an outdoor pool in most locations.  You just want to relax there's a lazy river as well.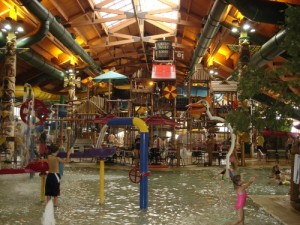 Admission to the water park comes with your room, so go spend a couple of days to get a taste of summer, even when the snow is flying outside.
Similar Posts:
Incoming search terms:
great wolf lodge clock tower
great wolf lodge clock tower clock merchandise