Epcot's La Hacienda de San Angel
|
My daughter Hanna and I had the opportunity to try Epcot's newest restaurant, La Hacienda de San Angel.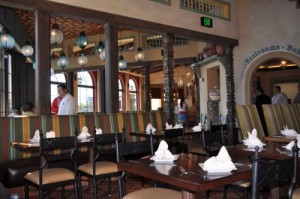 As we stepped in the restaurant we were instantly impressed with the décor, the colors, the lighting, the tile work, the artwork, and the windows.   One of the best parts of this restaurant is the view!    Nearly every seat in the restaurant has an excellent view and looks out toward the World Showcase Lagoon, and has an excellent view.  We know that means that restaurant diners will have a particularly lovely view of Epcot in the evening and a fantastic view of Illuminations.  I also talked with the restaurant's manager who made sure to tell us that the music will be piped in for the Illuminations show.  I predict that reservations near Illuminations time are going to be tough to get soon.
As we looked over the menu, I started with a margarita because I'm on vacation.  I didn't have to drive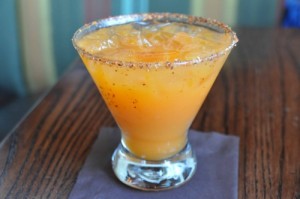 anywhere, and they all sounded good!  I chose the Orange Mango Fire margarita which was rimmed with a bit of spice.  It had just a hint of spice mixed in with the sweetness of the orange and mango flavors and the flavors worked together well.
Our server brought us a basket of tortilla chips served with a salsa verde that was fresh and tasty. While there were number of appetizers that tempted us, we knew we would not be able to eat an appetizer and our entrees, so we skipped the appetizers and planned to order them next time.    For the record, the Queso Fundido with melted cheese, peppers and chorizo sounded great.  So did the Botano which had a chicken tostada and pork and cheese empanada.   Next time.
Our very friendly server came to take our entrée orders, and I chose the Puerco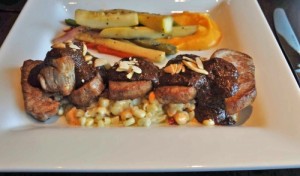 en Salsa de Mole Negro which was pork with a mole sauce.  It was served with vegetables, a sweet potato mash and esquites (roasted corn).   The mole sauce was really good with a number of spices with just a hint of heat, and a hint of cocoa too.  The sweet potato mash was also excellent and almost tasted like a sweet potato bisque it was so creamy.  I was blown away by the esquites.  The corn was so fresh, and cooked to perfection.  It tasted like fresh corn cut right from the cob.  It was not overcooked and had a great seasoning.  I could have eaten this as an entrée.   It was that good!

Hanna ordered the Arrachera entrée which was Flank steak with spring onions, tamal, and cactus leaves.  The steak was well seasoned with a hint of heat, but nothing too extreme.  The vegetables and cactus leaves were cooked well.  Don't be afraid of the cactus leaves, they were a nice compliment to the other vegetables.  The corn tamal was a nice touch too.  Hanna gave this entrée "2 thumbs up" and managed to eat quite a bit of this huge entrée.
Rice, beans, and warm corn tortillas were served family style with our entrees.  Our server let us know that we could request more if needed.  The warm tortillas were very tasty and the beans and rice complimented the meals well.
After our entrees we were feeling a bit full, but knew we wanted to split a dessert.  It was all in the name of "research" of course.   Hanna has loves churros, so when I told her that she could choose the dessert she chose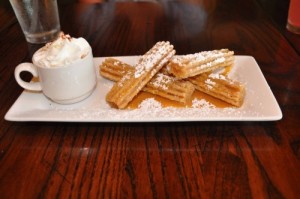 the chocolate con churros.  I would have been up for something a little more adventurous, but after having this dish, I'm pretty sure I would order it again. The churros were really good.  They were crispy, but not greasy and much, much better than the ones you get in the theme parks.  They were served with an incredible caramel sauce that we loved.  Even though the churros were good, we both felt that the real star of this dish was the Mexican hot chocolate.  This hot chocolate did not even resemble they typical hot chocolate that you make from a mix at home.  It was rich and delicious and tasted like they had melted chocolate and put it in our cup.  We loved it and it was the perfect way to end our meal.  We wondered if we looked desperate as we tried to drain the last drops of this chocolate treat from the cup, but then decided we didn't care.
With the meal finished, we both agreed that we really enjoyed our meal.  The setting is beautiful and the view is wonderful.  We found the entrees fresh and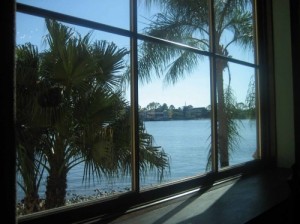 appealing.  While they were spiced, they weren't necessarily spicy or hot, and if you have concerns about that issue, please mention them to your server.   I also want to note that this is not a fast-food or "Tex-Mex" version of Mexican food.  It is not over-cheesed or served with a huge dollop of sour cream.  (Please understand that I am not criticizing cheese or sour cream.  Those are both "good things" in my book.)   It is a fresher and more authentic version of Mexican food that I think many people will truly enjoy.  We look forward to returning.
Our server was truly personable and happy to talk about the food and his culture.  He even encouraged Hanna, who is in her second year of Spanish, to utilize her skills and order for both of us in Spanish.
La Hacienda de San Angel is currently only open for dinner and the doors open at 4 PM each evening.
You can find the complete menu for La Hacienda de San Angel on the Mouse For Less site in the menu section.
Advanced Dining Reservations are suggested and guests who have added a dining plan to their Magic Your Way Package can use a table service credit at this restaurant.
Enjoy!
Similar Posts:
Incoming search terms: