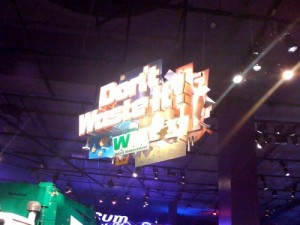 Innoventions in Epcot has a fun new learning experience about recycling.  Like many things in Epcot, you learn while playing a game and having a good time learning.   You can locate this section by looking for the full-size trash truck.   Don't Waste It is sponsored by Waste Management.
They start out talking about statistics on how much trash one person produces.   The average person creates 4 pounds of garbage every day.    That's a lot of trash over a lifetime!
The next step will decide how much trash you produce each day, which is the part that determines how much trash is in your truck.  They ask questions such as do you get the newspaper daily, read it online, or just get it weekends.  Do you eat a little, or a lot (such as if you have teenagers in the house).  From these questions it tells us how many tons of trash we produce each year.  You create a team name then the Cast Member brings the trash truck over to you.  The trash truck has a screen with your team name on it.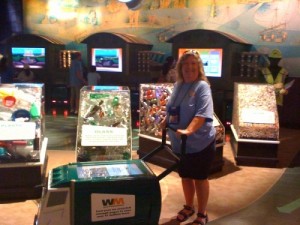 You'll then take your truck to the first station where you dock your truck so it can record your progress in how you recycle your trash.  The first station has you recycling glass, plastic, paper and tin.  Each person has one of these items and has to grab as much as they can to put in the truck.  After you're done you take your trash truck to the next station where you dock it to accumulate more trash.
The next station has two positions.  The one on the top runs a crane and the bottom position is a front loader.  The front loader pushes the trash to the side and the crane lifts it up and puts in the burner.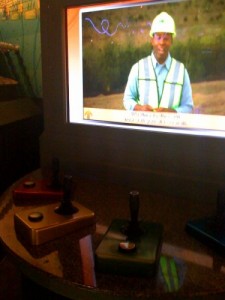 The third game is landscaping.  You use your trash that you've recycled for the landfill to do the landscaping on a golf course, ballpark or a nature park.  You drive your truck to pick up the trash with your front loader and take it to the landfill area where you layer the trash and dirt.
After you've finished with your game you'll take your trash truck to the final station where you dock your truck to see how well you've done.   It gives you an overview of how you've done and what you've learned to become a better recycler and how the process of recycling works.  It then shows you your certificate that you can email to your computer to print out once you're home.  It' s a fun way to learn a little more about recycling and a free souvenir that you can print out and remember what you've learned.
Similar Posts: