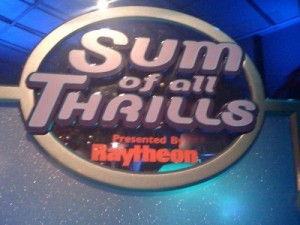 Sum of All Thrills
Presented by Raytheon
Innoventions in Epcot is one place that brings in new attractions at times but they are also overlooked buildings.  As you walk past Spaceship Earth there are two buildings on each side, which are Innoventions East and West.  The newest addition in Innoventions East is calls Sums of all Thrills.
First you get a card when entering the briefing room.  After the briefing, you go to a station to build your ride. You have a choice of a bobsled, a roller coaster, or a jet. You only get 4 minutes to build your ride.
You swipe the card that was given to you and later it will have the memory of the ride on it. You pick which ride you want to create and pick a part that you want to start off with. I did the roller coaster and picked a giant hill. There are two tools that you use throughout the building. There is a ruler and a speed dial. After picking the hill, I placed the ruler next to it and you can change the height. Next you hit the test button. My hill was too high and I did not have the speed to make it. I placed the speed dial next to my hill and turned the speed higher. I tested it again and the roller coaster made it. You continue to do this four times and pick different pieces to your ride.   For each of the four parts you choose, you have four choices, making the roller coaster as tame or as wild as you want.
After the ride is built you name it by picking from a list they give you. Mine was Blazing Star.
You go upstairs to board the simulator and they swipe your card with your ride on it.   When you sit down they push a screen closer to you like Mission Space.  There are 2 seats at the end of an arm that rotates around so you feel like you're on the ride.  Then your ride begins and since my roller coaster went up side down so did the simulator.   You can choose whatever part of the track you want so you do not have to go up side down.   It can be gentle, or wild, whichever you choose.  The ride only lasts about a minute, but is a fun thing to do and a way to enjoy something you created.  For people that are a little leery about riding a wild roller coaster it's also a way to feel the wild ride but feel secure that you're really not far from the ground.
Similar Posts: