Sheraton Four Points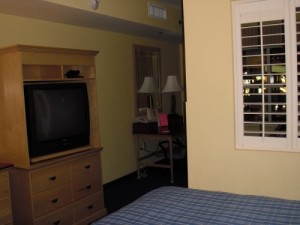 Looking for a few days at the beach to relax after a hectic trip to Orlando?  Cocoa Beach is just an hour from the hustle and bustle of Walt Disney World and a great place to relax for a few days.  This summer I spent a few days at the Sheraton Four Points hotel in Cocoa Beach and want to recommend this hotel for a nice place to hang out.
Cocoa Beach is mainly one main street with a few streets branching off of that, but for the most part, you will spend most of your time on Atlantic Blvd.    The Sheraton has a few "levels" of hotel, with Four Points being….  One of the main attractions in Cocoa Beach is Ron Jon's Surf Shop, which is open 24 hours a day.   I'm not really sure why, unless there are a lot of people with the need to purchase a surf board at 2am.    This hotel is located just next door to Ron Jon's, so it's a fun place to spend some time, and some money.    It does make it nice to have a place to go at the end of the day after everything else is closed, so maybe the 24-hour-a-day thing isn't so bad, although I still don't quite get that part.  Not only are you next door to such a famous surf shop, but the hotel also boasts the "world's largest surf shop", although I will have to take their word for that one.
Also located in the lobby/ground floor of the hotel is a bar/grill where you can watch shark in their aquarium while you eat.  They also have a Starbuck's, which is always a nice addition to any hotel!
We had 3 rooms at first, all which were the same category with 2 double beds, but one had a refrigerator, one had a refrigerator and microwave, and the third had neither, so I'm not sure what should come standard in these rooms.  They all had a parking lot view.   Due to a problem in one, though, we did end up with one junior suite, which was, well, sweet.  It had 2 double beds then it had a partition with a double sofa sleeper and desk on the other side.  This room also had a refrigerator and microwave.  The best part, though, was the window that looked out over the grill, aquarium and surf shop.  What a fun place to people watch, and all from the comfort of your room!
This is a great location for those lazy days at the beach, as it's only a block from the beach, and since you can park there for the hotel you don't have to find a place to park, and when you do, pay for it.  It's also within walking distance of several places to eat and shop.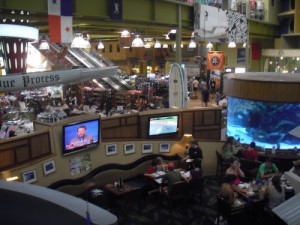 Similar Posts: