I know many of you who know me or my family have heard us talk about going to "Rendezvous".    And you may wonder what that is and why this Disney loving family likes to participate?   The easiest definition I have found is that it is a cross between primitive camping and period re-enactment of the fur trade era.    My in laws got us started in it, and I believe they became involved with some friends they were black powder shooting with, the two tie in well together.    Rendezvous' are held all over the country, with regional differences in the style of dress and the possible time period's represented, but most represent pre 1840 if not older.     There will typically be a "primitive" camping area (everything must be period correct or covered with canvas, or kept in your "lodge"), and a modern or "tin tipi" area for those coming in RV's or using nylon tents.    Most rendezvous will have certain days when they are open to the public to come and walk though, sometimes a small entry fee is charged.    If you choose to visit one in your area, try googling Rendezvous and your area, put in the year and see what comes up.  Make sure and ask lots of questions of the re enactors as many of them are well versed in the history they are acting out, and quite interesting.
What might you see if you come to visit?   Well first off there will be several different types of "lodges" from the very bare minimum piece of canvas stretched from the top of an overturned canoe to a nearby tree (probably the most authentic), to tipi's, to several other types of canvas tents (wedges,  one poles, lean to, wall tents etc.).    There are typically "traders" there selling their goods that can range from handmade primitive bows, to black powder shooting supplies, period appropriate clothing, blacksmith items used widely around camps, beading and finger weaving supplies, and often some food vendors.   (If you get a chance try some fry bread).   Many of the traders will also be giving demonstration on their crafts, and again, it's a great time for questions.
There may be shooting events and other competitions going on, kid's games, women's games, seminars demonstrating anything from beading to how to make your own handcrafted bow, and lots of relaxing and just enjoying the company of friends and family.
Back to the question of why my family enjoys it?  I just see it as another form of "getting away from it all" or our "escape from reality" which is much for the same reason we love Disney.    We often meet up with friends at Disney and just hang out and enjoy each other, we overeat at Disney as well as at Rendezvous.    So you can possibly see the allure, the thing you would need to overcome is the "primitive" aspect, typically there is no running water, no electricity, no battery run items, we do "cheat" and bring in outhouses and they are cleaned and emptied daily for sanitary purposes, but again that's just not doable for some people I know.   For my family, it's great to get away from the phones, the video games, the TV programs and just find something else to do.   My youngest has become quite an avid beader, I have learned how to finger weave and do some basic beading.   We all enjoy archery, and we have all done some shooting with the black powder rifles, although my husband and the kids are more into it than I am.   My kids have started a fire with flint and steel, we have done a lot of cooking in the Dutch over and over the fire, and we have learned how much the weather can control what you can or cannot do when you are "living" outdoors.   I am going to share a few pictures of some past rendezvous we have done but if you have any questions, feel free to email me!  As you can probably tell from the pictures, this is a very family oriented activity, families bring their kids, grandparents bring their grandchildren, and it's a lot of old fashioned fun.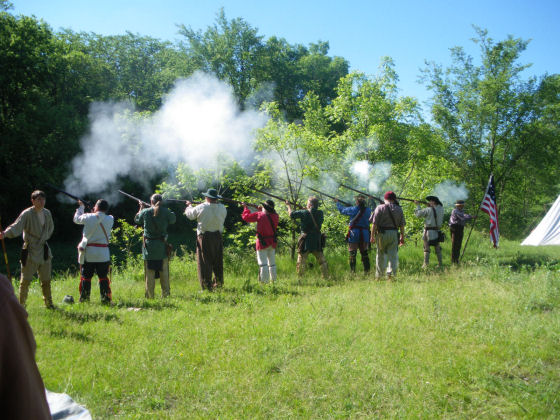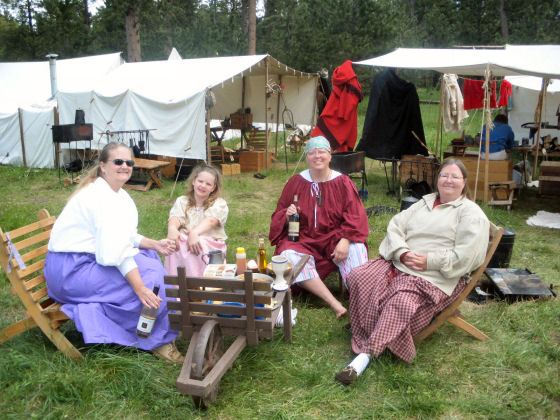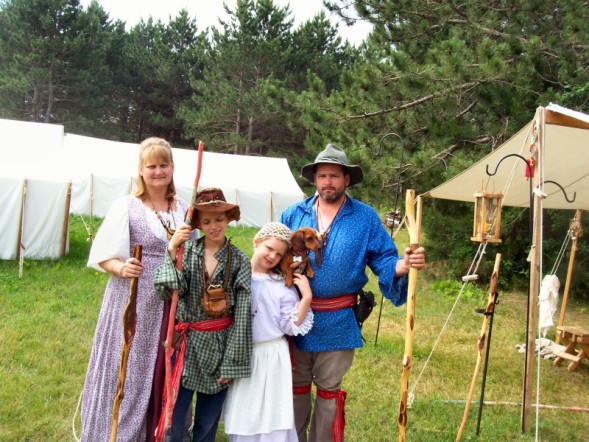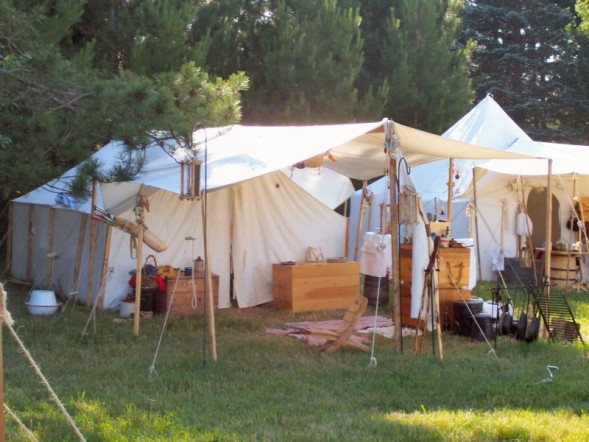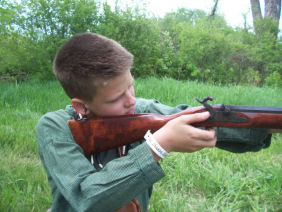 Similar Posts: