Royal Caribbean Liberty of the Seas, July 8, 2010: Grand Cayman, Cayman Islands
|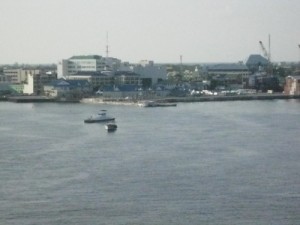 Grand Cayman, Day 5, July 8, 2010
Today's agenda was Stingray City with Chip Whitney, owner of www.StingraySailing.com.  He comes highly recommended on several internet boards including CruiseCritic and TripAdvisor.  I booked this tour several months ago as he only has 28 people on his catamaran and can usually beat the ships to the stingray area.   Since this was a watery excursion I do not have any photos.
Breakfast was room service again, around 7am.  Unfortunately they only got half of the order and missed the eggs, so I had to call them again for the rest.    After the call it arrived within 10 minutes.  (Don't know what happened because it was on the screen last night when I confirmed the order.)
Anyways, breakfast done we headed down to Deck 1 to tender (small boat which goes to the pier, because there is no cruise ship dock in Grand Cayman) to the island.  I figured we would arrive early, but better early than late.  Chip mentioned in the confirmations that an early departure from the pier means more stingrays.  I was hoping for everyone to arrive early but we did have three ships in port and he had people from two of them.  Another reason why I wanted to get off the ship early was that I had no idea how long it would take as tendering is usually time consuming.
Of course this was the day that we were among the few people actually getting off the ship when we were cleared, so we were pretty early.  We arrived at the pier and Chip was there checking us in.  He had us sit and wait for the rest of the people for the tour.  Unfortunately most of them were not early, and then once everyone got there a few decided they needed beer and water.  So much for an early arrival to the stingrays.
Chip took us to his catamaran and we were soon sailing to Stingray City.  Once we got there we had a briefing as to what was going on and some instructions.  Soon we had a couple of huge stingrays around us looking for food.  I won't spoil things, but this was a really cool place to go.  The water is about 4 feet deep and was really clear and warm, and the bottom was very sandy.  The stingrays are like big dogs and know that people in a circle mean food.  We stayed around the sandbar for probably an hour, and then got back on the boat for some snorkeling in a coral reef.   Finally it was time to head back to reality, and we were at the port around 1:30pm ship time.  (We had been gone since 8:30am, so this was definitely "worth it.")  Suzanne was starting to complain because she was hungry and wanted to get back on the ship.  Shopping in Cayman tends to be a bit more higher end, and there really are not a lot of deals in this port.  Plus with the price of gold being so high a bargain was unlikely, and its not like I won't be back.  We got right on a tender and were on the ship within half an hour and in the Windjammer shortly thereafter.
If you're reading that the main dining room is not that great, well, its actually OK.  I think I just cruise too much and tend to like more flavorful meals.  Truly, no one is going to starve on this ship, and I'm probably just too particular (not picky) about what I'm going to eat with just so much food surrounding me.  I will say that the food in the Windjammer buffet on this ship is pretty good and we keep looking for that sweet & sour chicken of a few nights ago.  I'm not excited about the hamburgers (beef is overworked and tough) but the hot entrees have been pretty good.  Pizza on this ship not bad either (although I prefer pizza on Carnival Cruise Lines to anyone else's.)    The cookies are also really good; don't know what happened the first day when we boarded and they were awful.  After lunch was over we headed to to the second jewelry making activity and completed the bracelet and earrings which were part of the kit.  We were the only two there, but it was a bad time as a lot of people were still in port.  On Saturday we'll have the last session and will most likely do the second set we were given if we show up.
Suzanne went off to meet her friends afterwards and I went to the room to work for a bit.   Some people have a bar bill on a cruise ship… I have an internet bill.  Finally it was time to get ready for dinner, which is Formal Night and lobster.  We have an excursion in Cozumel  tomorrow (dolphins) but no tickets.  I called the desk and they told me to look again.  (WTH?)  When the stateroom guy was in the hallway I asked him about the tickets and he said he did not have any for me.  I was getting annoyed because this excursion was booked well in advance, and paid for, and I had no proof of it.  Suzanne showed up and got ready for dinner and I went downstairs to have them print up new tickets.
Tonight was "lobster night" in the main dining room.  Usually I avoid cruise ship lobster which is often salty and on the rubbery side (because it is frozen and not fresh.)   Growing up in Connecticut means that fresh Maine lobster was not too far away, nor too expensive for a splurge.  So I know what good lobster tastes like, and have yet to have anything like what I remember on a ship.  For dinner I decided to have the pasta and Suzanne ordered prime rib.  My pasta arrived and it was not even tepid and virtually inedible.  Suzanne's prime rib was not bad, but the sauce had a taste of packaged gravy mix, which was pretty odd.  I ended up  sending my dinner back (it was that bad) and having the lobster which ended up being pretty good.  The second round of my food also showed up hot too.   Funny that the stuff I ended up wanting to avoid was the best thing on the menu.  The lobster was a little bit salty, and only a tad bit rubbery.  Baked potato was decent as was the shrimp .  For dessert I had the tastings which are about two bite samples.  One was a sponge cake thing, in the middle was a flourless chocolate cake and they also had a low fat passionfruit cheesecake—the cheesecake was really good.  The chocolate thing was incredibly rich, but pretty good.  I also ordered the cherries jubilee—which was really good.  So all in all, not a bad meal once I sent back that pasta.  The dessert tastings are on the Disney cruise, and I think they're a good idea.  Wish RCCL had this option for all of their desserts every night.
After dinner I went back to the room and Suzanne met her friends.  At 9pm I went to the show which was called "In The Air.'  It was sort of a Cirque du Soleil inspired thing and was quite good.  Suzanne really missed something which she would have enjoyed.  It was on the "artsy" side and somewhat sophisticated, and I was tired and bordering on falling asleep but I did think it was really good.  Finally I checked my watch and figured that they only had about 10 minutes left and I forced myself to stay awake.  Since I was in the back I was able to make a quick exit and I headed to the jewelry store to get some links taken out of my  watch band.  They couldn't do it so I dropped it off and will pick it up tomorrow night.
In the stateroom by 10:15pm and I'm heading to bed.  Tomorrow is Cozumel and a dolphin swim.  I've also got some shopping to do too.
Similar Posts: