Royal Caribbean Liberty of the Seas – July 4, 2010
|
Liberyt of the Seas – Western Caribbean
Day One:  Miami
I love cruising… its the only place I can go where there is no telephone.  (Internet yes, telephones no.)  Each of my kids gets a cruise in lieu of their 8th grade trip to DC, and this was my daughter's.  We originally were booked on another cruise line in October but I had to change it once we got all of the sports schedules.  Basically if kids do sports (and we pay for them) they have to attend practices or they're not on the team.  So no more October cruise for fall break–I had to book one in the summer.  Since I book Royal Caribbean as a travel agent, and I know its a good product, I finally was able to work a RCCL trip into my own schedule.  It worked out pretty well schedule and price wise to book the Liberty of the Seas out of Miami.  Since we had been in Florida since June 26 (of course with a trip to Disney before) I simply drove to a hotel in Ft Lauderdale, stayed the night, and then dropped the rental car off at the airport and was picked up by a driver and taken to the ship.
Boarding was quick, and since we were in a suite (Junior, not the Grand) we were able to get a shorter line to check in.  Had problems with documentation because my last name is different from my daughter (never changed the name after getting married) and despite RCCL assuring me on the phone prior to departure that they did not care if I had a different last name than my daughter, at check in it really WAS an issue.  (Ran into this on NCL too.)  Fortunately my husband did a notarized letter stating that he knew the daughter was on a cruise, and I also brought my daughter's birth certificate with me proving that she was my daughter.  I will certainly bring this up with RCCL administration when I get off the ship, because what they tell guests at booking should be the same as what happens at the actual port.
Boarded around 12:15pm and went to Windjammer (which is the RCCL buffet) for lunch.  It was packed, and staterooms were not going to be available until 1pm or so.  Finally found a seat and Suzanne sat while I found food.  Got chicken, salad, and fresh fruit.  There were also hotdogs and burgers, pizza and carved meats for a full Sunday dinner.  At the very back was a dessert station.  Signs for food are in six languages (English, Spanish, Portuguese, French, German, Japanese).  To that end, announcements are also done in several languages too.  This truly is an "international" experience.
Food in Windjammer was OK.  Chicken was very dry.  Fruit good.  Salad greens were not cut/torn small enough, so I had to cut them with a knife.  Unless you purchase a soda package, you're limited to iced tea, lemonade and the "flavored water" of the day (think Crystal Light).  Coffee was awful—and makes Nescafe at Disney seem like it came from a barista.  Cookies at the buffet were awful, although the oatmeal/raisin seemed to be the most flavorful.  We skipped the rest of the desserts.
After lunch we went to the stateroom (click on the photo),
which is unbelieveably large.  Like being in a hotel room.   Two Category 11 Standard Inside staterooms on the Disney Wonder or Magic would fit into my Junior Suite.  We have a full bath tub and a walk in closet/dressing room.  A lovely chair with full ottoman and a couch and coffee table.  This is really going to spoil me for future cruises!  The balcony is also rather large too with two chaises and two chairs, and two tables.  This really is cruising!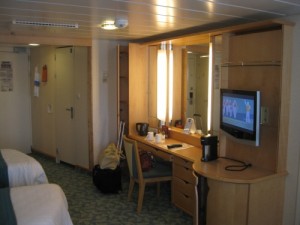 Stateroom fridge includes a minibar.  Here's pricing:  Soda $1.95.  Evian Water $3.95.  Sparkling Water $2.95.  Oreos, Snickers, M&M's?  $5.95!  No mindless munching here.   Stateroom guy can't remove the contents either, so I can only fit two of my waters and two of my diet Cherry Cokes which I brought on board in checked luggage, wrapped.
We wandered around the ship for a while, and didn't even get every location covered.  This thing is HUGE!  Royal Promenade on Deck 5 is the central area for shopping and is quite nice.  Casino is also very large, and we pretty much thought we would never get out of it as we walked through.  (My entire casino donation fund is about $50, which won't last long, so no casino for me for a while.)
Muster drill was at 4:05pm in a lounge, and no life jackets which was nice.  After the drill we had the sail away party which was moved to the (covered) ice rink because of inclement weather.  Stayed there for a while, and I did some karaoke.  Then it was time to check if luggage was available.  Saw it on a cart but they wouldn't let me take it.  After about 10 minutes I had knocking at the door and it was a guy from down the hall bringing me my large bag as it was delivered to him by mistake.
Unpacked and was able to hang thing up in our huge closet and we got organized for dinner.  We're in the Rembrandt dining room, at a table for 10.  Met a really great couple from South Carolina and we have a lot in common as they are also retired military.  Food is so far passable but unimpressive—no one should starve, but there is nothing for which I would have asked for seconds.  I had fruit and a Vidalia onion tart (sort of like a quiche), the sea bass, and a sponge cake dessert drenched in a Grand Marnier liquid.  Suzanne had Caesar salad followed by a quesadilla, and chocolate cherry cake.  She didn't like the quesadilla and the cake was dry and just about inedible.  Our tablemate couldn't eat his cake either, and ordered a fruit crumble which was good.  Suzanne ate most of my dessert.
After dinner we went upstairs to change into regular clothes, and the stateroom attendant had come in and done his evening thing.  NO CHOCOLATES!  NO TOWEL ANIMALS!!!  This truly is NOT the Disney Cruise (or NCL, or Princess, or Carnival—all of these had chocolates and towel animals.)    Maybe there are budget cuts and the stateroom attendants have too much to do?  Oh well, if I want towel animals I will make them myself.
Suzanne reminded me that we have to sign waivers to do the Flowrider, rock climbing wall and ice skating so we went downstairs and queued up.  Was like standing in line for Soarin' or Space Mountain—was long and slow.  Was talking to another guy in line and he is from Connecticut not far from where I grew up, and he has his own business making tutus.  Yes, it's a pretty cool home business—check him out here www.mtcoffinz.com.  Its sort of Goth attire, but cool.  A niche market and he sells this stuff all over the world.  He looks like an accountant, lol.  Hopefully we will run into this family again.
Waivers signed—had to do three, and wear a wristband for the duration of the cruise, and if no wristband then waivers have to be resigned—we went to the Royal Promenade area to look at the shops.  Royal Caribbean has a nice selection of merchandise and I already have my eye on a grown up watch.  (I pretty much have trashed my only non-Mickey Mouse watch and its time for another grown up watch.)  Guy in the shop told me to come back on the Ocho Rios night as they bring more out.  Would have bought one except the Eco-Drives in the cabinet has too much "bling."  I only have real bling on my fingers, and not on my wrist, so I'm skipping the Swarovski on the watches.
After the shops we went to Sorrento's to try pizza.  They have paninis and salads too, along with beer and wine (extra charge of course.)  Got a slice of cheese pizza, a couple of fruit cups and a piece of biscotti.  We eat a lot of biscotti at home, and I've made it before too.  This biscotti was just awful.  Nothing would make it better.  Fruit was OK, and pizza was decent.
Time to head back to the stateroom and figure out what we will do on Monday.  So far its room service for breakfast (on the huge balcony of course), then there's a Meet and Mingle at 10am, and to do jewelry making at 11am (adults only on the schedule but I will bring Suzanne with me anyways.)  The ice skating rink is open quite a bit so we'll run down there just to see if I can still skate.   The ice show is also at 5pm tomorrow (only one), with more later in the week.  Several movies on the big screen are being shown too.  Classes (complimentary) include the usual spa "detox", "look 10 years younger in 10 minutes", and "total body conditioning"; there's some trivia, seminars on diamonds and gemstones, and a handful of dance classes.  There's also wine tasting for extra charge (which I will most likely do), and an additional discount on fine jewelry from 4:15pm-5:15pm.
Some interesting observations about RCCL:  they offer private, in-room babysitting.  A nice feature!  .  The pools are huge, in cruise ship standards.  (Disney, are you reading this???)  The H2O Zone is awesome, and Suzanne (age 13) really wants to go in there (It's a splash zone.)  Mini-golf looks fun too, and of course the Flowrider and Rock Climbing Wall is pretty cool.  And ice skating at sea?  Wow!  If you're bored on this ship then it is probably your own problem, as there are plenty of activities.  Unfortunately many of these things are extra charge too. Want to watch movies on your in-room tv?  Be prepared to pay $12.95 per movie.   Johnny Rockets is $4.95 per person and I'm sure I'll be there at least once .   Ben & Jerry's looks to be regular retail pricing (I don't eat this stuff, although the sorbet looks quite yummy).  Extra charge coffee is by Seattle's Best, which hopefully is better than the gross stuff in the dining room and Windjammer.  In my suite though I have an electric tea kettle as well as a coffeemaker so I should at least be able to get some decent coffee in the morning.
I've requested room service between 8-8:30am, so it will be interesting to see how they do it.  Some cruise lines call first, others just knock on the door.  Disney Cruise Line is very prompt for room service and I use it as a wake up call.  Will set an alarm just in case.
Weather is cloudy with virtually no movement of the ship.  I can't even tell we're moving on the lower decks.  Up here on deck 9 we have some wind rocking the ship from side to side, but this is nothing like the choppy seas and 18 ft waves we had in March on DCL.  No Bonine yet.
Next up:  full day at sea.
Similar Posts: