Royal Caribbean Liberty of the Seas – July 6, 2010: Labadee Hispaniola (Haiti)
|
Day 3 – Labadee, Hispaniola (Haiti).  Royal Caribbean's private beach.July 6, 2010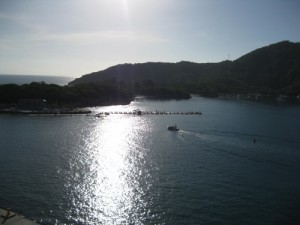 I woke up during the night as we had some heavier seas than the past few days, and winds seemed to have picked up.  Don't know what time it was because there's no clock in the stateroom, only the time on the phone.   Woke up around 7:30am and went out on the balcony to watch them dock the ship.  Another cool maneuver with a huge ship and pivoting around to pull up alongside of the pier.  Usually when ships pivot you feel thrusters as they move sideways—and every ship I've been on has shuddered.  Maybe it's the size of this one, or my forward cabin well up on deck 9, but I did not feel anything from the engines or thrusters during the maneuver.  In fact I have not noticed any engine groaning or even shuddering during the entire trip.   So far it is the quietest cruise ship on which I've ever sailed.
Labadee looks pretty, but basically it's a private beach.  I've been to Disney's Castaway Cay many times as well as Princess Cruise Line's Princess Cay in Eleuthera, Bahamas.  I've got to say that Labadee ranks right up there with Castaway Cay as far as activities and things to do.  Labadee also has a splash zone for the kids.  One of the beaches is sheltered and absolutely gorgeous, while the other side has more rocks and waves.  There are several BBQ stands and bars, and while its pretty large there is lots of shade.  I would happily go back to Labadee.  It is far nicer than Princess Cay (which is on Eleuthera Island in the Bahamas.)    Only thing we bought from a vendor was a bracelet which started at a pretty high price but I was firm on $5, and that's what he took.  RCCL corrals the vendors on Labadee pretty well and they do not walk up to you and do an OK job of letting us walk by them.  There are vendor stalls built on a platform with railings and that is where they are located.  The vendors are also behind a low cement wall.  Basically if you do not want to see a vendor you don't have to go near them.
We started at the nice pretty beach and went over to the windy and rocky side to watch the zipliners.  I ordered a drink in a souvenir cup called a "Labadoozie."  It actually was pretty good, and I get to keep the cup.
Food was BBQ hamburgers and hotdogs, chicken, corn on the cob, salads and desserts.    The chocolate chip cookies they serve on this ship so far have been the best thing I've eaten.  While I'm not starving, dining room food is a bit on the average side and there is nothing to rave about menu-wise.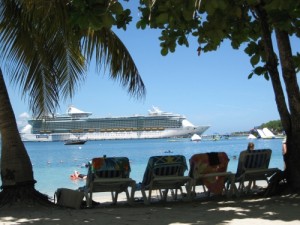 We boarded the ship around 2:30pm and sail away was at 3:30pm or so.  Both of us were hot and a tad dehydrated, so the air conditioning on the ship felt really good.  Suzanne had not eaten anything except for some pineapple and cookies so we had room service–which has been a trend on this trip.  Took about 30 minutes to get our turkey Panini and chocolate chip cookies.  These two items have been the best things we've eaten on this ship thus far, and worth writing about.
Ship sailed by 4pm, and since Suzanne had some friends to meet later on we decided to skip the main dining room.  Plan was to see the 7pm show, which were The Unexpected Boys, which is sort of a tribute show to Frankie Valley and the Four Seasons and The Jersey Boys.  It really was excellent and I was surprised as how many songs she actually knew.  After the show we went to Windjammer for dinner—and it was good.  Everything was either hot or cold as it was supposed to be.  I really liked the sweet & sour chicken.  Server told me that they have the same food as is served in the main dining room, so we won't be missing anything.  Sushi not exactly on par with California Grill at Disney (which I expected, and being a new sushi eater  I did not care for any of it.)  They had a great tomato salad which I loved.
After dinner I took Suzanne to meet her friends and I went to the stateroom to relax.  Was in bed by midnight.
No plans for Jamaica… but we will get off the ship and go to the village shopping area.
Similar Posts: