Royal Caribbean Liberty of the Seas – July 5, 2010: At Sea
|
July 5, 2010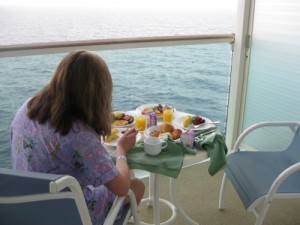 Day 2 – At Sea with the coast of Cuba on our right as we sail towards Labadee, Haiti.  Cloudy and overcast skies, and outside air temp probably in the 80's.  For some reason RCCL does not have temperature, humidity or wave condition on ShipTV.  Maybe this is a good thing because its July, and we're heading into the Western Caribbean and I don't think anyone going on some of these excursions really want to know how hot it is outside.  The humidity already has my hair curly.
Room service called at 7:53am for the delivery, and she arrived promptly at 8am.  I ordered plenty of food, but none we would not eat.  We each had a fresh fruit plate, and another plate of pastries (hard roll, small croissant, small cinnamon roll and small apple strudel), and a plate with eggs, bacon, sausage, hash browns and a broiled tomato.  I tipped her $4 in cash and she seemed to be surprised.   My experience is that cash tips gets my room service food here quicker, so I'll see if that holds true on this huge ship.
So far, breakfast on our beautiful balcony has been our best meal.  Coffee again not very good, so I'll probably just brew a single cup every morning, or break down and buy it.  (Truly, the Nescafe they serve at Disney is better than this stuff and I am not fussy, drinking Maxwell House at home and preferring the Speedway gas station stuff to Starbucks or Copper Moon.)  Food temperature not bad—it wasn't really hot but it was not cold either.  Fruit was excellent, and included a strawberry, cantaloupe, an orange slice and some cantaloupe.   As a rule we do not eat sausage, but this stuff was pretty mild so I had one.  Hopefully I can have this omitted in the future but it is doubtful.
After breakfast we got ready for our day.  Checked out the TV and there are many options.  On RCCL there's a CBS feed but no ABC or NBC.  Plenty of Spanish channels, so I'm thinking we're tapping in to a feed out of Puerto Rico somewhere.  Its funny to hear English in the background and have it dubbed in Spanish.  Have both CNN and Fox, a ship channel which does not show wave height, and there's also a view of the Flowrider.  The music video channel is XY, whatever that is, and it seems that they feature newer artists.
First event of the day is the Cruise Critic "Meet and Mingle" in Olive and Twist (the martini bar.)  Hopefully I'll meet some other single parents and Suzanne will find a friend.  Would be nice to have another adult to talk to, but if not I'll just grab my books and find a place to sit on the deck.  Suzanne so far has no interest in the teen activities, which are plentiful.  We got to the lounge around 10am and there were over 50 people signed up, but about 20 attended.  Suzanne was the only kid.  So much for finding a friend!
Some of the cruise staff showed up for the M&M and there were prizes too.  Not as good as yesterday's raffle for kids (iPod, a couple of DS', and a Wii Black edition), but they had several cool things including a neck wallet at check in.  I walked away with a tote back filled with RCCL Logo merchandise.  The bag itself is nice and inside were four luggage tags, a Vitality t-shirt, travel mug, blue cotton ball cap, umbrella (which will come in handy) and a little backpack suitable for a cell phone.  (More cute than functional but I'm sure it will be put to good use.)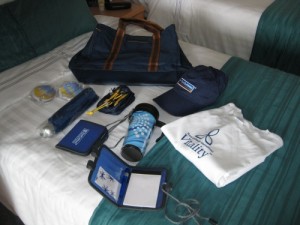 After the M&M we went to jewelry making and bought kits for $9.99.  Today's project was a necklace, and it also has a bracelet and earrings too,  along with an extra necklace to be made later.  We made the necklaces and then decided we wanted lunch so we headed to Johnny Rockets.
There's a Johnny Rockets in Indianapolis (Circle Centre Mall) which I haven't been to in years.   When we sat down they gave us a bowl of fries and onion rings.  Then it was time to order.  Suzanne had a strawberry milkshake ($4.90) and double cheeseburger, and I had the Boca Burger.  The cheeseburger was huge and not what she expected—it really was way too big.  She ate only half, probably because she had downed that shake.  I managed to eat my Boca burger (which had too much mustard on it, but it was my own fault because I didn't tell them to leave it off.)  For dessert we had a choice of apple pie or an Oreo sundae.  We elected the pie, which was wonderful.  Chatted with the server a bit and found out that they rotated through JR, Sorrento's pizza and the Promenade café.   While at JR the waitstaff did a couple of dances, including the hustle.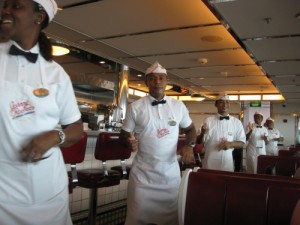 After lunch was done we managed to pull ourselves out of the restaurant and moseyed towards the Flowrider.  Spent a couple of minutes watching other people do boogie boarding, and then went to the basketball court to watch what may be termed as the worlds shortest dodgeball tournament.  (Was set up as a teen activity.)  What made it short was that someone threw one of the balls overboard.  Went to see if we could see the ball and another kid came up to us.
The kid who was standing with us is Andrew from Connecticut, age 16.  He was traveling with his parents and younger sister and had no idea where they were.  The three of us chatted for a bit and they were going to open the rock climbing wall.  Andrew had socks, but I had to send Suzanne downstairs to get some so she could climb too.  Didn't take too long to get checked in (we were early) and the kids got their shoes, harness and helmets and lined up.  Suzanne made it up about 30 ft and decided it was enough, but Andrew made it to the top.  I did take pictures of this and will email it to him. I left the two of them and went to Windjammer for iced tea and fruit (I had not eaten as much as Suzanne) and then came back to the stateroom to work.  Suzanne had left me a note that she was going swimming, so I'm assuming she and her new friend have hit it off.
I worked until it was time to head to the ice show at 5pm.  Stopped at the front desk to sort out a duplicate internet charge,  which they could not explain, so I was told to find the internet guy after 7pm.  We made it to the ice show at about 5:50pm, and got a somewhat decent seat.  At 5pm they started the show.
The ice rink on the ship is only 40'x60' which is pretty small!  The skaters are from several different countries and there are two couples and six singles.  It was amazing to me how much they could do with such a small amount of space!  I won't spoil anything and tell about the show, but it really is worth seeing.   The show ended at 5:50pm on deck 2 aft, and we had to go to our stateroom on Deck 9 forward and then to the dining room.  And did I mention it was formal night?  We ran up the 7 flights of stairs, walked fast down to the stateroom, changed clothes, and then went back to Deck 3 aft for our dinner.   We made it on time too.  On cruise ships it often takes longer to use an elevator than it does to just schlepp up the stairs.
With it being formal night, there are photographers just about everywhere on the ship.  Stairways are roped off and there are lots of lines.  Had to dodge lots of people just milling about waiting for photos, but we actually made it to the dining room at 6:05pm.
I ordered a shrimp cocktail and the rest of the "Vitality" menu.  Vitality is the "lighter fare" and the three course meal comes in at less than 800 calories as plated.  (After onion rings in Johnny Rockets I needed lighter fare.)  Suzanne also ordered this too.  The entrée was seafood brochettes (skewers) with shrimp, scallops and monkfish served with broccoli and some sort of julienned potato.  We were a little piggy with desserts though and ordered the chocolate soufflé (which was rather flavorless), a cherry flan type thingy (also not worth eating, except I picked out the cherries), and some sort of gelatinous strawberry thing that wasn't too bad.  Oh, and they also had pistachio ice cream too.  Guess which one was eaten in its entirety?  Yep, the pistachio ice cream.
After dinner I headed to the internet café and looked for the guy, and he was not there.  There also is no phone in that area so I had to go down a flight to call the front desk (where I stayed on hold for about 5 minutes) and they paged him to go to his desk.  After sorting through my internet activity he determined that there is something on my computer which is making another connection, and I should disable all of my toolbars.   Hopefully no more errant charges to figure out.
We went to the production show tonight which was based on fairy tales.  Some really talented performers, great costumes and a wonderful theater in which to enjoy what they have to offer.  After the show we went upstairs to the top deck to walk around, and it was odd to see the ship so empty.  Suzanne was meeting her new friend Andrew in The Living Room (which is the teen club) for an activity.  I decided to go to the casino.
I have a pretty low budget for a casino donation fund.  Plus my attention span for staring at slot machines and video poker usually runs out long before my money.  The first problem I have is the machine itself, and figuring out all of the combinations and what the pictures mean.  So confusion sets in with the slots, and I end up with video poker.  Then I get really bored and start machine hopping.  Of course tonight was no exception.  I brought $30 to the casino and it lasted for 90 minutes, which wasn't too bad.  When I was down to about $15 I ended up doing the money pushers where I was able to while away about 30 minutes.  Finally I was totally out of funds, and it was pushing midnight, so I headed to the stateroom to go to bed.  Suzanne arrived around 12:45am.
Tomorrow is Labadee, Hispaniola (Haiti).  Nothing planned except for some snorkeling with our own gear on the beach and general wandering around.  I am liking Royal Caribbean very much, and while this is a huge ship and its full with over 4300 guests (and almost 1200 kids age 17 and under), I'll sail this line again.
Similar Posts: