Royal Caribbean Cruise Line Mexican Riviera Cruise Day 2 of 7
|
Mariner of the Seas, Royal Caribbean Cruise Line – August 8, 2010 – August 15, 2010
Day 2 – Day at Sea
Stockwell Family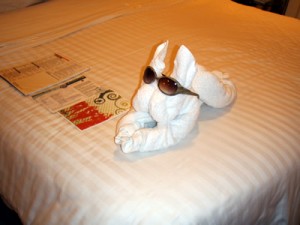 After a lazy night of sleep our family awoke to a beautiful day and got ready for a late breakfast at Windjammers.  During breakfast dolphins were spotted along the side of the ship, creating some excitement among the cruisers.
In the morning announcement the captain announced that we will be arriving at Cabo San Lucas late due to a medical emergency last night.  The ship had to detour to San Diego to drop off a passenger because of the emergency.  The captain said that air lift was considered but not recommended so a detour was made.  This meant that we would not be able to make the originally planned 9:30 a.m. arrival at Cabo.  Instead, our new arrival time would be 1:00 p.m. and the captain has negotiated the departure time to extend from 6 p.m. to 7:30 p.m. to accommodate the change in shore excursions.  The ship's crew did their best to reschedule excursions that are scheduled for early in the morning. Royal Caribbean, as with all other cruise lines, are well adapted to taking care of whatever emergencies may arise, but this emergency highlights the importance of having a passport rather than just the minimum required identification needed for the cruise.  Should the emergency occur outside of U.S. Territory, it would have taken valuable time to get that taken care of.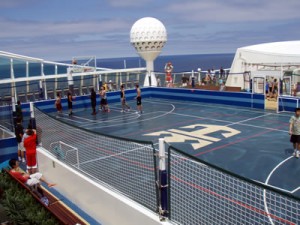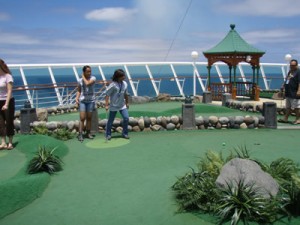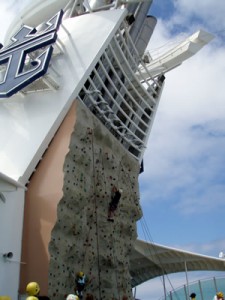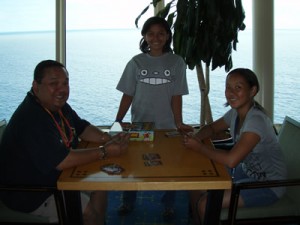 A cruise on a Voyager class ship is a vacation where you can do nothing or everything.  Where you can decide to stay as a family and enjoy family time together or search for activities that fit individual needs and just meet together for meal time.  There were structured activities scheduled throughout the day and evening for passengers of all ages that want to attend classes and shows.  There were facilities such the sports court, ice skating rink, miniature golf, etc. available for the active passengers.  There were plenty of bars, lounges and comfy chairs everywhere for passengers who just want to relax and sunbathe/people watch.  We did our best today to do EVERYTHING and had fun doing them together!  After breakfast we headed for the rock climbing wall, then to the game room and finally onwards to miniature golf.  That worked up our appetite for another great lunch at Windjammers.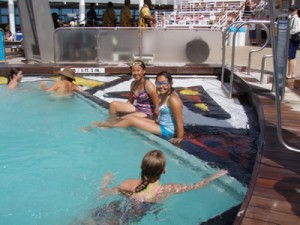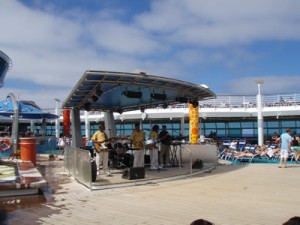 After lunch we changed and headed to the pool.  For a few years now RCCL have installed a towel check-out system rather than just have towels available for anyone to take.  The towels are the nicer ones with the RCCL logo weaved in and $20 was charged to the cabin for each towel checked out.  You can do as many towel exchanges as needed and can be taken ashore, but the towels must be turned in by the last day or else you have just bought yourself a $20 souvenir towel.  This achieved two goals, passengers are less likely to be careless with their pool towels, and passengers can spot empty loungers easier because passengers are unlikely to leave their towel when they are done sunbathing.  We lazed around the pool for a few hours before heading back to change for the formal night.  We were notified that we now have a new table on Deck three.  Shelby, our server, was great and we had another awesome dinner.
The production show tonight was a tribute to entertainment.  Mike, Deanna and I went to see the show while Jessica decided to make it an early night and stay in the cabin.  It's been a fun filled day and we can't wait till tomorrow!
Similar Posts: