Royal Caribbean Cruise Line Mexican Riviera Cruise Day 1 of 7
|
Mariner of the Seas, Royal Caribbean Cruise Line – August 8, 2010 – August 15, 2010
Day 1 – embarkation
Cast – Stockwell Family – Mike, Linda, Deanna – 12, Jessica – 10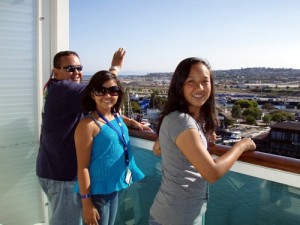 Our cruise started on Sunday, August 8th from the Port of Los Angeles in San Pedro, CA and we are cruising the Mexican Riviera with stops at Cabo San Lucas, Mazatlan and Puerto Vallarta.  On all of our previous cruises we planned to arrive at the port early and is always checking in by noon.  This time; due unforeseen circumstances, we were unable to arrive at the port till almost 1:30 p.m.  By this time, majority of the crowd have entered the ship already and the embarkation process was quick and painless.  We checked out our cabin, 9230, then left our bags in the cabin while we headed to Windjammers for a bite to eat.  This will be the first cruise that we take since I had my lap band surgery and it will be interesting to see how I fare through the 7 days of a ship's favorite activity… EATING!
A large variety of food was served with different international flairs.  There were quick bites like salads that looked which looked like it was just plucked from the field, cold cuts and cheese, pizzas, hot dogs, and hamburgers.  There were also traditional meals from all over the world – a carving station for roast beef, along with traditional American favorites, Indian dishes, Chinese stir fry's, Italian pastas, Greek salads and much, much more.  There were more varieties of free drinks offered in Windjammer on this cruise than previously.  In addition to the regular water, ice tea, lemonade, hot teas and coffees there are now "flavored water" as well.  There were mango enhanced water, lemon enhanced water and peach enhanced water.  They were pretty good, similar to Crystal Lights.  Mike and the girls preferred bubblies, so we got the soda package for the three of them.  The package costs $4 per day for kids and $6 per day for adults and included a souvenir mug.
After our delicious lunch we headed back to the cabin to relax a little and unpack our carry-on's.  Our checked in luggage arrived while we were in the room so we elected to unpack those as well rather than roam the ship.  Since we drove to the port and didn't have to worry about the number or the weight of our luggage, we packed everything but the kitchen sink.  The Voyager class ships have ice skating rinks and the girls wanted to skate onboard but wanted to bring their own skates.  Those clunkers weigh a ton and took up half of the luggage so one of our luggage ended up being filled with nothing but shoes and skates!  In anticipation of the shortage of space we brought two over the door shoe organizers rather than the normal single one and hung one on the closet door and one on the bathroom door.  Those organizers came in quite handy as spaces are a premium in the cabin.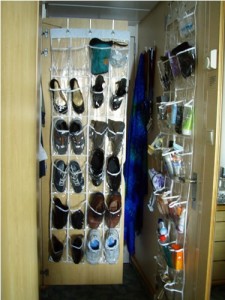 While we were finishing with the unpacking the alarm sounded for the safety drill.  It was 4:15 already!  For the first time since we started cruising we were told that we did not need to bring our life jackets to the assembly station.  Each of us simply had to take our room keys and be checked by the staff.  It made the safety drill nice and comfortable.  Rather than joining the party on the top deck for the sail away party, we elected to watch from our balcony and waved at the people on the shore as we left the harbor.  A few sea lions came to greet us as well.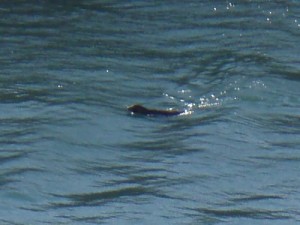 Dinner tonight was casual dress so we didn't change before going to the dining room.  Our dining room was Top Hats and Tails on deck 4 and we were seated on a table of 8.  The other family was seated already and we introduced ourselves and got a cold shoulder… HUH?!?  That's never happened before in our cruises.  We love interacting with other diners and enjoy meeting new friends, but this family was not feeling the same.  We tried to engage them in conversation and soon gave up.  As much as we hated leaving our wonderful server, we decided to request a change of table by the end of dinner and were placed on a waiting list for a different table.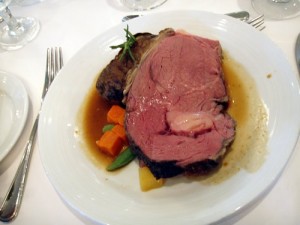 Dinner was absolutely delicious!!!  Watch for the "Food by the Day" on the Mariner to be posted soon on TheMouseForLess' photo blog The prime rib was so tender and so juicy that not only did Deanna ask for a second plate, Jessica also asked for it after she finished her fish.  I find that although I am not able to tolerate starch and red meat well, I am able to enjoy dinner without problem.  We headed for the Welcome Aboard show after dinner then called it an early night.  It's been a long day and as much as we'd like to do more, everyone was exhausted and ready for bed.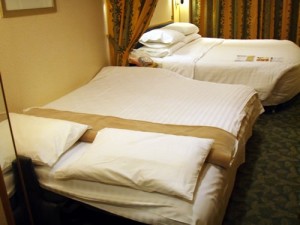 Similar Posts:
Incoming search terms: