July 11, 2010 – Back in Miami: What next?
|
Decided to sleep in rather than do breakfast and we were doing a walk-off with our own stuff which meant we could get off the ship at any time.  I was not feeling very well at all and had a full blown sinus problem along with fluid in my ears, and despite antihistamines and decongestants I was feeling pretty lousy.  I grabbed a box of tissues from the stateroom and put in my tote bag, and the thought of going to South Beach and waiting for a hotel was just not appealing at all as it was pretty hot.  Since I had a rental car booked we got off the ship with our stuff and tried to find the rental car shuttles.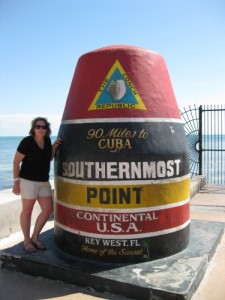 July 11, 2010 – Back home in Miami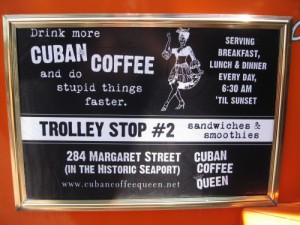 The ground transportation area was a zoo with people milling around everywhere.  There was no order, only chaos.  Rental car shuttles just showed up and people clamored over the top of each other to board.  I decided to get in a taxi line to get the car but just then the shuttle arrived.  I plowed down to the shuttle and fortunately we were able to board.  We appeared to be the only English speaking people on board, and the driver obviously had things pretty organized regarding luggage and passengers.  He sorted us out, put our bags on, and told everyone to sit down and stay seated.  Then he started driving to the rental car office.
My confirmation had "Cruise Port South" on it, but we seemed to be going to the Miami airport.  Finally I mentioned my confirmation to the driver and he said that there are no rental car offices at the port and everyone had to go to the airport.  Good thing I did not take that taxi, because the cost would have been pretty steep.  Within 15 minutes or so we were at the rental place, and I queued up to get my car.
We were leaving our of Ft Lauderdale on July 12 around noon, so I had to have the car for more than 24 hours, which meant an hourly rate.  Ugh… too much money, but I had to have that car.  We got into our Dodge Caliber, which barely held our luggage, and started driving.  As we were in the car I asked Suzanne if she wanted to go to Miami, or if she wanted to go to Key West, which was about 3 hours away.  She picked Key West and boy was I glad she bought into that idea.  I told her we would go but I first had to change the hotel.  I called Marriott and they were able to switch me out of the Courtyard Downtown Miami to the Courtyard Ft Lauderdale Airport, and we started heading south.
Its really not difficult to find your way around south Florida.  There's US1, and I-95, and the FL Turnpike.  I decided to get on I-95 and then take the road to the Keys, which was US1.  We were hungry and stopped in to a McDonalds in Coconut Grove and got something to eat, and were soon on our way again.
After three relatively uneventful hours we made it to Key West.  Found a parking space which was not metered and walked about ¾ of a mile to Sloppy Joe's.  Suzanne did not know who Ernest Hemingway was, or his contributions to literature, so I spent some time covering American Lit with her.  Lunch was pretty good and we then went to get Trolley tickets.  (With the Trolley you can jump on and off as you like; the Conch Train is just a guided tour and you're stuck until its over.)  Had a Key Lime Float while waiting for the trolley to start, and our tour began at 3pm.  Cost was $29 per person for either tour, and each lasts about 90 minutes.  We wanted to see the Southernmost Point in the US too, which we hit at about one hour into the tour.  At that point we were also close to the car, and there were some parking places, so we got off the trolley and went back to the car.  I drove closer to the marker, and we lined up to get some photos.  It was incredibly hot, and an entrepreneurial guy with a pickup truck was selling icy cold bottled water for $1.  We bought a few and headed back to Ft Lauderdale.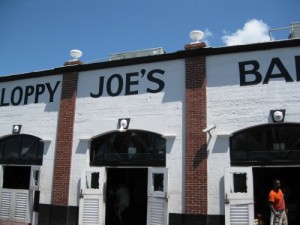 This time I was smart about driving back and took the FL Turnpike north, and cut over to I-95.  Didn't know where the hotel was, and I was not feeling very well at all, so I called my husband to look it up for me.  Turns out I was pretty close, but it was pouring rain and dark, and I just wanted to get there.  We checked in and were given a nice room with a big desk (I like Courtyards because of the work spaces and internet capabilities) and then we went out to find some food.
Ended up at Boston Market over by 17th Street, which is by the Convention Center and FLL Cruise Terminal where I've been a couple of times.  (Actually I went there on purpose because I knew I would find food somewhere.)  We both devoured our chicken, which was really quite good.  (It was 9:45pm and it had been a long time since those burgers in Key West.)  Finally we went back to the hotel and got some sleep.  I was still not feeling well and was dreading the flight home with my ears filled with fluid.
Similar Posts: