What's a parent to do at Disney without kids? – Have Fun!
|
On our announcement of an anniversary trip to Walt Disney World, our 11 year old wanted to know, "if we could have fun without him?" To which we replied, "Absolutely!"  We priced, planned, booked, and organized our trip. Polynesian, dining plan, and theme park tickets were secure. Spreadsheets were designed and night after night Disney was the topic of conversation.  Then the best decision yet: the upgrade. Yes, you heard right. We upgraded to Deluxe Dining Plan.
What's a parent to do? Dine at the finest, nap in the afternoon, park hop at random, stay out late, and not consult anyone about what you want to do. Absolute vacation relaxation!
Imagine stopping to smell the roses and no one complaining; waiting for Fantasmic while talking and enjoying the scenery; and best of all eating slowly without worrying about time. Talk about Hakuna Matata. No worries!  Now don't misunderstand. I love Disney with my kids. In fact, I have a trip planned in 57 days for the whole family.  The dynamics change when the trip goes from 2 to 5 people. More needs and wants to filter and sort.
After backpacking my way through the world with autograph books, snacks, changes of clothes, jackets, band aids, sunscreen, children's Motrin, and who knows what else in that bag, I walked into the world with nothing that couldn't be attached with a carabiner.  With no stroller to rent, we sailed past the rental booth. I think this picture sums up the freedom I felt.  As the Muppet Movie from my childhood sang, "Footloose and fancy free".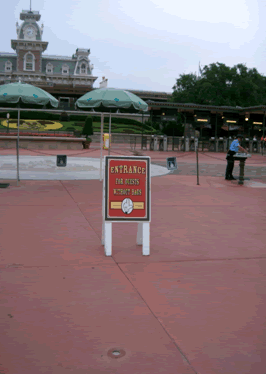 In closing, if opportunity knocks and you can endeavor on an adult's only trip, by all means go for it. Your kids will be fine. Disney truly knows no boundaries when it comes to vacations.
by: Lori Coward
Similar Posts: