Ladies Only Weekend in Disney
|
How it all started
It all started with a family reunion in Disney, gone bad.
One of my best girlfriends Teri was planning a family reunion. I am a self proclaimed Disney Know-it-all. I made sure she had the most up to date copy of the PassPorter guide book, I sent her all the websites and tried to give her good, sound advice.
Now I'm not sure who actually planned the trip or who made the decisions but her trip was a major letdown. None of the warm fuzzy feelings that are generally associated with Walt Disney World was felt, no smiles, no magic and no family bonding. I felt really bad for Teri. That is not the way to have a Disney vacation.  I sat her down one night and promised her I would show her how a Disney vacation is done properly. It was going to be she and I. No kids, no husbands. Women only.  The first thing I did was look for the dates we might want to go. I think a perfect time to go would be for the Food and Wine Festival. That sounds like a very 'adult' time to go.
So where should we stay? I do own points in the Disney Vacation Club. I think it would only make sense to stay in a vacation villa.
My next step was signing onto a social network, to keep in touch with each other. That way I could send Disney information to her, pictures and ideas.  Little did I know what surprise Facebook had in store for me.
When I signed on for the first time in January 2009 it was like a blast from the past. Childhood friends, people I graduated high school with, nephews and nieces, even my Father was on Facebook! 2009 was the year of my 20 year high school reunion and after my first day on FB I had already reconnected with 60 old classmates. It was unreal!
In talks with Teri we decided to ask a few of our friends and old classmates to join us on our Disney trip.
On FB there is application called Events. I went in and made up our own Disney trip Event. It was going to be an all womens trip to Disney for the Food and Wine Festival. Who might be interested in coming? I was able to send out invitations to people, let them know about the trip and invite them to join us.  I would say I sent out a good 30 invitations and 7 people accepted my proposal.  Me, Teri, Jennifer, Melissa, Margaret, Karie and Davinia, the motley crew! I will say after my high school reunion there were atleast 15 other women interested in changing their RSVP but sadly there was no room at the inn.  My next step was to get all the women together and get everyone's wants, desires and expectations for our Disney trip. I printed out pictures and the pro's and con's of each DVC resort. I had menus for some of the nicer restaurants so we could decide where to eat. Epcot would be a definite park we would do but what other park would we go to? What are any other activities we would want to do? Our first gathering was in April. It was our 'make a decision' meeting. Not all of the ladies could attend, so matters were decided for them. We chose which resort we would stay at, where we wanted to eat, the other park we would visit, what booths at the Food Fest we wanted to visit, what time to arrive and depart and planned a cocktail party for our first night.
It seemed like such a diverse group of women going on this trip. We've grown up, we've grown old, we are busy, we are Mothers, professionals, wives, sisters and daughters. I wanted a nice unique name to go along with our nice unique group. What could I possibly call us? I put together Ladies Only Weekend in Disney or LOWD for short. Everyone seemed to like it and it has stuck. So fitting…… After our April meeting I created a website so I could showcase all the decisions we had made for our trip. http://ladiesonlydisneyweekend.webs.com/ All the ladies could view and review plans for our big trip and see great pictures from our different gatherings throughout the year.
We reserved a two bedroom villa at the Animal Kingdom Lodge Kidani Village for Friday through Monday. We decided to meet at 1pm, and have lunch in the lobby. I made 2pm reservations at Sanaa. We would have our 'Hey You Crazy Bitches' cocktail party Friday night, we would go to Epcot on Saturday and Animal Kingdom Park on Sunday.
Our next meeting was in August. It was so we all could come together, get comfortable with each other and have some fun before our trip. We all gathered at my house for a slumber party. I had my husband bring the kids to his Mom's house and stay the night. So it was all 7 of us together for the first time. We had great food, yummy drinks and lots of laughs. We were well prepared for our November trip.
Food and Wine festival, here comes LOWD!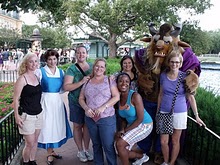 By: Allison Palmer-Gleicher
Similar Posts: