A Quick Trip of Epic Proportions, Pre-Cruise
|
I was fortunate (and lucky) enough to win a 2 night cruise to no where on the latest cruise ship from Norwegian Cruise Lines, the Norwegian Epic.  The prize was awarded to 100 travel agents  in NY and another 100 in Miami who participate in NCL's travel agent training program called NCL University.
The 2 night cruise departs from the Manhattan Cruise Terminal on July 2 following the inaugural ceremonies that afternoon with the ship's godmother, Reba McEntire.  If you have never sailed out of New York, you are missing a breathtaking experience.  This will be my third time and I am looking forward to it as much as the first two.  Sailing past the skyscrapers of NY, passing  the Statue of Liberty and then under the Verazzano Narrows bridge is just awe inspiring.
Norwegian has their own style of cruising called Freestyle Cruising and the Epic was built with just this in mind.  None of the venues on board are very large.  As a matter of fact, the main theater, called the Epic Theater only seats 650 people.–on a cruise ship that can hold more than 5000 people!  There are 20 dining venues on board, six bowling alleys, the Blue Man Group and the Cirque Dreams Dinner Theater.
My wife and I are assigned to a New Wave Standard Balcony Cabin All outside cabins on the Epic are balcony cabins.)  The cabins seem to be small , but the design makes it wider where the bed is and narrower  by the couch.  The example you see here is one cabin layout, the cabin on the other side of the wave wall will have the bed by the balcony and based on discussion with others is a laid out much better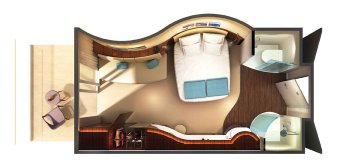 As you can see, very different.  There has been much controversy about the bathrooms.  You can see here, where the shower and toilet areas are on opposite sides of the cabins and the sink is placed in the cabin itself near the shower.  Both are enclosed with frosted glass and a curtain can be drawn across the cabin between the carpeted area and the bathroom area.
Unfortunately, I doubt if I will be able to experience all that the Epic has to offer in only 2 days, but I am looking forward to fitting in whatever I can when I can.
See you later
Mike
Similar Posts: