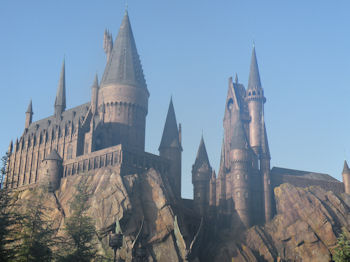 By Carol Garcia
With the opening of The Wizarding World of Harry Potter, Universal Studios is banking on the fact that there are many like me who will come to their parks and hotels just for that reason.
Just to avoid confusion, let me start of by saying that, yes, I do know that The Wizarding World of Harry Potter is not in a Disney theme park. But after countless trips to Walt Disney World in the last several years, I thought it might just be time to venture up I-4 to Universal and check it out. Since we don't live in the Orlando area, my family and I chose to tag this Universal visit on the beginning of a Disney trip, rather than fly in for just the Wizarding World. I wondered whether our short weekend would be enough to take it all in. With all of the hype about how this is a park within a park, we were looking forward to spending some serious time with Harry.
When we checked in to our hotel (Lowe's Royal Pacific at Universal Studios), we were informed that onsite guests could gain admission to the Wizarding World an hour early each morning. Since our day of arrival was not a park day, we were ready to get up early the next day and take advantage of that perk.
The following morning at 7:30 a.m., we arrived at Islands of Adventure, which is the park the Wizarding World of Harry Potter has made its home. We were prepared to stand outside the gates until we were allowed in at 8:00 a.m. To our surprise, we were allowed through the gates right away. The only portion of Islands of Adventure that was open this early was the Harry Potter section, located at the back of the park behind the Lost Continent area. Universal team members did a great job of herding us back to the proper location, and ensuring that those of us there were actually onsite guests.
Continue reading »