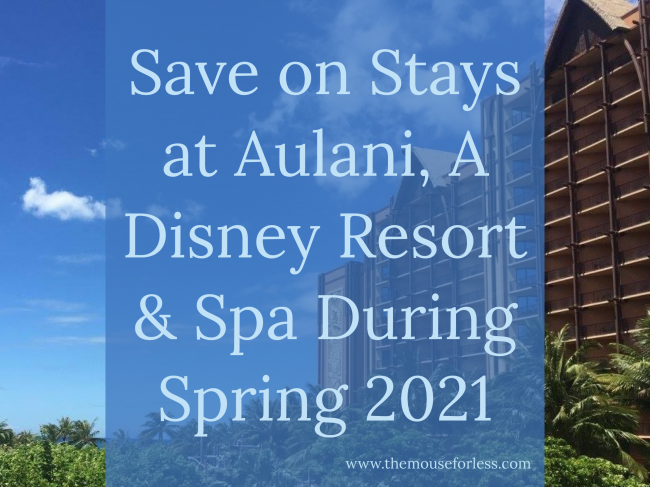 Paradise….thy name is Aulani, A Disney Resort & Spa. And with this great springtime offer, it is a great time to visit this incredible Hawaiian resort.
For stays of 5 nights or more, Guests can save up to 30% on select rooms. This offer is only available from March 12 through June 10! It must be booked by May 28, 2021.
Want even more reason to stay at Aulani? I've got it for you! If you book a 5 or more night stay from now through January 31, 2021, you'll get a $200 resort credit. (If you book 4 consecutive nights, you'll get a $150 credit!)
In addition, Disney knows that these times are still a little unpredictable. So to provide additional flexibility, the temporary modification to the Resort cancellation and refund policy at Aulani, A Disney Resort & Spa has been extended from May 20, 2020 to June 10, 2020.
This means that you may change or cancel your resort reservations at Aulani, A Disney Resort & Spa up to 24 hours prior to your arrival date for stays through June 10, 2021 without any Disney-imposed cancellation fees. This modification to this policy applies to both room only and vacation package reservations. As of right now, any stays after this date will adhere to the regular cancellation and refund policy.
The resort recently reopened back in November to Guests. In doing so, they have taken and continue to take into consideration the guidance of local and national government and health authorities, including the U.S. Centers for Disease Control and Prevention (CDC), as well as the U.S. Travel Association and Disney's team of health and safety experts. There is a focus on the health and safety of the resort's Guests, Cast and community.
Guests can keep up with the latest about the resort using their brand new app. Details about the app can be found here.
Aulani, A Disney Resort & Spa is a stunning resort. Take a look at our YouTube video to see what it's like: