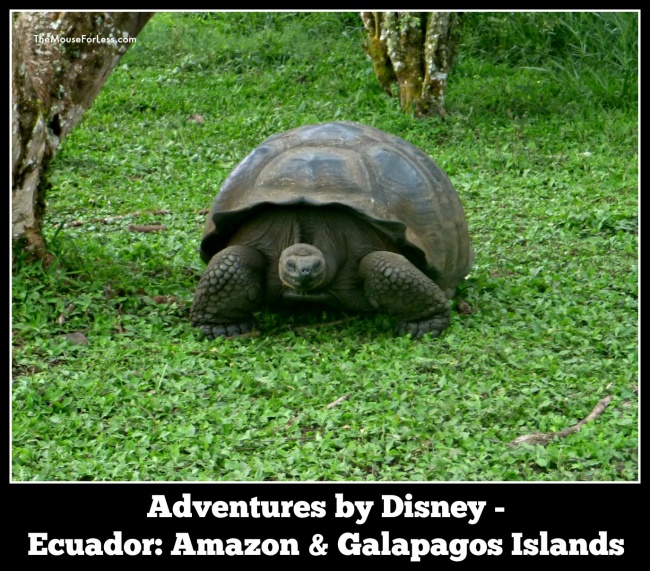 Journey to Ecuador, the "Republic of the Equator" and explore UNESCO World Heritage Sites on your Adventures by Disney Ecuador: Amazon & Galapagos Islands vacation.  Your Adventure Guides will coordinate the magical details so you can relax and enjoy on the 12 Day/11 Night adventure to Quito, Napo River, Galápagos Islands, and Guayaquil.
Highlights    Dates    Rates    Accommodations, Meals & More
Let an expert assist in planning your Adventures by Disney vacation.
The Magic For Less Travel
, an Authorized Disney Vacation Planner, offer complimentary concierge planning services. In addition,
The Magic For Less Travel
is offering an exclusive Adventures by Disney promotion that can help you save up to 5% of the of your Adventures by Disney vacation.

Adventures by Disney Ecuador: Amazon and Galapagos Islands Trip Highlights
Nocturnal Rainforest Walk
Take a guided journey into the rainforest after darkness falls. Encounter animals, birds and exotic insects that only come out at the end of the day.
Canoe Excursion Along the Napo River
Paddle into the habitat of the pink river dolphin! Fill your senses with the ambiance of this tropical environment as you keep alert for animal sightings, such as black caimans, river turtles and sloth.
Jungle Canopy Tower Walk
Walk through the upper layer of the Amazon rainforest and you just might encounter wildlife you've never seen before living in this lush habitat that contains half of all plant species.
Visit to Limoncocha Biological Reserve 
As one of the most biodiverse places in the world, Limoncocha has an abundance of natural beauty and wonder. This tropical paradise is home to night monkeys, howler monkeys, giant otters, over 350 species of birds and—the king of the Amazon—the black caiman.
Cooking Class in Quito
Learn how to make Andean specialties like ceviche using fresh ingredients while Junior Adventurers prepare dessert at Zazu, a favorite local restaurant.
Adventures by Disney Ecuador: Amazon and Galapagos Islands Departure Dates
This itinerary offers Adult Exclusive dates.
2019
June 11- 22, 2019 (Unavailable for Booking)
June 25 – July 6, 2019 – Accepting Waitlist
July 9 – 20, 2019
August 6 – 17 , 2019
September 10 – 21, 2019 (Adult Exclusive)
December 24, 2019 – January 4, 2020 – Accepting Waitlist
2020
January 14 – 25, 2020 (Adult Exclusive)
Adventures by Disney Ecuador: Amazon and Galapagos Islands Rates
2019 Rates
Adults: starts at $9,449 per person
Child: starts at $9,719 per person
2020 Rates
Adult: starting at $10,299 per person
PRICES ARE BASED ON DOUBLE OCCUPANCY. AIRFARE TO AND FROM DESTINATION IS NOT INCLUDED IN LAND PACKAGE PRICES.
Accommodations, Meals & More
Accommodations
JW Marriott Hotel Quito
The Anakonda Riverboat
Finch Bay Hotel
Hotel del Parque
Meals Included
11 Breakfasts, 10 Lunches, 9 Dinners
Airports
Arrive: Mariscal Sucre International (UIO)
Return: Guayaquil International Airport (GYE)
Ages
Minimum Age: 7
Recommended Age: 8+
Information subject to change.