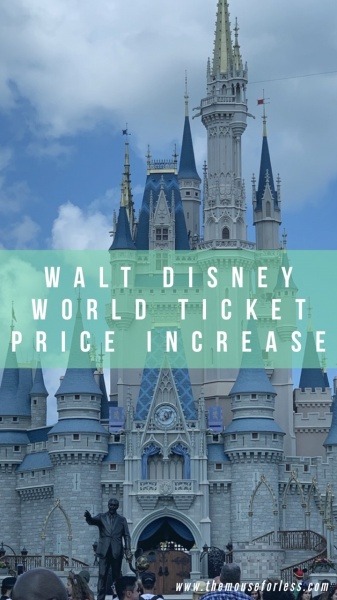 Today, the Walt Disney World Resort increased its ticket pricing.
As a reminder, back in October, the Walt Disney World Resort rolled out date-based ticket pricing. Pricing for Walt Disney World ticket options are now based on a Guests' specific dates of travel and pricing may be lower for those who are looking to travel during off-peak periods.
The updated pricing for a one-day Walt Disney World ticket still starts at $109 but now the ticket tops out at $159. For a 10-day ticket, the cost now ranges from $47 per day up to $61 per day.
To enter a Walt Disney World theme park, all that is needed is a one-day, one park ticket. With this new system, Guests will be able to purchase tickets using an interactive online calendar, which displays different ticket prices based on the dates they choose to visit the parks. In order to purchase tickets now, Guests will first need to choose the number of days they are looking to visit the parks, as well as the first date you want to use your tickets using the online calendar. The calendar will show per day pricing that is based on your start date and the length of ticket you are wishing to purchase. The daily Walt Disney World ticket price decreases as your length of visit increases, so the more you play, the less you pay per day. That means that the 1-Day tickets will be the most expensive PER DAY price and the 10-Day tickets will be the least expensive PER DAY price.
Other price increases that occurred include the water park Annual Pass, which has now increased from $130 to $139. Regular Walt Disney World Annual Passes have not increased at this time.
There was also a change in price for preferred parking, which is also now tiered. In regular season, it's $45 per day. On peak days, preferred parking will cost $50 per day. Regular parking fees were not increased.
If you are looking to visit the Walt Disney World Resort and wish to learn more about tickets, make sure to check out our handy guide to see which option is right for you.
What are your thoughts? Share with us in the comments below or on Facebook or Twitter!
Did you like this article? Make sure to share it with your friends! Check below for easy ways to share!
Want to visit the Walt Disney World Resort? Contact The Magic for Less Travel for more information and a free, no-obligation quote.

For vacation planning information, please visit our
Walt Disney World
planning section.