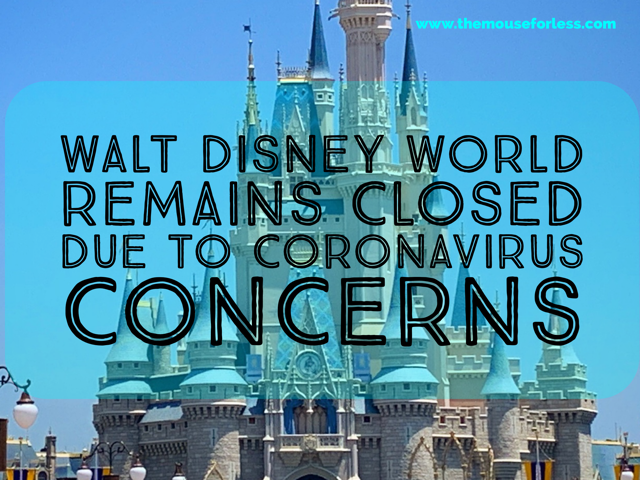 Originally, the Walt Disney World Resort was supposed to be closed through March 31, however, today, the Walt Disney Company has released an update about the Walt Disney World Resort and concerns about the Coronavirus (COVID-19). According to Disney, the Resort will currently remain closed until further notice.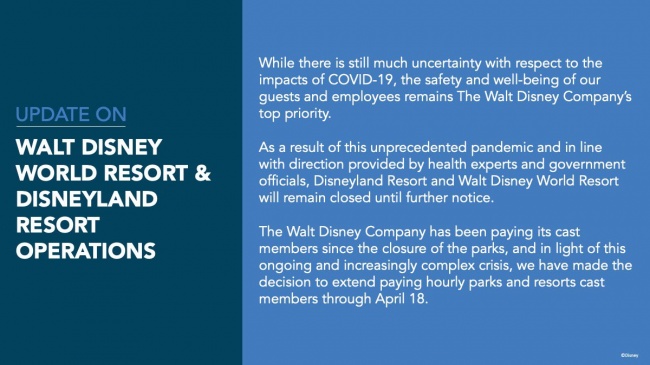 While there is still much uncertainty with respect to the impacts of COVID-19, the safety and well-being of our guests and employees remains The Walt Disney Company's top priority. 
As a result of this unprecedented pandemic and in line with direction provided by health experts and government officials, Walt Disney World Resort will remain closed until further notice. 
The Walt Disney Company has been paying its cast members since the closure of the parks, and in light of this ongoing and increasingly complex crisis, we have made the decision to extend paying hourly parks and resorts cast members through April 18. 
This announcement is a little ambiguous and I know many have questions about what this really means. Well, while we don't have a definitive answer on what is going to happen in the future, here's what we do know based on pretty good conjecture.
The Walt Disney World Resort (including the hotels, which are also closed) may or may not reopen around April 19. I would expect that Disney will be re-evaluating the state of things concerning the Coronavirus somewhere near that April 18 date listed as the date they are paying their Cast Members through and will consider whether or not they will be able to reopen the parks near that date or whether a longer closure will be needed.
So, what does this mean if you have a trip planned? Well, unfortunately, if your trip was planned for the beginning of April, your vacation dates will need to be changed. If however, you have a trip scheduled to the Walt Disney World Resort for late April or early May, honestly, I think it's still too early to say if the parks will officially be open at that point. Everything will depend on how this pandemic spreads or slows in the next few weeks.
For vacation planning information, please visit our
Walt Disney World
planning section.