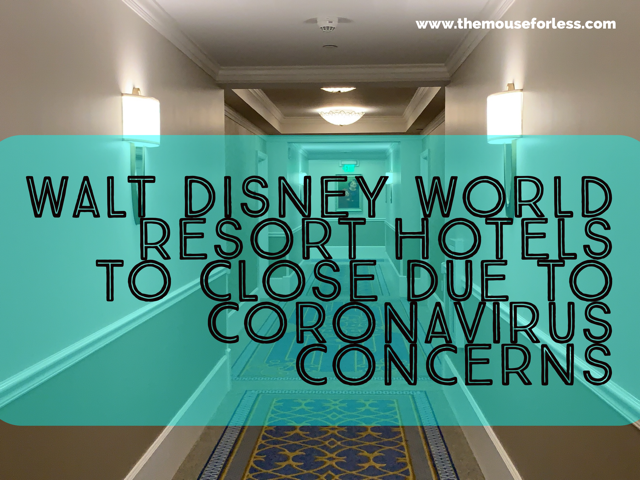 Due to the Coronavirus concern, Disney has shared that the Walt Disney World Resort Hotels, as well as some stores at Downtown Disney and Disney Springs will be closing and local Disney Stores. Here are the official details: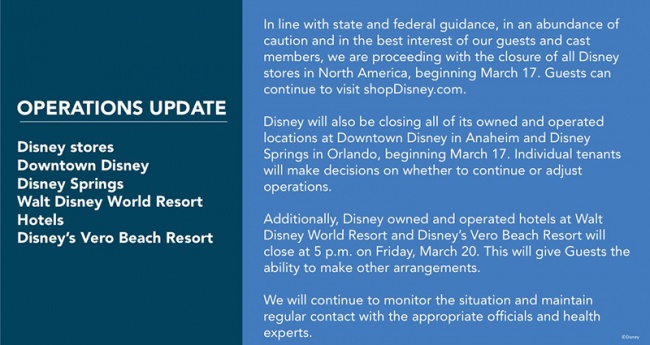 In line with state and federal guidance, in an abundance of caution and in the best interest of our guests and cast members, we are proceeding with the closure of all Disney stores in North America, beginning March 17. Guests can continue to visit shopDisney.com. 
Disney will also be closing all of its owned and operated locations at Downtown Disney in Anaheim and Disney Springs in Orlando, beginning March 17. Individual tenants will make decisions on whether to continue or adjust operations. 
Additionally, Disney owned and operated hotels at Walt Disney World Resort and Disney's Vero Beach Resort will close at 5 p.m. on Friday, March 20. This will give Guests the ability to make other arrangements. 
We will continue to monitor the situation and maintain regular contact with the appropriate officials and health experts. 
For more information on what is being done at Walt Disney World due to Coronavirus concerns, click here and for more information about what is being done at Disneyland, click here.
For vacation planning information, please visit our
Walt Disney World
planning section.