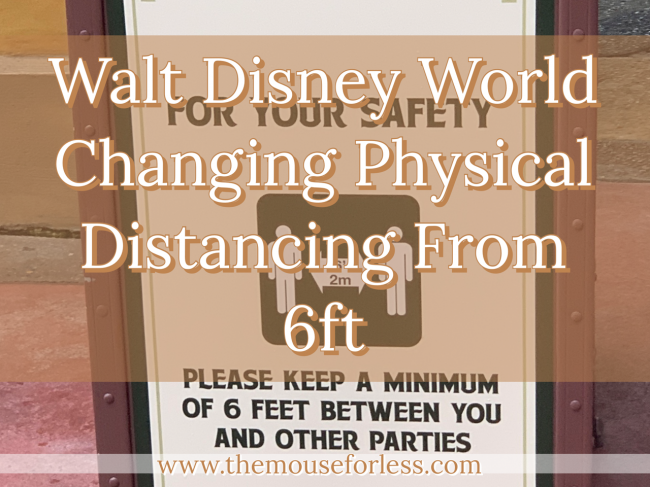 (Walt Disney World has lifted the last of its mask requirements, meaning face coverings will be optional for visitors at all locations on the central Florida Disney property.)
Big changes are coming to the Walt Disney World Resort over the next few weeks. That's because Disney has shared that they will be reducing their physical distancing measures in most locations. The distance will likely go from 6-feet down to 3-feet.
According to the Walt Disney World website:

Temporary adjustments are still in place to promote physical distancing. While we will reduce physical distancing measures for Guests across many areas with a gradual, phased approach, six-feet distancing measures will continue in all dining locations, merchandise stores and in areas where Guests can temporarily remove their masks.
This change comes due to updated guidance from Orange County. That's because the Mayor recently signed an order reducing the physical distancing requirement from 6-feet to 3-feet. The Walt Disney World Resort will be making these distancing changes in many areas throughout the parks, resort hotels, and more.
There will be a few areas that will still have the 6-feet distancing. These areas will include merchandise locations, dining establishments, and locations where Guests have the ability to temporarily remove their masks. (For example, the Relaxation Stations.)
The Walt Disney World Resort is in the process to return to a more normal experience. In the recent past, they have already allowed Guests the ability to remove their masks when taking photos. In addition, this week, temperature checks will be going away.
As other changes get announced that impact the Guest experience, we'll keep you posted.
For vacation planning information, please visit our
Walt Disney World
planning section.