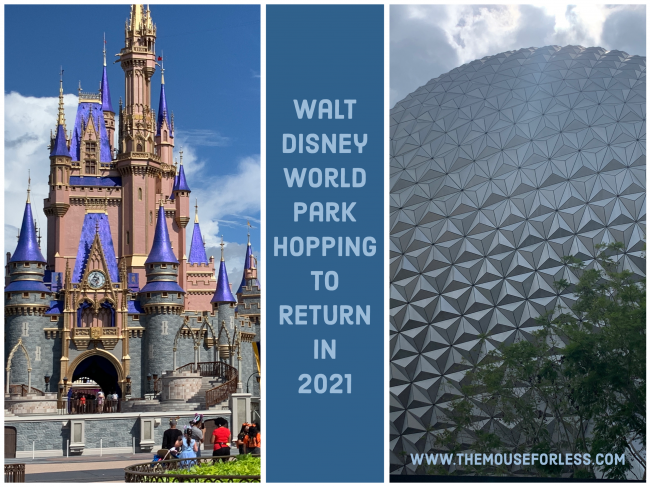 Yes! Exciting news indeed! Park Hopping will be returning to the Walt Disney World Resort and it's coming soon! January 1, 2021 will be the first day to be able to Park Hop once again! That means that Guests who have purchased a ticket with Park Hopping included or those who are Walt Disney World Annual Passholders will be able to easily go from park to park once again. This means, that you can start your day at the Magic Kingdom and then end your day at EPCOT! Or visit Disney's Hollywood Studios, then head to Disney's Animal Kingdom, then stop at EPCOT! The choice will once again be up to you!
Of course, to keep Guest safety in mind, Guests will still need to make a Disney Park Pass reservation for the first park they plan to visit for the day, as well as enter that park prior to visiting another. To Park Hop though, Guests will not be required to make a park reservation after visiting the first park. Of course, all this is still subject to change.
Guests also won't be able to take advantage of the Park Hopping option until 2:00 p.m. each day. Guests will soon be able to check DisneyWorld.com/ParkHours and the My Disney Experience app for the most up-to-date Park Hopper hours, as they are subject to change too. The ability to visit another park will be subject to the park's capacity limitations.
These afore mentioned modifications are designed to help Disney continue managing attendance while promoting physical distancing. Also, this doesn't change the other enhanced health and safety measures, as they will still remain in effect, including face coverings required for all guests ages two and up.
Park Hopping was expected to return in 2021 since the Walt Disney World Resort did sell 2021 vacation packages that included the Park Hopping option. It's great to see that Disney finally officially released the details on how it will work though.
To find out if a specific theme park is open to hop to, visit (407) 560-5000.
After visiting the parks recently and not being able to Park Hop, I know I am one who is excited to be able to partake in this option once again.
For vacation planning information, please visit our
Walt Disney World
planning section.