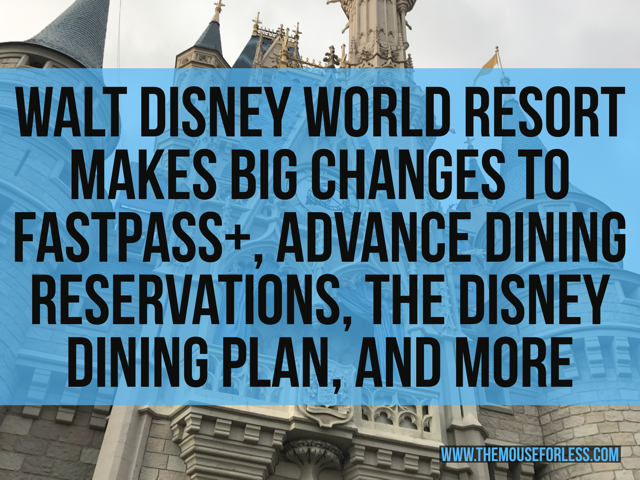 When the Magic Kingdom and Disney's Animal Kingdom potentially reopen on July 11 and Epcot and Disney's Hollywood Studios reopen on July 15, things are going to look a lot different at the Walt Disney World Resort, at least for the temporary time being in regards to things like FastPass+, Advance Dining Reservations, the Disney Dining Plan, and more.
Previously announced was the fact that when the theme parks reopen, attendance would be managed through a new theme park reservation system. This system will require that all Guests will need to make a reservation in advance for theme park entry. Details about how this system will work will be released later. However in order to roll this new system out, the Walt Disney World Resort is currently pausing new ticket sales, as well as any new Walt Disney World Resort Hotel reservations.
By doing this, it will allow Disney to focus on Guests who already have tickets and reservations currently scheduled during a time when park capacity will be extremely limited. Those who have already bought tickets and those who are Annual Passholders will be able to make a theme park reservation before any new tickets are sold moving forward. These individual with already purchased ticket media will be contacted soon to provide additional details about how this will all work. New ticket sales and Disney Resort hotel reservations will resume after those Guests make their reservations.
In addition, due to the need to physically limit the number of Guests that will be in the parks, Disney has decided to cancel all existing dining reservations, as well as experience bookings (like Savi's Workshop, Bibbidi Bobbidi Boutique, tours, etc). The biggest change is that when the ability to make dining and experience reservations opens back up once again, instead of being able to make reservations 180 days out, Guests will find that they will only be able to make reservations 60-day days out. Those Guests who did have existing reservations prior to the cancellation will have priority access to rebook dining and experience reservations when they reopen.
Because of this change with the ability to make dining reservations, in addition, the Disney Dining Plan will be suspended. Those who purchased a Disney Dining Plan will be automatically cancelled. If you have purchased the Disney Dining Plan for your upcoming vacation, you will be refunded that money.
Also, those who booked a Resort hotel reservation with Free Dining will also see their Disney Dining Plan cancelled.
Also impacted will be FastPass+ reservations. This system will be temporarily suspended as the additional queue space that normally gets taken up by FastPass+ Guests will now be used to help manage capacity and maintain physical distancing. Existing FastPass+ selections that have previously been made will be cancelled.
Finally, also being temporarily suspended will be Extra Magic Hours at the parks.
Disney will be reaching out to those Guests who are affected by these updates with additional information and details on options, including refunds.
There is currently no word on how long these changes will be in effect. Stay tuned for more information on what new changes are in store for those looking to visit the Walt Disney World Resort moving forward.
For vacation planning information, please visit our
Walt Disney World
planning section.