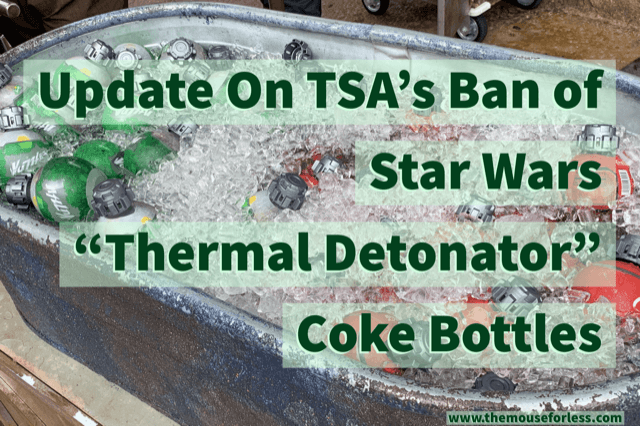 It recently came to light that TSA was not allowing the Coke bottles that look like thermal detonators that are being sold at Star Wars: Galaxy's Edge in either checked, nor carry-on luggage. TSA has looked into this matter in further detail and they have now changed their stance. They now state via their website, that these bottles should be treated as over-sized liquids and as such, should be placed in checked luggage. (Do not bring one full of soda in your carry-on….now if it's an empty bottle, you would be ok to pack it that way.)
According to the website, their stance is as follows:
"The issue concerning Star Wars Galaxy's Edge-themed soda bottles has recently been brought to our attention by the general public, as these items could reasonably be seen by some as replica hand grenades. We appreciate the concerns being raised, because replica explosives are not permitted in either carry-on or checked bags. We have completed our review, and instructed our officers to treat these as an oversized liquid. Because these bottles contain liquids larger than 3.4 ounces (100 milliliters), they should be put in checked baggage or emptied to be brought on as carry-on item. TSA officers will maintain the discretion to prohibit any item through the screening checkpoint if they believe it poses a security threat."
So, go ahead and purchase your themed bottles and take them home! In addition, as a reminder, Guests are also permitted to bring lightsabers and droids sold at the Black Spire Outpost in carry-on, as well as checked bags.
For vacation planning information, please visit our
Walt Disney World
planning section.