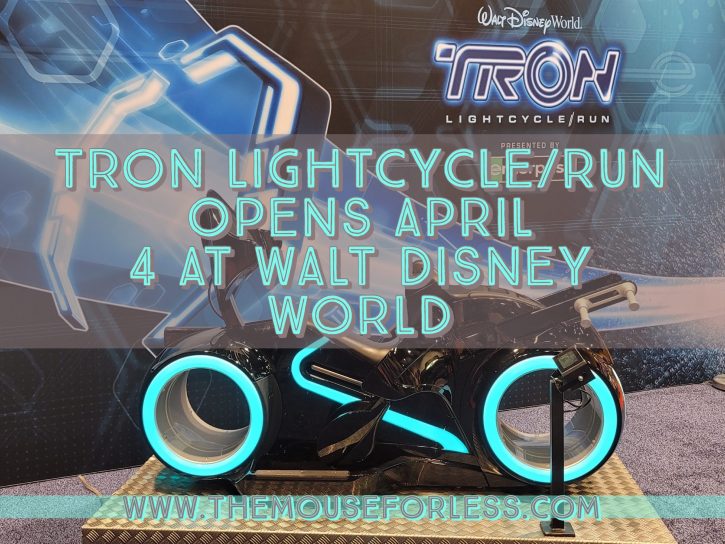 Get ready! TRON Lightcycle/Run FINALLY has an official opening date at Walt Disney World. The Magic Kingdom attraction will officially open to Guests on April 4, 2023! This attraction has been years in the making, so it's super exciting to finally have an opening date.
The story of TRON Lightcycle / Run picks up after "TRON: Legacy." (This ride is based on both the 1982 film, TRON, as well as the 2010 sequel TRON: Legacy.) Through the attraction, Kevin's son, Sam Flynn, has opened a second gateway into a digital realm called the Grid. The first of these portals he created is found at Shanghai Disneyland with the original TRON Lightcycle Power Run.
When Guests enter the queue at Magic Kingdom, they will feel as though they've digitized and transported to the Grid for a special Lightcycle race. It's your Team Blue against the Grid's Programs, Team Orange. Your goal is to be the first to race through eight Energy Gates and secure victory. The attraction will be one of the fastest coasters at any Disney theme park in the world.
Now, the next question you know that you're going to ask is will there be previews? Yes, there will be a few for Guests, Annual Passholders, and Disney Vacation Club Members.
Follow The Mouse For Less for more information about the latest TRON Lightcycle/Run news.
For more Disney news and trip planning advice, follow The Mouse For Less on Facebook, Twitter, Instagram, YouTube, or TikTok.
For vacation planning information, please visit our
Walt Disney World
planning section.