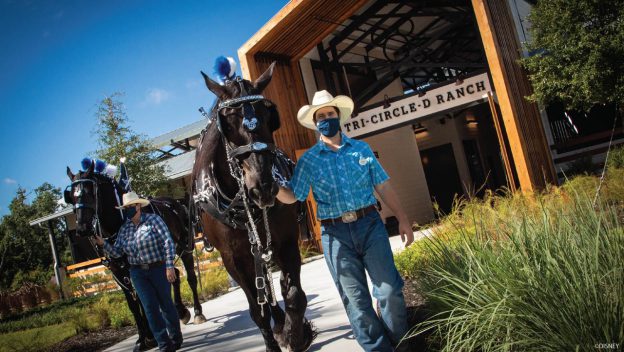 Following its months long refurbishment, the Tri-Circle-D Ranch at Disney's Fort Wilderness Resort has officially reopened to Guests!
The new stable features larger stalls for the Walt Disney World horses, including 10 additional stalls which are all are equipped with automatic water stations. The new barn is more than twice the size of the original barn and includes two tack rooms, a wedding harness room showcasing tack for Cinderella's ponies and the return of the museum dedicated to Walt Disney's love of horses.
Part of Disney history that was brought back to the barn following this refurbishment was the 1907 Dragon Calliope that Walt purchased. This horse-drawn musical wagon was bought for Disneyland Park in the 1950s. The Calliope is now currently on display here.
The ranch has a long history of housing "The Happiest Horses on Earth" and this beautiful new location is home to the many horses and ponies that can be found around the Walt Disney World. Matter of fact, the barn was actually established before opening day of Walt Disney World Resort.
The newly updated Tri-Circle-D Ranch can be found located just around the corner from the bus loop by Pioneer Hall.
For vacation planning information, please visit our
Walt Disney World
planning section.